Digitization is everywhere you look. Over the next decade, it's estimated global spending on digital transformation will increase by 10.4% year-on-year, reaching highs of $1.3 trillion.

This growth has brought with it a wave of digitally focused business management degrees. Specialized master's programs, like EU Business School's Master in Digital Business, utilize the latest platforms and cutting-edge technology to help you future-proof your career, with courses covering digital innovation, strategy, and technology.

Natascha Spahn worked in advertising before enrolling in the program part-time. BusinessBecause spoke with Natascha to find out why now is the perfect time for a Master in Digital Business.
---
Why EU Business School's Master in Digital Business?
Natascha got an insight into the digital space while interning at advertising technology company Criteo in Barcelona. The experience motivated her to pursue a career in digital business.
"When I saw the advertising technology world, that's when I decided to study digital business; I said okay this is what I find interesting," she says.
Ready to progress in her career, Natascha (pictured) decided a master's degree was the next step. But after completing a three-year undergraduate degree, she didn't want to stop working and commit to another year of study.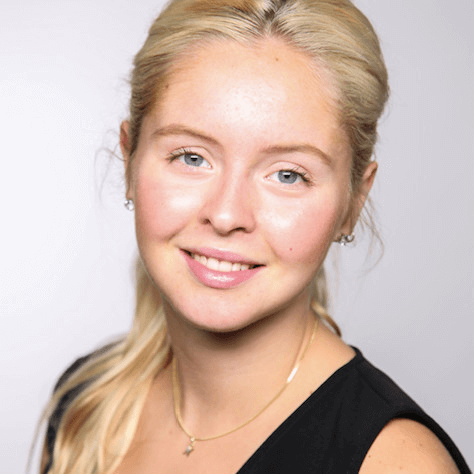 "I decided I wanted to learn but I wanted to do it part-time," she says. "Being a student wasn't enough for me because it is all theoretical, I thought it was also really important to have a practical element."
EU students can study a full-time, one-year course or choose to study part-time over two years. The program offers multiple start dates in October, January, or March, and part-time students complete the course during the evenings.
"I worked the entire time," Natascha says, "doing the course in the evening is perfect when you are working full-time."
Natascha continued working in Spain with Criteo when she began the program on the Barcelona campus. But she later decided to make use of EU's flexibility by moving to Switzerland, one of the school's four campuses across Europe, where she could practice French which she'd studied at school.
In Switzerland she secured a role as publishers account manager for Talent.com, a digital careers platform, where she continues to work today.
---
What do you learn on a Master in Digital Business?
A master in digital business curriculum helps you develop specialist digital skills while also covering the traditional topics associated with business education.
During the EU Master in Digital Business, you'll learn key concepts like entrepreneurship and management while gaining a comprehensive understanding of digital commerce, social media, and web analytics. Natascha was impressed with the depth of the program, which also went into finer details like digital platform architecture and the legal aspects of digital business.
"The program itself was very broad and I liked that a lot," she says, "it went into all the digital areas of a company."
---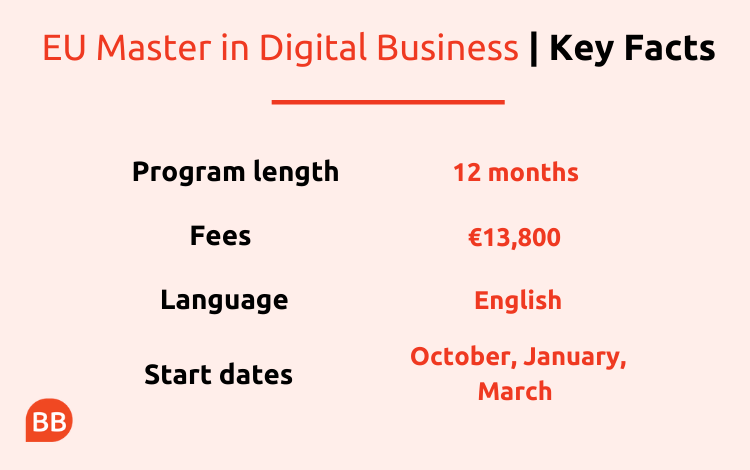 ---
The course also reveals the details behind the successful business models of top tech companies like Amazon and Netflix. Classes cover digital strategy, looking at their payment and subscription models and how you can monetize a digital business.
Students also get to learn from industry leaders during the Learning From Leaders series, an additional part of the course inviting individuals like the co-founder of Starbucks, a senior strategic advisor to the Bill & Melinda Gates Foundation, and the director of Google in Belgium and Luxembourg, to give talks to students and answer their questions. Sessions cover a range of topics, including fintech, digital transformation, and innovating business.
"It was so cool and was such a massive added benefit," Natascha says. "The personalities they were able to attract were really great; I really enjoyed that."
---
What are the benefits of a Master in Digital Business?
Expanding your knowledge and digital skills is a key part of enrolling in a master in digital business, along with developing your communication skills and your ability to work in teams.
For Natascha, improving these soft skills was a key part of her personal growth. "I profited more from the soft skills side, and that was my personal goal," she says.
The EU cohort is made up of 95% international students, and 98% of students speak two or more languages. This makes for a diverse experience during the many interactive components of the course.
"Interacting with the international students was great fun and also really challenging," she says. "The synergy is much higher when you work with people who are from the other side of the world."
Working with such a wide array of individuals helped Natascha see things from different points of view. Ultimately, she felt she learned as much from her classmates as her professors.
Reflecting on her experience and the goals she achieved, she thinks the experience of working full-time while studying a degree also had a large impact on her development.
"I had to really learn how to structure myself and how to handle pressure, which was really helpful for me as this was one of my goals."
Now, as she looks towards the future, Natascha says her experience at EU has prepared her for success in her career.
Related Content: