For Jeffrey Ng, an MBA was always on the cards. After beginning his career as a management consultant, he used the degree to develop his managerial prowess, and advance in the burgeoning realm of fintech.
After graduating from a bachelor's degree in computing and management, Jeffrey began his professional life with GE Capital and PwC. After a few years' experience, though, he left the organization to expand his knowledge of the wider business world.
"An MBA was the next logical step if I wanted to advance within the finance and tech industry," he explains.
At the time, Jeffrey was living in Hong Kong, and wanted to take advantage of the strong financial market in greater China.
Since Hong Kong is a gateway to China, he was keen to stay in the area, and began to research local schools. This search soon led him to the Chinese University of Hong Kong (CUHK).
"I chose CUHK due to the breadth of its business programs," he says. "I also liked the school's rich roots in incorporating humanity, which is the foundation of good management."
This, along with its strong alumni network in finance drew Jeffrey to the school. In fact, financial services is the top career path for CUHK MBA graduates.
The program's flexible schedule, which allows students to complete it over 12 to 48 months, added to its appeal. This allowed Jeffrey to study while working with his new employer, BNP Paribas.
---
Launching a career in fintech
Undertaking such a broad MBA program was not without its challenges, Jeffrey recalls.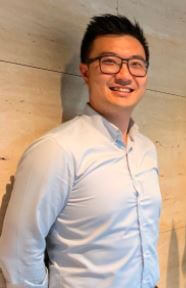 He found subjects like derivatives very technically challenging at first, but with support from peers and professors, he was able to succeed. At CUHK, he recalls, students had easy access to their professors beyond class hours.
Throughout the learning process, the supportive community at CUHK helped Jeffrey continue his development—both professionally and personally.
At the start of the program, he and his cohort took part in an outward bound experience, which was great for bonding with his peers.
"The experience also led me to the hobby of hiking," he adds.
Today, Jeffrey can keep in touch with his former peers, as part of a 40,000 alumni network that stretches across 44 countries. Alumni work in diverse sectors like consulting, technology, manufacturing, and finance.
"The alumni network is especially strong in finance, which gives me a rich understanding in banking," Jeffrey notes. One alumni connection—a managing director at BNP at the time—proved especially helpful, by opening up the world of corporate banking, and the skills it requires to succeed.
"Knowing how people actually made decisions in the real world helped a great deal when applying AI in banking, for instance," he explains.
"I [also] learned how to manage sales from him [this alumni], which has come in useful for my role running a sales organization at OneConnect," he reflects.
Jeffrey's MBA also helped cement his interest in China's finance industry, through various courses and experiences. Among the most valuable were the networking opportunities on offer.
On the CUHK program, around 18% of students have a finance or financial services background, helping them build strong international connections in the sector.
As well as networking and taking fintech classes, Jeffrey had the chance to compete in a stock pitching competition. This involved presenting an investment idea to a team of judges.
"Although I didn't win, the process allowed me to practice applying my data mining skills to equity valuation," he recalls.
---
From classroom to boardroom
Jeffrey recently left his job as the head of fintech solutions at a virtual bank in Hong Kong. He is moving to the Greater China Region of McKinsey and Company, where he will continue to focus on leveraging Fintech and digital for strategy execution.
He has also taken up the chairman position of the Data Analytics Group, Institute of Financial Technologists of Asia (IFTA) to enhance the qualifications of the industry via the CFT program.
The skills he developed during the MBA continue to be applicable, he reports.
In fact, Jeffrey credits CUHK with catalyzing his career development. Being accepted onto the program prompted his former employer, BNP Paribas, to offer him an analyst role.
"I was considered for a role as part of the client marketing team for corporate and institutional banking," he explains. "The bank supported me to study part-time, since I could contribute what I learned on the program to my team's knowledge."
This knowledge, and Jeffrey's hard work, helped him advance with the company, reaching the role of Greater China Head of the department in less than a decade.
---
Building a career in Greater China
Studying in Hong Kong gave Jeffrey access to China—the world's fintech leader. In 2018, the country's fintech market was worth $25.5 billion, and growth looks set to continue.
In Hong Kong itself, fintech growth is also strong, with a digital payments market that is expanding by around 10% each year.
"Hong Kong is the home of wholesale banking and Shenzhen is the center of B2C fintech," Jeffrey adds.
To other finance professionals hoping to build a career related to China, Jeffrey recommends studying in Hong Kong like he did.
Understanding Hong Kong's international banking system lays a solid foundation for a fintech career in China, thanks to its ties and physical proximity to the mainland.
CUHK also helps its international students build this understanding through courses like China in the Global Economy, and through career treks to Shanghai and Shenzhen, where they can connect with potential employers in China.
Along with this exposure to China, the foundational strategy courses Jeffrey studied equipped him with the business fundamentals he needed to advance his career in the country.
"My role at OneConnect involved sales and product development, and I often relied on the strategic management skills I developed at CUHK," he comments.
CUHK students can also build on this foundational knowledge, through specialized electives like Managing Innovation and Technology, or FinTech Analytics.
For his part, Jeffrey is confident that the skills and connections his MBA helped him build will continue to serve him well in this role and beyond.
"A few fellow classmates have become my close counsels, and we now support each other in our careers and lives," he adds.