Before
joining
the MBA program at
American University's
Kogod School of Business
, Dan Gorman was working in marketing within the sports and entertainment industry.
He wanted to shift into analytics
and technology
,
and that meant he needed to
build
his understanding of
cutting-edge tech like
blockchain.
"Kogod was the right fit for me," he says. "I was drawn to the school because of its emphasis on a smaller cohort size, personalized career guidance, classes such as Information and Technology, and the incredible faculty."
Dan currently works as a project manager for digital transformation company United Solutions. The company works with government agencies and international commercial organizations to leverage emerging technologies like artificial intelligence, cloud computing, and blockchain.
United Solutions also deployed the first federally authorized blockchain within the US government, helping to automate goods and services supply chains.
As a project manager, Dan is responsible for 35 team members––working in business analytics, data science, and technical infrastructure––across five cross-functional projects. The role requires an in-depth understanding of blockchain technology.
Dan's MBA experience at Kogod, he says, was the perfect preparation.
---

---
Kogod MBA | Learning about business and tech
Dan spent two years at Kogod immersing himself in the variety of classes designed to teach him about the role of technology in business, exploring topics such as data analytics, emerging technologies, and machine-learning.
Professor Ayman Omar, a research fellow at the Kogod Cybersecurity Governance Center (KCGC), was a source of great inspiration for Dan throughout his MBA––and beyond. Ayman's focus largely lies around global cyber risks in supply chains as well as implementing sustainable practices. In the future, Dan wants to specialize in cybersecurity, too.
"Learning from faculty like Ayman Omar, who constantly pushed us to be better and instilled confidence in our abilities––that kind of experience sticks with you for the rest of your life," he says.
Because of professors like Ayman, Dan quickly learned that the b-school experience isn't just about the curriculum; it's about taking advantage of the global network a school like Kogod has to offer and pursuing every opportunity for more practical experience in the Washington, DC, area.
As well as founding the Digital Strategy and Innovation Club and working as a peer communications consultant at Kogod's Center for Business Communications (CBC), Dan spent time working as the strategic CRM consultant for mydala––an India-based online coupon company––which culminated in a live client presentation in Delhi.
This diverse and multi-faceted approach to his education helped Dan secure his first role in the industry of his choosing.
"Because of the MBA, I was able to transition into an initial role as a business analyst in the tech industry, before working my way up with a project manager position in the same firm."
Nowadays, Dan has had opportunities to work with clients such as the Department of Health and Human Services (HHS) to help secure over $700 million in savings through the implementation of AI, microservices architecture, and blockchain.
"My main goal has always been to pursue opportunities where I can make a positive impact on the world," he says.
---
R

ecruiting

tech-savvy

MBAs
While Dan (pictured) is no longer a Kogod MBA student, he's stayed in contact with the school––even spending time as a strategic advisor supporting current students.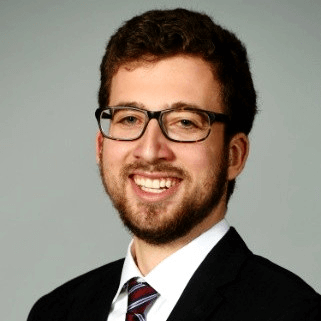 "Generosity is a key ingredient to professional and personal success," he explains. "As a student, I aimed to help everyone around me, such as identifying job opportunities for classmates. As an alum, I've continued to help in any way I can."
He acts as a recruiter for United Solutions and looks for other Kogod students with a passion for technology while acting as a project mentor for students taking the Business Process Analysis module. Dan offers in-class advising and coaching to any MBA students looking for advice about working with blockchain and other cutting-edge tech from an alum who's already done it.
Dan has recently returned to Kogod in a teaching capacity, too. He's been a guest speaker across the Consulting and Project Management, Emerging Technology, and Blockchain in the Global Economy modules offered in the MBA, drawing on his experience to inform the current MBA cohorts.
As for his close association with Kogod, Dan says he doesn't see that ending anytime soon. "I hope to one day teach an Emerging Technology class at Kogod as an adjunct professor!"
Related Content: