Sophia Ruescher describes stepping into the office of international marketing agency Mediaplanet as love at first sight.
Over the last four years, she's worked her way up the ranks, from management trainee, to head of business development, to managing director of the company's Austrian market.
An MBA in International Marketing from EU Business School has helped her every step of the way, from getting her foot in the door of Mediaplanet, to equipping her with the tools to be a leader at the firm.
BusinessBecause caught up with Sophia to find out how she landed her dream role at her dream company, and how an MBA helped.
---
What made you decide to do an MBA?
After my bachelor's, which was also at EU Business School, I went straight into business.
I worked for six months at the Eton Institute, a globally recognized leader in learning and development solutions. While there, I focused on both B2B and B2C marketing, web and traditional advertising, promotion, and the planning and execution of several campaigns.
I then moved on to Pioneer Investments, one of Austria's top investment companies. There, I gained valuable experience in finance, market research, and press coverage.
A few years in, I felt the time was right to do an MBA. I wanted to get a better understanding of marketing and PR, and develop my overall leadership skills to accelerate my career.
Why EU Business School?
I was attracted to EU Business School because I knew the international marketing MBA would give me great exposure to working with media campaigns on a global scale.
Looking back, it's definitely helped me get ahead in these kinds of business environments.
When I saw that EU had a campus in Barcelona, the decision was made!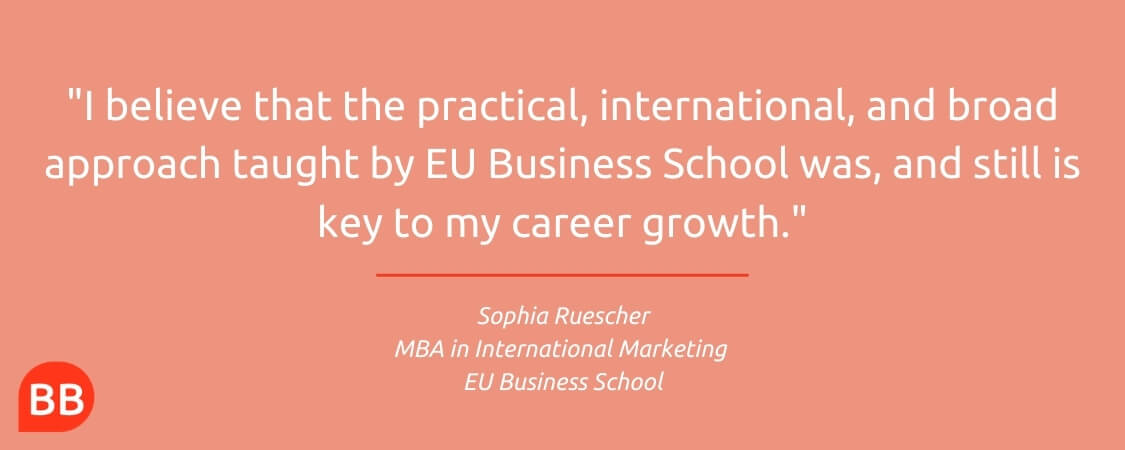 How did you get your job at Mediaplanet?
With my MBA certificate in hand, I came back home to Vienna and was basically approached straight off the airplane by three companies. One of them was Mediaplanet.
As soon as I stepped foot into their office, I felt like I belonged there. It was a young and dynamic team that gave you a lot of freedom and responsibilities from the start. I loved that they were always open to my crazy ideas and plans.
Unlike some other companies I've worked for, which had very hierarchical structures and slow processes, Mediaplanet always rewarded their proactive employees with career opportunities, which has really helped me climb the ladder to my current role.
What are your responsibilities as a managing director?
Honestly, there is no typical day. Mediaplanet is a lot like a startup—I'm responsible for all decisions that concern my business, from looking after profit revenue, ensuring our product meets our company's quality standards, right down to ordering office supplies.
I wear a lot of different hats, managing all operations within the Austrian market. In a nutshell, I am a financial manager, HR manager, analyst, production manager and feel good manager all at once.
I have a lot of personal meetings with my staff, partners and clients, and I have to observe what's happening in the world and our market.
The challenge is to stay flexible, and react fast to the latest trends, as well as the needs of our employees, readers and clients.
How did your MBA help accelerate your career?
I believe that the practical, international, and broad approach taught by EU Business School was, and still is key to my career growth.
At EU Business School, you not only learn theoretical scenarios, but how to implement the theory in real business cases, which you solve either in a team or by yourself. It is a perfect preparation for real life.
The degree alone opens a lot of doors, since many employers really value higher education. I also believe that my MBA gave me the confidence and knowledge to reach higher, and see the full picture of a process or company.
It really gave me a full toolbox of business skills that does not only benefit me, but my employer as well.
What are your ambitions for the future?
My ambition is to continue working with this company to inform and support readers with content that is relevant to their situation. At Mediaplanet, we create content marketing campaigns globally for a huge range of businesses, and last year we had three wins at the annual communicator awards.
In times where fake news sources pop up like mushrooms every day, it's more important than ever to get quality content into the hearts and minds of the people.
We can only do this by improving our targeting to reach different readership groups, and by working to deliver the content that readers are most interested in at the exactly the right moment.
I also plan on further developing my digital skills, by attending some online classes. But really, who knows what opportunities may arise in the future?
What I've learned is that you never know what's waiting for you around the corner. It's best to stay open minded, creative and flexible to what life has to offer, and use any opportunities in your favor.
Related Content: