Exposure to innovation, challenging work, high salaries, and the chance to make a difference. These are just a few of the reasons why so many professionals want to pursue a career in tech.
According to the Graduate Management Admission Council (GMAC), technology is the second most popular industry for business school graduates, with 17% of them choosing tech jobs.
Securing these jobs is far from easy, however. Google alone receives two million applications every year, and only one in 130 people are hired. To develop the skills, network, and knowledge required to thrive in the industry, Anmol Wahi and Lyla Wang opted to pursue a graduate degree at Nanyang Business School (NBS) at Nanyang Technological University, Singapore (NTU Singapore).
After graduating from the Nanyang MBA program, the pair landed dream roles with tech giants Facebook and Apple.
As part of a research-intensive university, and with employer partners from leading companies such as Apple, Microsoft, PayPal, and Siemens, NBS is a top choice for leaders with a passion for tech.
---
Anmol—New frontiers in digital marketing
Anmol has been fascinated with marketing for as long as he can remember. Growing up, he recalls seeing ads that made him laugh or cry and thinking "I wish I had made something like that!"
To pursue this passion, he began his career with advertising agency, OMD. In this role, he worked with tech giant, Apple, on their marketing campaigns, which sparked his interest in the tech industry.
After learning all he could, he moved to Google to get involved with search advertising partnerships.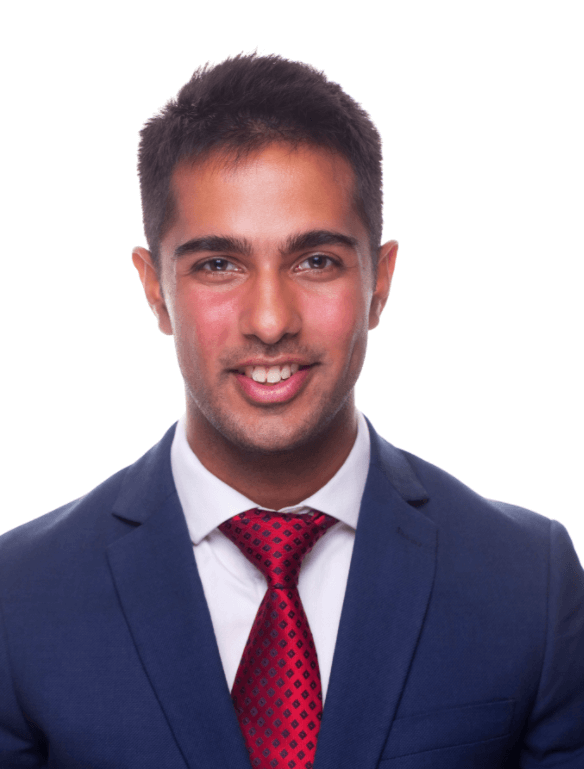 Anmol enjoyed the work but felt there were other areas of digital marketing he was yet to discover. Keen to take a step back and explore alternative career paths, he opted for the Nanyang MBA program.
"Nanyang Business School stood out for a couple of reasons," he recalls.
"I was really drawn to the innovative curriculum that focuses on the latest developments in areas like digital marketing. Plus, when I reached out to learn about the program from current students, I found they and the faculty were very friendly."
In the classroom, this welcoming atmosphere facilitated peer-to-peer learning, as did the small class-size. Learning in this intimate setting helped Anmol interact more with his professors, gaining more from their insights than he would have in a larger cohort.
The curriculum challenged him to think outside the box. At its core, the program aims to equip participants with the skills they need in today's business landscape while honing their data-driven decision making and analytical abilities.
---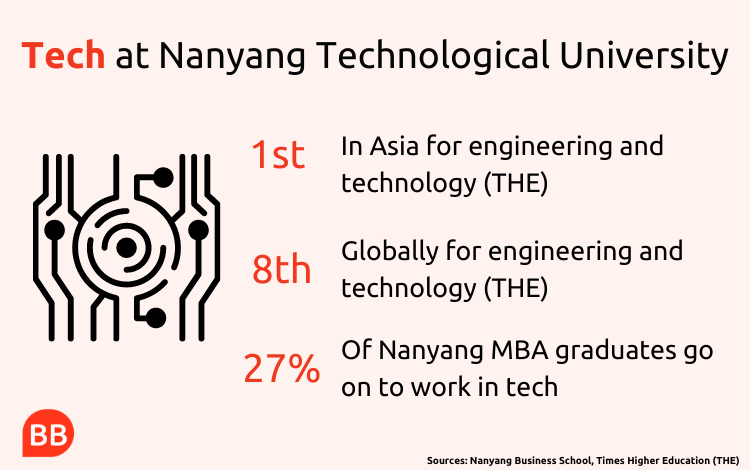 ---
Another personal highlight of his MBA was connecting with a mentor. In the NBS MBA, every participant has the opportunity to be mentored by an experienced executive from their target industry.
Anmol's mentor brought decades of experience in FMCG marketing to their conversations, which helped shape his priorities and ultimately inspired him to take his next career step.
"Through our conversations, I confirmed that marketing was the industry for me. More importantly, it helped me understand how much I value having a good balance between my personal and professional life," he explains.
When the time came to take his next career step, Anmol drew on the NBS alumni network. Alumni networking events introduced him to graduates working with tech giants like Apple and Microsoft to discuss the opportunities available in marketing.
This pool of alumni is considerable, since 27% of Nanyang MBA graduates enter the tech industry when they graduate.
Today, Anmol works with Facebook as Community Marketing Program Manager. He supports SMEs in the APAC region, assisting their Facebook marketing efforts through training initiatives that the company offers pro bono.
"This is a great role for me, since I'm working with different people, coming up with strategies, and making sure that our many stakeholders are aligned," Anmol explains. "There's a real feeling of satisfaction at the end of the day."
---
Lyla—from auditing to tech
Lyla didn't have a background in tech before the MBA—but she used the Nanyang MBA to make the pivot.
She began her career with big four auditor, KPMG. The work was interesting but there was a downside: she was not exposed to other business functions.
"I wanted to change this because leaders should always think in a holistic way. This was the motivation for me to quit and pursue my MBA," she says.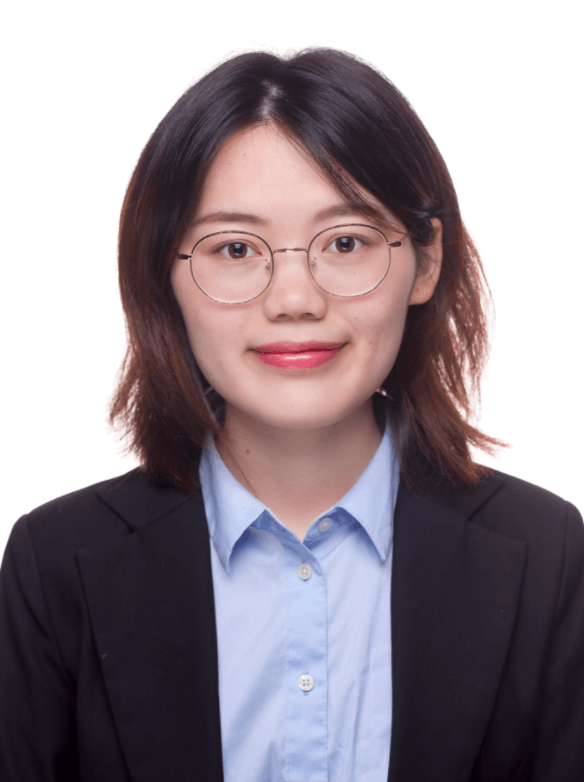 Lyla chose NBS for its renowned faculty and strength in technological innovation. NTU is ranked number one in Asia for engineering and technology by Times Higher Education.
"I knew I wanted to go into the tech sector when I started the MBA," she explains. "It's a fast-growing industry with a lot of opportunities for innovation."
The Nanyang MBA curriculum, which offered ample opportunities to learn beyond the classroom, was another draw.
One example is the Strategy Projects At Nanyang (SPAN) experience, which gives MBA participants a chance to work on real world business problems. Through SPAN, Lyla had the chance not only to apply what she learned in the classroom to a real business case, but also draw on her teammates' diverse experience and share her own insights in turn.
Lyla's project involved working with the Ministry of Industry and Handicrafts in Cambodia to deliver a digital transformation blueprint for SMEs in the country.
Working in digital transformation also confirmed Lyla's interest in tech, which deepened as the MBA progressed. As part of the wider NTU innovation ecosystem, Lyla was regularly exposed to professors and students working on STEM projects.
When she came across a professor who had developed a sustainable alternative to plywood made using agricultural waste, she leapt at the opportunity to put her business skills to the test and conducted market research with the goal of bringing it to market.
Lyla and her team then submitted their business plan to the Bangkok Business Challenge and won the Sustainability Award for their work.
---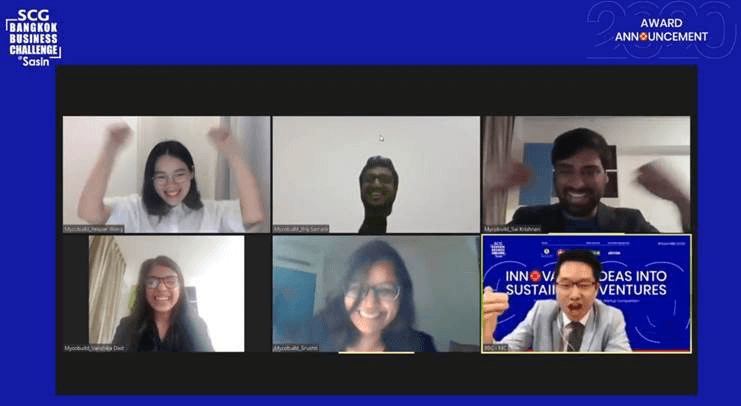 ---
The skills and confidence Lyla gained giving presentations and communicating with stakeholders through these projects set her up for her current role.
NBS also connected her with alumni working in tech. Speaking with a graduate who worked for Apple was a game-changer.
"The culture really appealed to me because employees are encouraged to continuously look for improvements," she notes.
Lyla applied for the position of Product Localization Manager with Apple and secured it. Today, she ensures Apple products are fully compliant with regulations in different APAC countries, and helps facilitate product launches.
When called upon to unpick complex problems, she often reflects on what she learned at NBS.
"Many of the case studies we discussed had a lot of layers, and we had to dive deep to find how problems emerged—that is an absolutely crucial skill in my day-to-day job now," she says.
"NBS, and the close relationship it has with big tech companies, has helped me to live out my career aspirations."
Related Content: