Even in uncertain times, candidates value the wealth of MBA job opportunities on offer.

Two out of three graduate management programs reported an 'increase in applications' in 2020, according to research undertaken by the Graduate Management Admission Council (GMAC), demonstrating the enduring appeal of the MBA.

Claire Hewitson, head of careers services at Copenhagen Business School (CBS), says that an MBA can help focus career goals from the onset, prepare students for a career transition, offer valuable networking opportunities, and provide MBAs with access to hands-on learning.

Here are five ways that an MBA can accelerate your career:
---
1. It'll take you out of your comfort zone
Whether it's networking with influential business people at school events, or testing out your public speaking and negotiation skills, there's one thing for sure: your MBA will push you out of your comfort zone.
"I wanted to gain the experience of a full-time MBA that would direct me out of my comfort zone. To further my personal development, it was clear that I needed to complete my MBA journey in an unfamiliar country," says Linda Mitschang, a CBS MBA graduate and category lead buyer at FMCG firm Danone.
Linda worked in the aviation industry in Germany before choosing to study the CBS MBA for its people-oriented focus.
To succeed in business, she says, you'll regularly need to push yourself out of your comfort zone. The confidence, independence, and global contact-base you'll gain when studying abroad for your program will pay dividends in your career after your MBA.
---
2. It'll help you gain valuable practical experience
Ever wanted to problem-solve a real-life business issue? An MBA is a great place to hone your skills through hands-on experiential learning.
Copenhagen Business School offers projects where, in small groups, students act as consultants by working strategically on a company issue. While MBA internship opportunities allow students to get stuck into a business more closely, by working one-on-one with a company.
"These immersive projects allow the company to understand what value an MBA brings to their corporation, and the students get to witness a challenge that the company is facing and apply the skills they've acquired on the MBA," says Claire (pictured right).
You've got tons of options too. CBS MBAs may work alongside startups, or Danish pharmaceutical companies such as Novo Nordisk, and energy company Ørsted.
---
3. You'll work alongside peers from different industries
In your career after your MBA, you'll work alongside people from all walks of life. Similarly, during your MBA, you'll often collaborate with others from various cultures, backgrounds, and industry experiences on valuable team projects.
"An MBA is a great equalizer of people of all ages, experiences, and nationalities," says Fabrizio Tararbra, CBS MBA graduate and executive advisor and project manager in risk and compliance at Nordea. Fabrizio is also a military veteran who served as a commander for the Italian Navy Special Forces before his MBA.
Through an exchange of ideas, you'll learn and draw inspiration from your classmates with varying backgrounds, explains Fabrizio.
Linda adds that working alongside a motivated and diverse team during her MBA at CBS has helped her to thrive in her current position at Danone.
Moreover, you mustn't underestimate the potential MBA job opportunities that you'll gain by working alongside those with links to various industries.
---
4. You'll learn leadership skills
Always wanted to find out what your leadership style is? According to Linda and Fabrizio (pictured right), an MBA is a perfect way to nail your leadership skills in preparation for job opportunities after an MBA.
Fabrizio entered the MBA classroom as a seasoned military leader with over 15 years of experience leading in high-risk areas like Iraq and Afghanistan. His "transformative journey" from the Navy Special Forces into the corporate world via the CBS MBA is testament to the value brought to a business by the leadership skills developed in the military. Fabrizio cites a Norwegian government program that combines the forces, industry, and education to ensure the armed forces at all times has the best resources and competencies as an example of the crossover value between business and military leadership.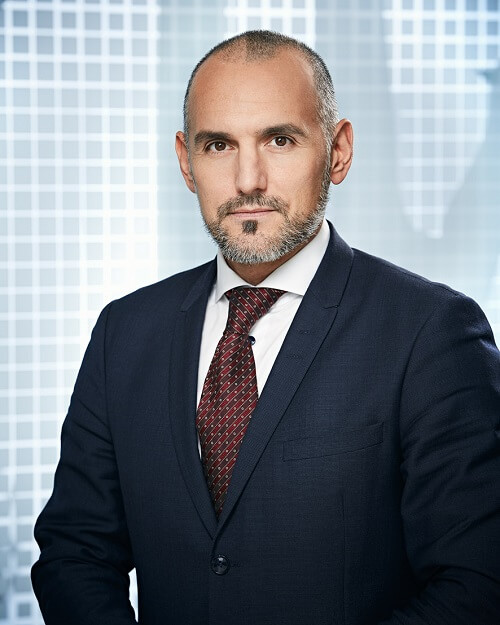 The Copenhagen MBA's Leadership Discovery Process runs alongside all modules you study at CBS, with multiple touch points that help you discover your unique leadership style. You'll learn about your brain function and team dynamics, all while mastering interpersonal, teamwork, and communication skills through hands-on learning.
"I was able to identify my values and working style, which I could then compare with my classmates' different styles of leadership. To find out who I was as a person, and whom I wanted to be as a leader, was one of the best experiences of my MBA," says Linda.
After just one year as a senior consultant at a consultancy, Linda put her leadership skills to the test when she became a project manager, before taking on her current role.
She says that she has reaped the benefits of the leadership skills that she acquired during her MBA journey throughout her career: "I can now execute my role how I wish to execute it."
---
5. You can make a career change
Thinking about changing career? Maybe you're looking to maximize your salary, or perhaps a chance to give yourself more of a challenge. In an MBA, you'll learn the ins and outs of different industries, all while upping your knowledge in subjects like finance, strategy, marketing, and accounting.
Fabrizio chose to enrol on an MBA at CBS in hopes of broadening his horizon and familiarizing himself with the business landscape.
Now thriving at Nordea, Fabrizio has shown how an MBA has helped him apply his skills to advance his business career. He credits his MBA with helping him to enhance his analytical, process, and delivery skills—acquired during his military career—and build on his business, financial, and economic awareness.
"The challenging but rewarding MBA helps you make this transition from a different career and to supplement the skills you've already acquired," he says. "The MBA helped me transfer my existing skillset into [industry] to advance my business career and support senior management in a corporate environment."
Student Reviews
Copenhagen Business School (CBS)
Related Content: