When it comes to using social media to find jobs, there's one platform that's really worth your efforts: LinkedIn.

87% of recruiters regularly use LinkedIn. If you're competing for a job, employers will often check your LinkedIn profile to suss you out, and having a striking LinkedIn profile can help you stand out from the crowd.

So what makes a good LinkedIn profile? How can you use LinkedIn to land your dream job?

We asked business school experts from top business schools like MIT Sloan, Oxford Saïd, and Cambridge Judge, for their LinkedIn career advice.
---
Make a great virtual impression
First things first—you'll want to choose a professional head-and-shoulders image, notes Bryn Panee Burkhart, senior associate director of alumni career services at MIT Sloan School of Management. A professional photo gets you on average 14 times more views than a non-professional one.
Your LinkedIn headline and summary are equally critical. Nailing these areas will ensure potential employers don't click away at the first peek of your profile. Here's where you can use SEO keywords to rank high in a recruiter's search.
"Your headline should be forward-focused—highlight your ambitions using the keywords that job search sites, and jobs advertised on LinkedIn, are using for the career you're pursuing," explains Margaret O'Neill, head of careers services at the University of Cambridge's Judge Business School.
The all-important LinkedIn summary is a chance to expand on these skills and qualities. And it's also a great place to showcase your enthusiasm for a certain career area, even if you don't necessarily have the experience.
Remember: LinkedIn isn't just a copy of your resume—it's an extension.
"LinkedIn is a storytelling platform," says Bryn, "So your LinkedIn profile should be in the first-person. Your summary should answer three questions: 'who am I?', 'what do I do well?', and 'what am I looking for next and why?'"
Recruiters want to get down to the bare essentials. So make sure your LinkedIn summary is short, snappy, and concise.
---
Be authentic in what you post
When it comes to LinkedIn career advice, there's no strict rules on what you should and shouldn't post but focusing on being your most authentic self will inform your sharing decisions.
Tom Lawrance (pictured right), head of careers services at the University of Oxford's Saïd Business School, recommends keeping active on LinkedIn to keep LinkedIn's algorithm working in your favour.
But being active doesn't just mean sharing the first news story you see. "You need to show thought leadership in what you post. If you read an interesting article, share it on LinkedIn and add something perspective and insightful to show some value—don't just post it without comment," Bryn advises.
By considering quality over quantity in what you share, you'll ensure employers see you for the curious and business-minded individual you are.
---

---
Embrace LinkedIn networking
Networking. You'll have that word drummed into you on your first day at business school. And LinkedIn will be a great tool to put your skills into practice—albeit digitally.
With over 75% of LinkedIn users outside of the US, you've got access to a powerful global network at your fingertips. Networking also gives you the best opportunity to secure a job that aligns with your talents.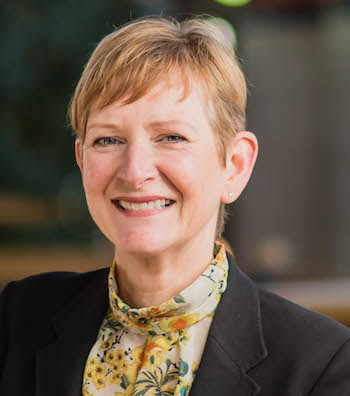 But don't send out floods of messages to users. This won't get you far, explains Margaret (pictured right); much like your social media posting, your outreach should remain authentic, too.
When building meaningful relationships, you should consider what you want to learn from that person in advance of approaching them.
"Networking should be a relational process rather than a transactional one," Tom from Oxford explains. "Find specific people that you have something in common with, like attending the same business school or having the same undergraduate degree, and tailor your response to that individual."
You could even invite that individual for a virtual 'coffee', where you could ask how they landed their job in a particular industry.
---
LinkedIn is for life—not just for the job search
So, you've landed your new job through LinkedIn. Time to log out of LinkedIn for good and leave those hard-earned social networking skills behind? Wrong. LinkedIn is a valuable networking tool regardless of your career stage.
Bryn advises continually keeping your profile updated, posting content related to your work, and reaching out once a month to a peer to remain on the radar in your network. "You need to have your network before you need to use it," she says.
LinkedIn will also help you build your reputation within your company. Margaret says LinkedIn is a way to share your knowledge and expertise with your colleagues, emphasizing to your company that you're someone with their finger on the pulse.
And through LinkedIn online learning, you can enhance your knowledge in over 5,000 subject areas.
All that time spent building your profile and maximizing your social media presence to get a job will benefit you throughout your professional life.
---
Next Read:
6 Tips For A Better LinkedIn Profile