With high salaries, bonuses, and opportunities for progression, high-paying finance jobs are some of the most sought-after. But is finance a good career path?
According to the Graduate Management Admission Council (GMAC), prospective business school students seem to think so, with 37% interested in a career in finance after they graduate.
---
Considering Your Career Options?
Download Our BusinessBecause Careers Guide
---
---
Finance Careers | Pros & Cons
Many MBA and business master's grads choose a career in finance because of the attractive salaries and the chance it gives you to make a big impact on an organization early in your career.
"It's a career path where you get access to senior individuals, have exposure to different companies, and see deals from start to finish," explains David Capaldi, director of career services at Cornell University's SC Johnson College of Business.
Before he came to Johnson, David himself worked in investment banking for 20 years, making him well-placed to advise would-be finance professionals.
For grads with the right set of skills, he says, finance is a good training ground to develop expertise in analysis, decision-making, and communication that are equally applicable in other industries.
"Finance remains an essential part of an executive's career," adds Catherine Karyotis, professor of finance at NEOMA Business School in France. "Finance is the oil in the economic engine—no finance, no growth."
---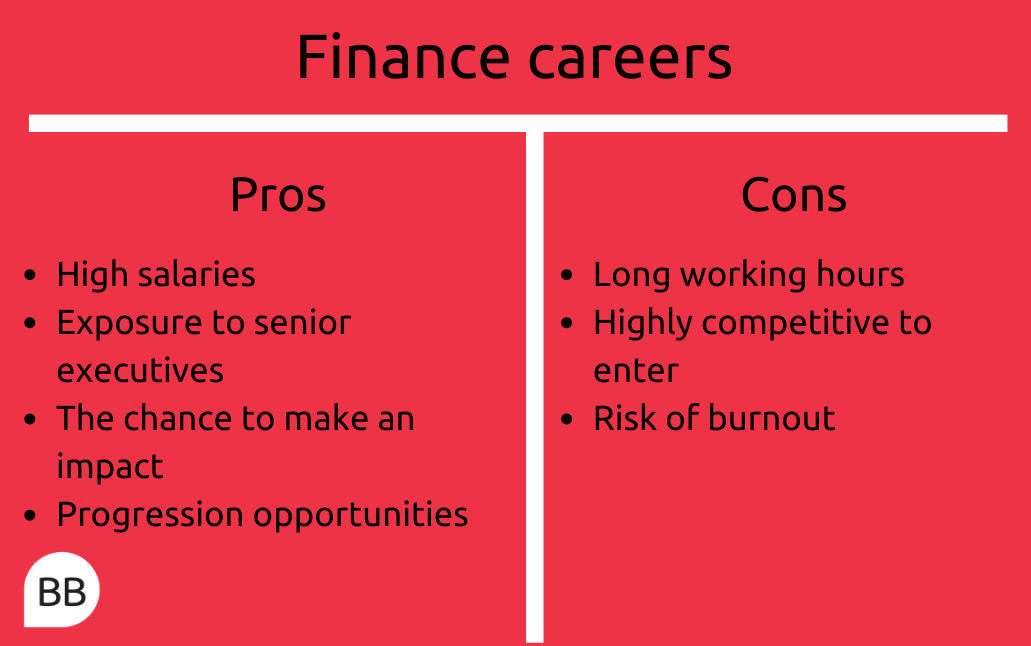 ---
If you're not passionate about finance, though, you're likely to struggle with the long hours and pressure that often come with the territory. According to a survey from finance jobs platform, e-finance careers, many big banks expect employees to tackle 70 to 80 hour working weeks on a regular basis.
When asking yourself is finance is a good career path for you, it's important to consider whether you can get used to this lifestyle, David says.
"Some graduates do get burned out, so it's important to make sure you pursue a career in finance because you want to do it—rather than because your peers are doing it, or you think you can make a lot of money," he reflects.
---
Finance Salaries
Careers in finance come with considerable compensation. In the US, according to data from Glassdoor, financial analyst roles command $72k or more, while accounting managers, financial managers, and account executives can earn in the $80k to $90k range.
---
---
For business school graduates, salaries are even higher. At top-ranked business school Columbia Business School, for example, grads in the MBA class of 2022 who landed jobs in finance across different functions reached salaries of between $125k to $180k.
---
MBA Finance Jobs
Jobs in finance are varied, but the three primary areas where grads enter the industry are investment banking, corporate finance, and equity or debt research.
In banking and equity or debt research, MBAs usually enter as associates, while roles in corporate finance are more diverse.
"In corporate finance, you might be hired as a manager, or directly into a treasury group to a role such as assistant treasurer," David says.
At Cornell, employers hiring MBAs in finance roles include Bank of America, Citi Bank, and J.P. Morgan. These firms rank among the best banks to work for in 2023.
Yet big banks are not the only employers to consider. The rise of sustainable investing and fintech innovation is also creating some new opportunities in finance.
Grads with an interest in emerging technologies like blockchain and artificial intelligence are well-suited to roles in areas like fintech, neobanks—banks that offer online-only financial services—cryptocurrency, and crowdfunding.
Meanwhile, sustainability-focused funds attracted net positive fund flows of $115 billion in 2022, according to a Morgan Stanley report. The demand for sustainable investing continues to create opportunities for green-minded business school graduates
"Sustainable finance is becoming one of the most attractive sectors for recruitment," Catherine notes.
---
Finance Career Progression
Whichever area of the industry you enter, there are plenty of opportunities for long-term progression in a finance career path.
"In both investment banking and equity or debt research, many people eventually want to be a portfolio manager," says David.
Careers in these areas usually follow clearly defined structures, moving from associate, to vice president, to managing director.
In corporate finance, though, there is no 'typical' path. The most ambitious grads might aspire to be CFO one day, but this isn't the only option.
"You sometimes see people from corporate finance go into corporate development, and internal mergers and acquisitions is a popular avenue," says David.
"I've even seen people step into the sales or general management side of the business—once you get in, there are doors that can be opened and there isn't necessarily a defined path."
Corporate finance can also be a good route for future company leaders, thanks to the broad analytical and communication skills they develop. "Many CEOs are former CFOs," Catherine says.
---
Key Skills for Finance Careers
A career in finance can be hugely rewarding, but it's a notoriously competitive field, and standing out during applications and interviews can be tricky.
To give yourself the best chance of landing finance jobs, David recommends making sure you have a good mix of technical and soft skills.
---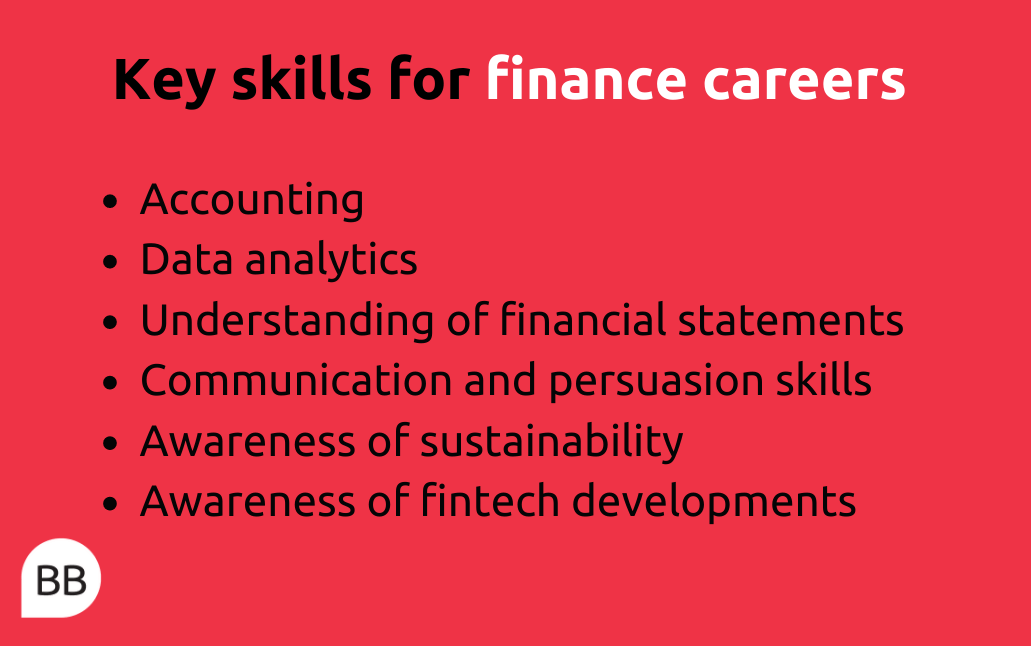 ---
"You have to have at least an intermediate understanding of accounting, and to have taken a number of classes that teach you to navigate and understand financial statements," he advises.
"Analytical abilities are also in high demand. Financial professionals often have to draw conclusions form large volumes of data, so being able to manipulate and analyze that is important."
Communicating your insights to stakeholders is an equally important skill, which becomes more important as your career progresses. "To be successful, you really have to be able to communicate your ideas and convince others what you're presenting makes sense," David concludes.
When you start applying to finance jobs, conducting thorough research on the companies you apply to is equally crucial. Employers need to know why you want to work for them specifically, and generic questions and answers are unlikely to get you very far in the application process.
---

Succeeding in the finance sector takes hard work and a specific set of skills, from a good understanding of accounting and financial statements, to analytics and communication skills.
Nonetheless, finance is a fulfilling and varied career path, with tech innovation opening up new opportunities for business school grads. In the coming years, a firm grasp on fintech and sustainability will be essential for long-term success in finance.
Whether you choose to stay in the industry long-term, or build skills that you take elsewhere, there are plenty of reasons finance is one of the three most popular post-business school career paths.
If you want to kick-start your career in finance, studying for an MBA or Master in Finance (MiF) can help you build the broad skillset you need to succeed, while helping you access a network in the industry and expert advice for your job search after graduation.

---
For more information on how to launch your career in finance, including free advice from b-school careers experts, download our BusinessBecause Careers Guide: What's Next After Business School?