Christina Poole had worked with management consulting firms, data specialists, and Facebook after graduating from a bachelor's in psychology, but opted for a career change to follow her passion: marketing.

As an American who had only worked in Texas after graduation, she was also eager to explore her options outside of the US. She landed on an MBA as the best way to study abroad and increase her chances of securing a role in the increasingly competitive marketing industry.

The HEC Paris MBA in France stood out to her. One-fifth of HEC Paris grads typically land MBA jobs in marketing or sales, with past grads even joining the likes of streaming giant, Netflix.

Her decision paid off too. Christina is now a rotational leadership associate in Nike's marketing department and is on the fast-track to leadership with one of the world's top brands.
---
How the HEC Paris MBA marketing syllabus prepared me for a career with Nike
Christina chose HEC Paris because of its ranking as the top business school in Europe and its strong network of alumni and recruiters across a range of industries.
"I really wanted to go into industry rather than consulting after my MBA and HEC Paris had really good industry connections with big Fortune 500 companies," she explains.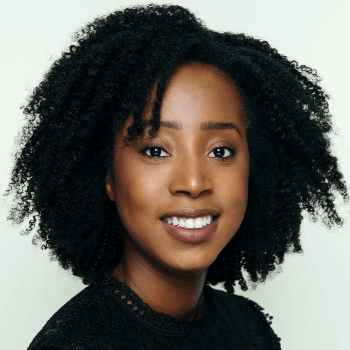 She also found the MBA curriculum appealing. While covering core business fundamentals such as finance, accounting, and management, the program also offers students opportunities to specialize in a range of industries and functions.
The curriculum includes seven specialization tracks such as Strategic Marketing, and Digital Innovation. Students can also select eight electives during the program, choosing from a wide range of options like luxury brand management and customer marketing strategies.
Classes are taught through a mix of theoretical and practical learning. During a brand management class, Christina completed a consulting project with a startup, working on building its brand identity and direction while receiving advice and feedback from professors and industry experts.
She also had the opportunity to gain professional experience through an internship with the French cosmetics company, L'Oréal, where she worked in the luxury division. This also helped expand her knowledge of brand management.
"I was able to see a lot of the theories that we talked about within my luxury management class come to life," she says.
During the second half of the degree, when students are doing their specializations, they must also complete a Final Leadership Project, and choose between taking electives, completing an international exchange with one of 30 partner schools, or working on their own Entrepreneurship Project or an MBA Project.
Christina chose the latter, focusing her MBA Project on social media and branding in the beauty industry and building on what she'd learned during her time at L'Oréal. She conducted her own research into branding strategies across different companies by collecting data and interviewing experts.
"I'd say the biggest thing I took away from my MBA would be my MBA Project," Christina explains. "That gave me a really in-depth look at branding and how to apply it to my industry."
---
Best MBA jobs: How I landed a top marketing a role with Nike
There are few more well-known brands in the world than Nike, and Christina used the expertise and experience she gained during the program to successfully land a job in the company's marketing department after graduation.
Through the rotational leadership scheme, Christina will move between different areas of the marketing department in her first two years, before choosing a specialist field.
The job description said Nike was looking for creative students with a global mindset and digital expertise. Christina felt her experience made her the perfect fit.
"They're the three ways I've been describing myself as a business professional, and I really think that my time at L'Oréal and HEC Paris made me stand out," she says.
---
How I'm developing as a rotational leadership associate
Now in her first rotation, Christina is in marketing operations. She's learning the foundational processes that run the marketing department, including data reporting, strategy, and campaign planning.
The next rotations cover more traditional marketing roles, including brand management, brand creative, and consumer direct marketing. Combined, they give an understanding of the work Nike puts into the various stages of the customer journey, and a holistic view of the company's marketing strategy.
"It's a really good program for people who are just starting out in marketing, who are still trying to see where their skill sets will fit best," Christina says. "Learning about branding has really helped me understand my new role at Nike It's a different type of brand where it's more about storytelling.
"Seeing how companies build that following and foster loyalty through their branding was a really interesting avenue to look at [during the MBA] and has helped me understand my job a lot more," she says.
A deep understanding of branding and the various facets of marketing at Nike gives Christina a good platform on which to build her career at the company.
"Many leaders have told me that this will uniquely position me for leadership," she says. "This program is basically bringing up the next generation of leaders within Nike."
Related Content: