Mark Mansdoerfer channelled his passion for people into a career in international human resource management after graduating from the MSU Broad MBA. Now he's landed a dream role with Raytheon Technologies.
Born into a family of small business owners in Philadelphia, Mark Mansdoerfer spent most of his childhood in his father's florists, or his mother's funeral shop.
As a child, Mark knew everyone that worked for his parents—even his babysitters were their employees. The experience taught him the value of people within an organization; sparking a passion he'd later channel into a career.
Inspired to pursue a career in human resource (HR) management, Mark enrolled in the JD/MBA program at Michigan State University's (MSU) Broad College of Business, a dual-degree teaching law and business administration.
Since graduating, he says he's found the perfect role: working in international human resource management at Fortune 500 defence contractor, Raytheon Technologies.
"I live in the white collar world and think strategically, but I still get to interact with the blue collar side of things, which is where I'm comfortable as that's what I grew up in," he says.
---
Learning HR on the MSU Broad MBA
The option of a dual-degree program made choosing to study at MSU Broad a no-brainer for Mark. He could develop a strong business acumen while honing his legal expertise, preparing him for a career in HR.
He was also attracted to the Broad MBA's strong HR focus. Alongside core modules covering business fundamentals like finance, marketing, and analytics; the 21-month program offers a range of HR modules and specializations.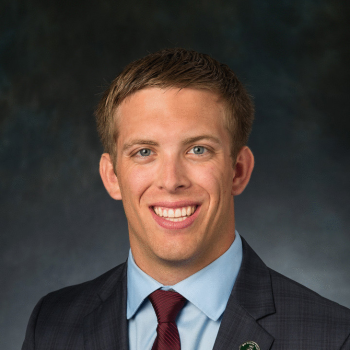 That includes core courses in workforce management, leadership, and teamwork. There's also the opportunity to specialize in a Human Resource and Strategic Management concentration, with further elective modules available in leadership and strategy.
Having access to this variety of options during the program helped Mark develop many of the skills he'd later need at Raytheon. "I learned a lot in terms of communication, putting together slide decks and telling a story," he says. "I probably use that daily.
"Negotiation is another [key skill] that comes up a lot on the labour side when negotiating with unions," he adds.
Alongside theoretical learning, Broad offers students a variety of business simulators and group projects to gain practical experience. During a leadership module, Mark had to hire a team of both undergrad and MBA students before leading them through a group project.
"I basically had to recruit people and figure out what skill sets I wanted on my team, and then have the team go and execute," he says. "Ultimately that's the kind of thing I do now."
---
Launching a career in international resource management
All Broad MBAs can access a wide range of support to help launch their careers. Each student has the chance to embark on a least one internship during their degree, for example. This offers the chance to combine in-class learning with practical experience.
Mark landed two internships during the program. An HR intern role at machinery manufacturer Ingersoll Rand, gave him his first real-world experience of HR. "I loved it, I absolutely fell in love with HR at that point and knew this is what I wanted to be in," he says.
Students also have further opportunities to connect with employers during recruiting and networking events on-campus. The program even begins with a half-day Boot Camp, offering the chance to meet with cross-industry professionals and gain an insight into their careers.
Crucially for Mark, MSU MBAs also gain access to the Broad alumni network, comprising almost 80,000 alumni from the school's business programs. During an alumni networking event, he met James Brooks, a former alum working as a manager at Raytheon Technologies.
"I was able to get a first round interview for the rotational program while on campus," he explains. "James was an MSU alum and I ended up having a really good connection with him."
James supported Mark through the interview process and, after he secured the role, even helped him land an ideal rotational position in Southern California where he'd gain experience in key labour negotiations.
"That was huge to experience and understand it all," he explains. "That connection started with the interview on campus then morphed into where I am today."
---
Working with Raytheon Technologies
Five years after landing his first HR job, Mark's management role now sees him responsible for a global team located across both the US and Turkey.
His day to day tasks involve resolving labour disputes, implementing hiring practices, and coordinating strategy across the multiple sites that report to him. It requires some key skills that go beyond what he's relied on so far in his career, he explains.
"I've moved up a level, where I provide support at a broader scale," he says. "My role is making sure we're working together, where each team has their individual goals but we're all pulling in the same direction."
The added management element requires Mark to use his leadership skills, as well as soft skills like teamwork and interpersonal relations.
"That's where the MBA provides a lot of value," he explains. "I probably learned the most in the MBA student lounge compared with the classroom because that's where conversations happened and I built up those relationships."
As he looks to the future, Mark feels he can keep building on the foundations he's developed since graduating from the MBA.
"The tools are coming into play now," he says, "I'm at that inflection point where I see myself becoming more of a strategic leader, and that's what's exciting."
Related Content: