Liverpool is a city bursting with sporting activities, from the rivalry between Everton and Liverpool clubs to Aintree Racecourse, which holds the annual Grand National steeplechase. So, it's no surprise that the University of Liverpool is a global center for sports and football business research and executive education.

The Center for Sports Business at the University of Liverpool Management School offers a range of masters degree programs in the business of sports, football, and horse racing, including the Master of Science (MSc) in Sports Business and Management and the Football Industries MBA.

Here's how two alums from the Liverpool Center of Sports Business used their sports management degrees to land jobs in the sports industry.
---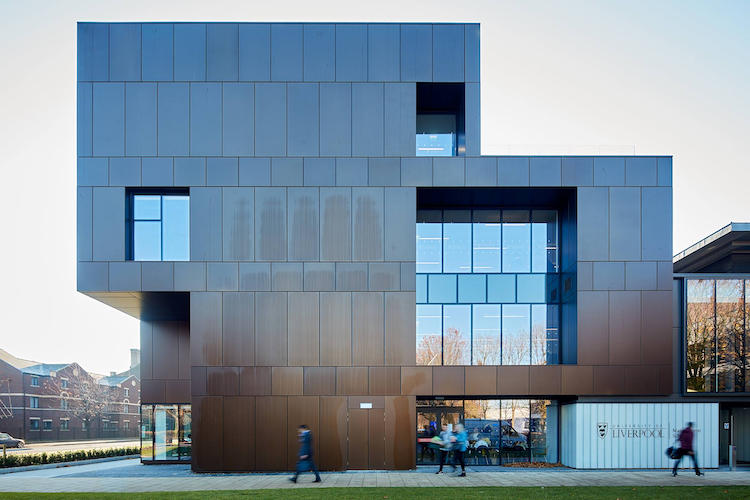 ---
From Football Industries MBA to football agency founder
Mario de Rossi's obsession with football and lifelong dream to become a football agent led him to the University of Liverpool Football Industries MBA.
Mario grew up supporting his hometown club of Foggia in Southern Italy and longed to work in football in some capacity. At first, it was as a player, but after tearing his ACL, he decided on a different path into the sports industry.
"I always wanted to be an agent, delivering deals, changing people's lives, improving their lives," he explains.
Before his MBA, Mario worked in Italy as a sports lawyer but felt that something was missing. This is when he decided to pursue his passion of becoming a football agent.
He chose the University of Liverpool Football Industries MBA (FIMBA) because it was the world's only football-specific MBA, and he was excited to learn with a diverse network of nationalities.
The Liverpool Football Industries MBA focuses on core elements like leadership, strategic management of the environment, innovation, entrepreneurship, and managing financial resources. The football MBA also has a strong emphasis on interactive teaching and learning.
After starting the Football Industries MBA, Mario quickly affirmed his position as a high achiever. After six months, he became captain of the Football Industries MBA football team and the worldwide ambassador of the sports management degree program—a position he still holds.
"The most interesting part of the MBA was meeting professionals working in the sports industry, hearing their experiences, and finding out tips to developing our own career path," Mario says.
Mario enhanced several skills during the MBA, including management, negotiation, and finance skills. He also enjoyed combining industry-specific courses in topics like the International Football Industry alongside more general business courses like Marketing and Supply Chain Management.
During Mario's work-based project, a work experience option Liverpool offers as an alternative to a thesis, he moved to Bilbao in Spain and worked as a marketing intern at the Athletic club.
He started working as an agent six months later and founded a successful agency, MdR Sports Management.
"I started working as an agent recruiting young male and female talents. I work with different clubs to move players and take care of international deals—from Mexico to Poland to Lazio and Napoli," he says.
Mario emphasizes that the sports industry is a challenging and competitive industry, and he has had deals fall through and change. However, he believes these experiences are essential for growth, citing inspirational leaders like Nelson Mandela's infamous quote, "I never lose. I either win or I learn".
Mario says the business and personal skills his MBA gave him allowed him to achieve his dream of becoming a sports agent.
"It was one of, if not the best, experience—it changed my life."
---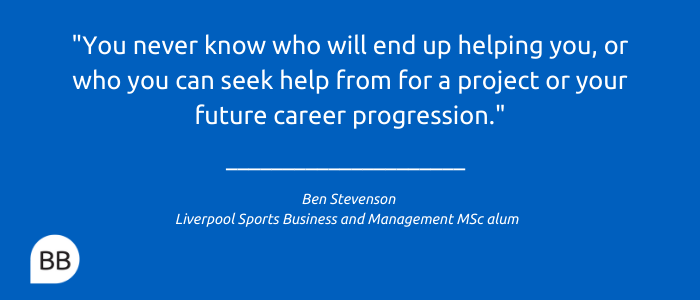 ---
Using a sports management degree to launch into a sports analyst career
Ben Stevenson, a Sport Business and Management MSc graduate, is a sports analyst at SportBusiness—a sports industry publication he read avidly before and during his sports management degree at Liverpool.
The Liverpool Sports Business and Management MSc covers the global context of sports business, sports marketing and sponsorship, and leadership in sport.
Before his sports management degree, Ben worked as a financial trader for two years. During this time, he read SportsBusiness every day and realized his passion for the sports industry. He says he decided to apply to Liverpool because of its accreditation and connections with local sports clubs.
The University of Liverpool Management School holds the gold standard 'triple-crown' accreditation from AACSB, AMBA, and EQUIS—the three largest business school accreditation associations.
During his sports management degree, Ben connected with David Cockayne, a senior marketing lecturer, who introduced him to people in the sports business industry.
He adds that a highlight of his sports master's degree was being taught by visiting industry professionals.
"We were able to interact with them on a personal basis after they'd given the talk and then connect with them on LinkedIn," Ben says.
In the Sports Marketing and Sponsorship module, each student worked on a marketing plan designed to increase Everton Football Club's exposure in the US. The course leader, David, then selected the best plans to present to the head of marketing at Everton.
"A lot of the sports master's degree was about combining theory with the real world, practicalities of the industry," Ben says.
Ben now works in the research team at SportsBusiness, where he maintains the database, coordinates research projects, and works closely with big-name clients like Sky Sports.
His main advice to students wanting to land jobs in the sports industry is to network as much as possible.
"You never know who will end up helping you, or who you can seek help from for a project or your future career progression," Ben says. "It's a great industry for anyone lucky enough to get into it."
Ben says that although he had a passion for the sports industry, his career dreams wouldn't have felt possible without his sports management degree.
---
Next Read:
How My MBA Helped Me Land A Job In The FIFA World Cup
Student Reviews
University of Liverpool School of Management
Related Content: