While many people's MBA journeys are linear, upskilling to progress their current career, some choose an MBA to gain transferable skills that allow them to switch career paths.

This was the case for Mia Cheng, who, after a three-year career in aviation management at a Taiwanese technology company, chose to pursue an MBA and look for new career opportunities.

The HKUST MBA honed her skills and elevated her resume so she could pivot to a new career managing investments for a single-family office in Hong Kong.
---
Enrolling in an MBA to switch careers
Mia always loved interacting with people from different backgrounds; she chose Hotel and Restaurant Management for her bachelor's degree at Fu Jen Catholic University in Taipei, where her dream job was to be a flight attendant. After graduating and completing an internship in the hotel industry, she joined Qatar Airways.
After three years in the Middle East, Mia joined a diversified Taiwanese technology company. Her aviation experience led her to managing the company's fleet of private jets.
"Aside from managing the fleet of private jets, I also provided strategic and administrative support to overseas infrastructure projects, reporting directly to the Chairman," Mia says.
These experiences inspired her to upskill to give her more authority as a manager, and increase her chances of improving her career trajectory.
"I wanted to develop my understanding of finance to support my decision-making as a manager. So, after three years with the company, I started considering my next step," Mia explains.
Mia joined events held by the HKUST MBA alumni network and spoke to MBA consultants. Most importantly to Mia, a Hong Kong business entrepreneur spoke about HKUST's local brand recognition and broad network, which solidified her decision on HKUST.
"He shared how the network and employability of HKUST graduates could help a career switch. That's why I chose HKUST to break into the Hong Kong market."
---
READ: HKUST Business School MBA Application Insider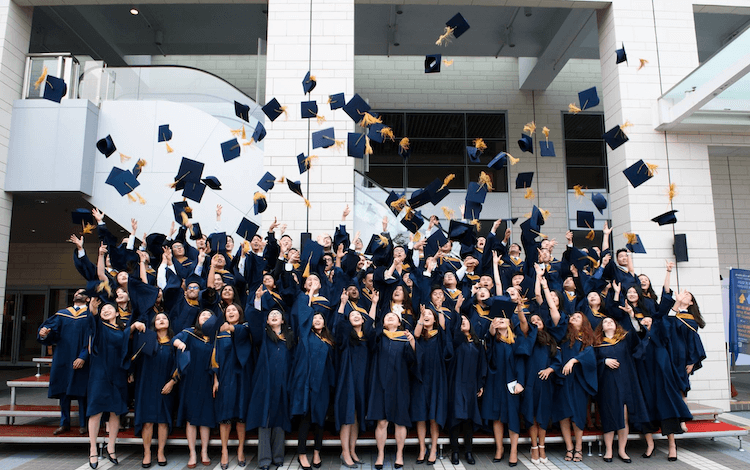 ---
Gaining transferable skills
HKUST caught Mia's eye when she noticed its EMBA consistently ranked number one worldwide. While she didn't have the experience to join the EMBA, the MBA's elective courses and diverse classes captured her attention.
"HKUST has a broad set of courses in various industries and an overseas exchange program that gives students the opportunity to explore. Apart from the course selection, the diversity of the class was also attractive to me to build a global network."
The HKUST MBA boasts a diverse international student body from a range of backgrounds. Of the 2021 intake, 89% were non-local and came from professional backgrounds, such as consulting, engineering, and analytics. The alumni network—which Mia utilized to hone her application— represents countries across the world, including Thailand, France, Germany, and the United States.
During her time at HKUST, Mia's skillset expanded significantly. Courses and an exchange at Yale SOM gave her the knowledge and techniques she used first in her Investor Relations internship at a hedge fund, and then in her current position.
"The MBA courses in Corporate Finance, Family Business, and Value Investing helped me adapt to the finance industry," Mia says. "The knowledge and case studies help me to solve problems and enhance my on-the-job learning."
However, Mia has found the personal skills she gained at HKUST to be the most valuable.
"The most important takeaway was on the soft skills side. The diversity of the class's backgrounds, made me realize if I want to reach an agreement, I needed to move from a competitive mindset to a cooperative mindset."
---
Starting her career in finance
During her MBA, Mia was given numerous opportunities to make connections and establish a network in her new career. During an internship in Investor Relations, she built up her network in Hong Kong and gained industry insights.
She also accessed the HKUST MBA career service, which increased her network and career-focused skills.
"There is a wide variety of networking and training events for popular industries, which allows for individualization. Each full-time MBA student had access to career coaches from different backgrounds. I found that the mock interviews I had with my coaches very helpful when applying for jobs."
Mia gained her position through the COO of the family office, an HKUST alum, contacting her through LinkedIn. After an interview, she was offered the job. Now, she uses her transferable range of skills at work.
"It's not only about having the specific technical skills, but also the people skills and a growth mindset: dealing with unfamiliar problems logically, good managerial communication, and consistently reflecting upon what I learned from HKUST MBA," Mia explains.
The family office, a wealth management company, has investments across different industries, including public and private equity, real estate, and biotech. The founder is a Harvard PhD and a macro hedge fund manager. Mia works supporting the team in all issues - investment, non-investment, and organizational.
Having gone through the career-switching process, she points to three things that allowed her to learn and flourish in her new path: active networking, persistence, and being open-minded.
"I was unsure about which industry I would land in post-MBA, and I had not even thought about joining a family company. Keeping an open mind allowed me to gain insight into the sector quickly, maintain different options, and choose this role."
---
Next Read:
HKUST Business School MBA Application Insider
Related Content: