There's not a single M7 business school in the best sustainability MBA programs ranking released by Corporate Knights, with a list of schools that looks starkly different to what we're used to seeing in rankings of the world's best MBA programs.

There are only two US business schools in the top 10 of The Better World MBA ranking of 2021. Instead, the ranking spans the globe, with 55% of programs located across the US and Canada, 35% in Europe, and 10% in Australia.

There are also some big climbers from last year. 10th placed Durham climbed up from 29th in 2020, while the University of St Gallen, now ninth, was ranked 58th last time out.

The University of Edinburgh Business School broke the top 10 this year, climbing to sixth from 28th, and second placed Maastricht University School of Business and Economics rose from 16th.
---
Spotlight on the 3 best business schools for sustainability
---
3.
Warwick Business School
The UK's most sustainable business school aims to bring out each student's inner 'Change Maker.'
The program values diversity and research sharing, with a mission statement that involves developing cutting-edge research, creating transformational learning experiences, and focusing on policy and practice.
And while its publicly shared values and mission don't specifically mention a focus on sustainability, the program's focus on research and diversity has allowed it to maintain its place near the top of the list of best business schools for sustainability.
2. Maastricht MBA
Located in The Netherlands, the Executive MBA program includes eight modules: five core plus three additional that can focus on either sustainability, responsible leadership, or digital business.
The ability to focus on sustainability, while attending a program known for its diversity and international student base, ensures a unique experience tailored to global, future-focused sustainable leaders.
Jumping from 16th to second in just one year secures Maastricht's place as one of the world's best business schools for sustainability.
1. Griffith MBA
Griffith University's full-time MBA program tops the list of best business schools for sustainability. The program is renowned for its dedication to three core values: responsible leadership, sustainable business practices, and an Asia-Pacific focus.
Griffith's faculty believe that business success in the 21st century relies on creating sustainable leaders who can take advantage of opportunities created by sustainable business practices.
---
20 best sustainability MBA programs by country
---
Corporate Knights' The Better World MBA ranking of the best business schools for sustainability is a truly global affair.
There are two schools from Australia, Griffith Business School and La Trobe Business School. The UK is well represented with five schools in the top 20, the same number of schools as both the US and Canada.
There are two European schools, The Netherlands' Maastricht and Switzerland's St Gallen. And finally, Colombia's Universidad Externado de Colombia School of Management is South America's sole representative in the top 20.
---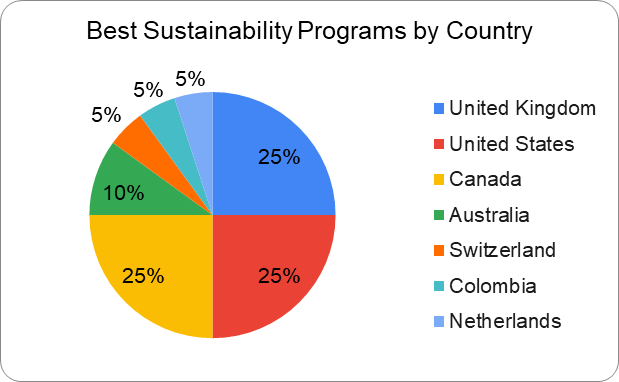 ---
The growing value of sustainable business and sustainable leaders
---
When looking at a list like this, you're probably asking yourself why you should value sustainability in your business school education.
In recent years, the importance of sustainable management practices has gained significant lip-service in the business world—and there's an important reason.
According to research by Deutsche Bank, outlined in McKinsey's "Profits with Purpose" report, companies with high environmental, social, and governance (ESG) practices, 'outperform the market in the medium (three to five years) and long (five to ten years) term.'
In the current political and business climates, students are applying to business schools with the twin goals of learning to maximize profit and purpose. There's a growing understanding that business practices should not do long term harm.
But what makes the programs on this list so excellent, and worth your consideration?
---
Better World MBA ranking methodology
---
According to the report's methodology, the 147 universities chosen for evaluation included programs from the Financial Times Global MBA Ranking and the 2019 Corporate Knights Better World MBA Results.
This year's list includes universities known for valuing and promoting ESG factors. Corporate Knights based their evaluation on the following seven ranking factors:
→ Core course integration of sustainability (30%)
→ Research publications per faculty member on sustainability topics in calendar year 2020 (20%)
→ Percent of total faculty publications in 2020 in sustainability topics (20%)
→ Number of citations per faculty for those publications (10%)
→ Sustainability-focused research institutes and centers (10%)
→ Faculty gender diversity (5%)
→ Faculty racial diversity (5%)
---
Limitations of the methodology
---
The methodology used to determine these rankings is based on information found on each program's website. Universities are given the option to review and edit the information, but we cannot say what percent of universities actually do so.
Publicly available data is particularly problematic when used to determine faculty gender and racial diversity. These rankings should be taken with a grain of salt.
The weights used in this evaluation will also tend to favor larger universities, or universities with a research focus, which may have an advantage when it comes to garnering academic citations. Programs that make a point of labeling their courses and research as 'sustainability-focused' also have an advantage over universities that don't use these labels—even if the end result is the same.
As with any methodology, this one has its limitations. If you are interested in applying to a specific program, you will want to reach out to faculty, alumni, and admissions departments to learn more.
---
The advantages of being a sustainable leader
---
Learning to combine profit and purpose through sustainable management is important in a world where ESG factors are increasingly marketable.
There is also a pressing need for larger corporations to adopt practices that can help tackle climate change. Corporate entrepreneurship, for example.
Attending one of the top 20 best sustainability MBA programs can help you learn to be a sustainable, forward-thinking leader. However, keep in mind that there are many important factors in making your business school decision, which must be weighed according to your personal goals.
---
The 20 best sustainability MBA programs
---
Next Read:
What Does A Sustainable Business School Look Like?