The advantages of an MBA are numerous: salary increase, gaining business knowledge, expanding your professional network, and career progression. However, it is no secret that MBAs are a significant investment; the average cost of a top MBA in the US is $225,605.

While the return on investment (ROI) is expansive and long-lasting, spending more than $200,000 is not plausible for some people. However, that doesn't mean you can't get a business education.

Mini MBAs are an option for those just starting on their business journey, or needing a mid-career skills top-up, and can be a valuable alternative to the hefty fees of a full-time MBA.

So what is a Mini MBA?
---
Mini MBA: What is it?
The mini MBA is a certificate program designed to give students a fundamental understanding and education in business management topics.
A mini MBA offers many of the same benefits as the full-time MBAs but at a fraction of the cost and time. These programs usually require fewer than 100 hours of total class time while still giving its students a grounding in business fundamentals.
"It's for the person who knows very little about how businesses operate," Courtney J. Walsh, assistant dean of the office of professional and executive development at the University at Buffalo, told Fortune. "If you're interested in potentially getting a degree down the road, but you're not sure, this is a way to discover if you're interested in that."
While less detailed than a full-time MBA, or for people with a wealth of work experience who need a bit more business acumen, mini MBAs cover essential business management topics such as accounting, finance, management, marketing, entrepreneurship, and business ethics.
"A mini MBA gives you the top two or three most important concepts in each of the business disciplines that would be involved in a full course on any topic," Walsh said. "It's nowhere near as in-depth as a full course, but you'll get a sense of the most important concepts that you'll need."
---
Considering an Online MBA?
Download our Online MBA Guide 2023
---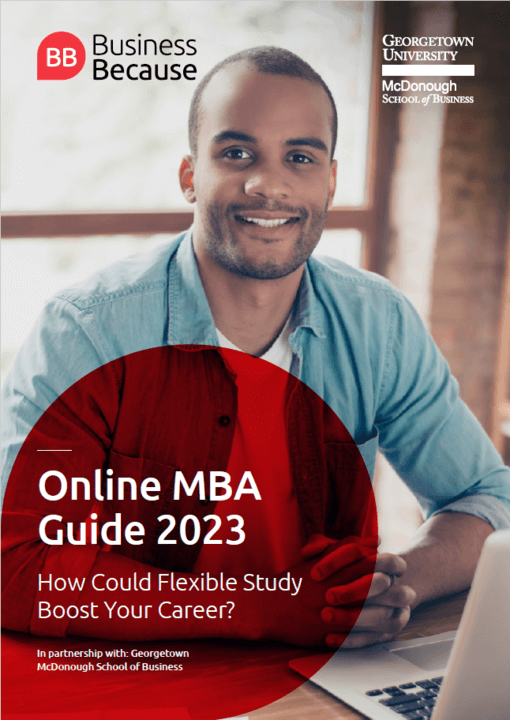 ---
Mini MBA: typical programs
---
Rutgers Business School
Rutgers has been offering its Mini MBA credential for 15 years and has three different formats to allow for ultimate flexibility.
The first is an accelerated one-week, in-person model. In this version, students take part in two modules per day over five consecutive days, so you can take a week off work, soak up all the information you can, and return to work ready to implement your learnings.
The second­, most popular option, is an online, asynchronous mini-MBA that takes 12 weeks to complete. With this version, students are advised to take one module per week, plus two weeks for the program's project and final exam.
The third model is a virtual, live format offered in several durations, delivered via Zoom.
Rutgers' Mini MBA curriculum includes modules in Business Strategy, Leadership, Marketing, Achieving Innovation, Supply Chain Management, and Communications.
Rutgers offers 15 variations, including mini MBAs focused on artificial intelligence, digital marketing, data-driven management, and BioPharma innovation.
The price is comparable to the school's credit hour price—$1,166 per credit. Those who complete the flexible courses receive a certificate, digital badge, and credits for a headstart to a future graduate degree. Rutgers' Mini MBA is made up of 10 modules each covered in three and half hours, and the entire program's cost starts at $3,495.
---
Buffalo Business School
The Buffalo Mini MBA also prioritizes flexibility, and is offered online and self-paced.
The school's Online Mini MBA is a non-credit-bearing course. There are no degree requirements for the program. The course consists of 17 modules that must be completed to receive a certificate of completion.
Buffalo has six topic areas and 17 modules. The six topic areas are Accounting and Finance, Marketing and Communications, Technology, Human Resources and Legal Issues, Economics, and General Management.
As for price, Buffalo's program is $995.
Buffalo is launching an updated online Mini MBA certificate program this month.
---
Mini MBA: Is It Right For You?
A mini MBA benefits those looking to learn the basics of business operations, familiarize themselves with business concepts, or upskill but don't want to pursue an full, one- or two-year business degree.
You might consider a mini MBA if you are a business professional who wants to demonstrate your future potential while drawing on the strengths of your previous experience.
You might also consider it if you are a manager or future manager seeking immediate and practical applications of business theory and methodology. Or if you are professional and want to stand out to your current, or future employer, by upskilling your business abilities and sense.
Overall, a mini MBA could allow you to learn valuable skills, knowledge, and abilities in the business world —without giving up your job or a large financial outlay.
---
Next Read:
Online MBA Guide 2023 | Everything You Need To Know About Online MBAs