Whatever your career development goals, a strong network is an important asset. According to some experts, as many as 80% of jobs are filled through networking.
For professionals seeking a strong global network, business school is often the answer. By connecting with diverse peers, and tapping into a broad alumni network, students learn from one another, and build connections for life.
On campus, networking can happen quite naturally—but what about students who opt to study online?
"I think you have to be more planful when you're building a network online," reflects Terri Cramer, associate director of career services at the University of Indiana Kelley School of Business. "But done correctly, meeting virtually can allow you to be more efficient with your networking."
Here are three tips for successfully building your network online:
---
1. Treat networking as a priority
When coaching online MBA students, Terri is quick to emphasize that growing your online network requires planning and dedication.
"You can set yourself different goals depending on how important networking is to you," she advises. "For example, you might aim to have four networking conversations per quarter."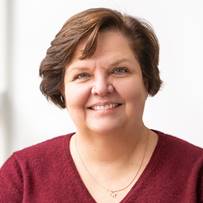 Alongside this planning, Terri recommends staying open to spontaneous connections—particularly with members of your class.
"You might find one of your teammates is working in a role or industry you find interesting, for instance," she notes.
For Brooks Hamby, a current student in the Kelley Direct Online MBA, getting to know peers this way has been a highlight of the program.
A linguist by training, Brooks managed collaboration between Japanese and American teams at Industrial Tech Services Inc, a manufacturer supplying Toyota, when he came to the MBA.
"Translation is fascinating, but it's not very upwardly mobile, so I wanted to enhance my professional toolkit and broaden my network through an MBA," he explains.
Reluctant to take a two-year break from the workforce, he opted for an online program—ranked as the best online MBA in the US by US News, the Kelley Direct MBA quickly stood out.
Before Brooks began the program, he was skeptical about building a network online. Now, though, he's a convert.
"You have to be determined and proactive about it, but now I've built friendships and connections I think will stick for life," he says.
---
2. Be clear with your intentions
When reaching out to someone new, it's important to lay out your intentions—this is equally true when it comes to online networking.
"Schedule 20 minutes, explaining that you're keen to hear about the person's experiences, and also include a compelling brand statement about yourself," Terri recommends. Planning your questions in advance can also help the meeting run smoothly, she adds.
"It's a good approach to base the questions on your contact's own career path—this is where people are most comfortable and conversant."
Networking online can actually make it easier to stick to your agenda and time frame. In a ZOOM meeting, after all, there's no waiting for coffee or searching for a table.
"Online networking is agile," Brooks observes. "You're investing less money and time than you would meeting someone in person—all they have to do is walk over to their phone or computer. Just make sure you're familiar with the tech you'll be using."
Brooks' online communication abilities have helped him land a new role, just half way through the MBA. As CEO for online education startup, Flip-Ed, Brooks will be drawing on the growing business acumen he has gained from the MBA's core curriculum.
Flip-Ed takes educational texts and transforms them into interactive lessons. "It encourages better engagement and is budget-friendly for the student—we're trying to disrupt the education space," says Brooks.
---
3. Follow up
Practicing what Terri calls "good networking hygiene" will ensure your online network matures and becomes more valuable over time. This means making a habit of staying in touch, and taking a genuine interest in your connections.
"I often say: don't make it harder than it really is," says Terri. She advises a simple check-in with your core network every few months, providing an update on your career and asking after them.
By staying in regular contact, it will feel less jarring when you ask someone for support—or offer to support them.
"If you're very diligent, and practice this good hygiene while you're in the online MBA program, you'll end up with a set of colleagues you can reach out to and connect with for the rest of your career," Terri concludes.
Although making meaningful connections can be more challenging in a virtual landscape, Terri is confident that with the right approach, you can still build a valuable network. As more and more communication shifts online due to coronavirus and changing work culture, virtual networking is a skill worth cultivating.
Related Content: