Due to the ever-increasing demand for expert healthcare managers, healthcare is an increasingly popular industry for MBA graduates.

The University of Cincinnati's Online MBA with a Healthcare Administration Graduate Certificate ensures that students keen to combine business and healthcare expertise can fill their knowledge gaps and launch a career in healthcare management.

BusinessBecause spoke to current students from Cincinnati's Online MBA in healthcare management to find out why you should study an Online MBA in Healthcare Management.
---
1. You can pivot your career towards the healthcare sector
Samantha Kelly (pictured) is just starting her career. She's recently completed her bachelor's in interior design at Cincinnati and enrolled in the Online MBA with healthcare management to follow her passion: healthcare design.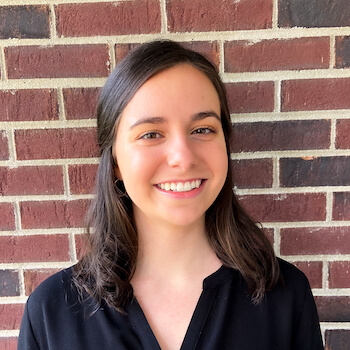 "Healthcare design looks at the ways design can serve the patient experience," she explains. "I don't have the competence to be a doctor or a nurse, but there are studies out there that show that materiality, natural light, or even bringing in plant life can help to aid patient healing."
Ashley Gierzak, an experienced logistics account specialist, also joined the Cincinnati Online MBA to pivot into the healthcare industry. Although she studied biology at college, she went on to work in logistics for over six years—she's now in a management position but feels an MBA can restart her career progression.
"Now I'm 28 and I want to move back into healthcare," she says. "That's what led me to the program."
---
2. You don't have to take a break from work
Kevin Schuler has worked as a women's cancer surgeon for nearly a decade. He still works full-time at his clinic alongside attending business school, and the flexibility of Cincinnati's online program enables him to study between his work and time with his children. The program can be completed in a year, with the opportunity to start class three times annually, giving students the flexibility to begin their studies year-round.
"The program is paced very well," he says. "The courses are done in achievable amounts of time that are designed to make you move through the coursework."
Ashley, who manages a team of five on the operations side of her company, studies for one to two hours a day after work.
"As far as my day-to-day goes I'm at work from 8am-6pm," she notes. "My schedule has changed throughout the process, as during the first semester there were a lot of core business classes like accounting and basic finance, whereas during the second semester, I got to choose my electives in healthcare."
---
3. It teaches you soft skills alongside technical skills
Samantha notes the importance of learning soft skills to manage challenging relationships within healthcare.
During various internships at interior design companies like IA Interior Architects, Trinity, and Gensler, she discovered there was often miscommunication between designers and healthcare administrators. Business administrators were often resistant to change, and healthcare designers didn't necessarily understand the administrator's day-to-day struggles.
Alongside learning technical skills in modules like Health Care Finance and Health Informatics, Information Systems and Technology, students can pick up soft skills while undertaking modules in Health Systems Management: Principles of Leadership and Legal & Ethical Issues.
"At Cincinnati, I now work with peers who are in these healthcare roles," she explains. "I've built a background base of business knowledge so that I can relate to their challenges more."
---
4. It bridges the gap between business and healthcare
Kevin believes that the Online MBA is a great way to bridge important gaps between business and healthcare.
"You have people in finance that work in healthcare who don't understand the medicine, and then you have physicians who don't understand the business," he explains.
Cincinnati's program has helped him to learn the relevant business language to communicate with other departments.
Samantha's newfound business knowledge is also helping her to fill the relationship gaps between designer and client.
"During my internship, our clients were also business owners, so having a business acumen and being able to speak their language will be beneficial [in future] when explaining how healthcare design can add value," she adds.
---
5. It differentiates you from your competitors
After his MBA, Kevin hopes to run a healthcare organization as a chief medical or chief executive officer. Equipped with fundamental business knowledge of accounting, finance, and business strategy, he feels confident that his background will help him achieve his goals.
"It was pretty overwhelming in the beginning," he admits. "The learning curve was steep—but in hindsight, I think that these are courses that every person should understand."
After her MBA, Samantha hopes to join the new healthcare consulting program being run by one of the companies she previously interned for, so that she can aid business leaders with future projects.
Ashley plans to take advantage of the University of Cincinnati's job placement program, through which she hopes to secure a management role within a hospital.
"I've noticed a big difference in my management style and how I'm coaching," she concludes. "I'm changing the way I delegate tasks—if an assistant is struggling, I feel better equipped to understand why they're struggling, and what approaches I can use."
Related Content: