Marketing is one of the most popular career choices for young professionals starting out in their careers.

Now, with technological disruption and the increasing availability of customer data, marketing has gone fully digital. This means you'll need to have some knowledge of data analytics, as well as a wider understanding of human psychology and business, to really progress in the marketing field.

You can apply for entry jobs in marketing after your undergrad degree, so why should you pursue a Master in Marketing degree? Put simply, doing a Master in Marketing will help you advance your career faster and get you the jobs and salary you want.

We spoke to Dr. Sara Kim, program director of the cutting-edge Master of Science in Marketing at The University of Hong Kong (HKU), to find out how.

Here's five ways a Marketing MSc will boost your career.
---
1. Building your marketing expertise
Pursuing a Marketing MSc is about building your expertise in a specialist field. You'll study more about marketing in a Marketing MSc than you ever would on a generalist Master in Management degree or an MBA.
The HKU Marketing MSc, for example, is divided into three groups of modules: marketing insights, analytical tools, and decisions framework for marketing professionals.
In Sara's class at HKU, called Applied Marketing Research and Metrics, students learn about the whole process of marketing research using the statistical program SPSS, developed by IBM. They learn how to design their own marketing research surveys; how to collect live data; and then how to analyze the data to inform a future marketing strategy.
"Compared to having an undergrad degree, MSc courses are more advanced. You'll learn things you're not able to learn when you're an undergrad and you'll be more likely to get an advanced position in a company," Sara explains.
---
2. Becoming digital-savvy
If you want to work in marketing today, you need to be a digital native. You need to understand data. You need to know how to use digital tools to further your understanding of consumer behavior. Doing an up-to-date Marketing MSc will help you achieve that.
HKU launched its Marketing MSc in 2019, when digital marketing was already booming. The program's curriculum includes courses like Marketing on the Internet, Big Data Consumer Analytics, alongside courses on branding strategy and how to market in China.
The school also hired digital marketing experts specifically for the program. Faculty include CEOs, entrepreneurs and other practitioners, as well as professors with advanced degrees from leading business schools like Harvard, Stanford, and Chicago Booth. Sara completed an MBA and a PhD at Booth.
---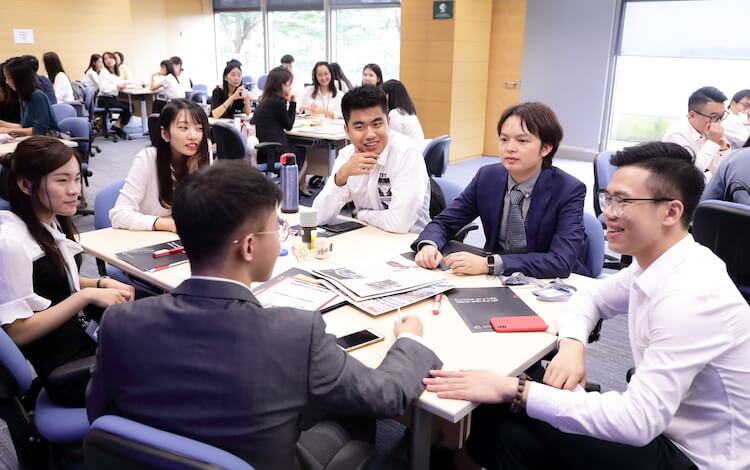 Students at HKU join a global alumni network
---
3. Growing your network
Studying at business school is different to studying from a textbook or online because of the network of classmates, professors, and alumni that you're able to meet—even more so if your business school is attached to a major university.
HKU's alumni network consists of over 230,000 people representing 150 nationalities and spread worldwide. Tapping into that network can help you when it comes to doing business in the future or getting jobs, with many b-school alumni being high-level executives or CEOs.
This impressive network extends to the professors too. Dr Tuan Phan teaches two courses—Technology Innovations in Retail Banking & Consumer Finance and Big Data Consumer Analytics—on the HKU Marketing MSc. As well as a DBA in marketing from Harvard Business School, Tuan previously worked with some of the largest data and technology companies in the world including Facebook, Rakuten, Alibaba, airline industry, mall operators, telecommunication companies and universities.
---
4. Career support
At business school, you're also not alone when it comes to applying for jobs. Employers recruit on-campus at many business schools and having a business school brand name on your resume certainly helps.
Schools offer personalized careers support through their careers services including workshops on interviews, resume writing, and personal branding. HKU has an internal jobs board and hosts careers fairs and industry talks by experienced business professionals.
Doing a Marketing MSc can help set you up for a career switch too. Many of HKU's marketing students are career-switchers, Sara explains. They don't have a marketing background or a marketing undergraduate degree.
If you're interested in working in a new industry or role, the b-school careers team can help connect you with the relevant alumni for advice and guidance.
---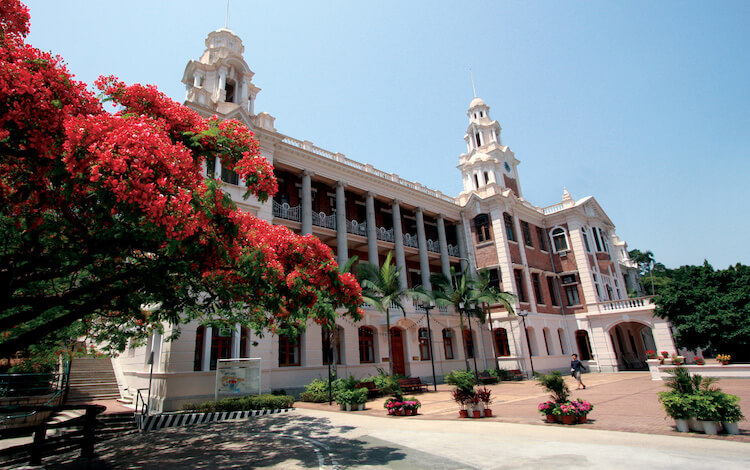 HKU campus in Hong Kong

---
5. Employers love Masters in Marketing graduates!
Ultimately, a Master in Marketing will boost your career because employers recognize and value the degree. If you've done a Marketing MSc, employers know you've got the skills and knowledge to perform well in your job.
And that can be for any company in any industry. Microsoft, Uber, L'Oréal all have marketing teams. Marketing skills—like data analytics, customer research, branding—are sought-after by employers and can be used across functions. A Marketing MSc can therefore lead to higher level management or consultant jobs a few years after graduation.
To support you in this journey, Marketing MSc programs don't just focus on technical skills, but also soft skills like teamwork and experiential learning. On HKU's Marketing MSc, students take part in an international study trip where they visit leading companies and get first-hand experience of marketing in a different cultural environment.
"A lot of companies have a need for people who can handle data, but who also understand marketing, human psychology, and economics at the same time," Sara concludes. "Building these skills will help you advance in your career."
Related Content: