World Entrepreneurs' Day celebrates innovation and leadership around the world. But what does it take to become a successful entrepreneur?
Cranfield School of Management runs its Master's in Management and Entrepreneurship (MEnt) to help budding entrepreneurs merge their creativity with business know-how. The one-year master's program is designed to give you the toolkit you need to establish yourself as an entrepreneur.
BusinessBecause spoke to two current students about their experiences on the MEnt program and two alumni on how it's helped them realize their entrepreneurial ambitions. Here's what they had to say.
---
MSc in Management and Entrepreneurship

| Student Experience
For current students Jane Phung and Anil Kumar Peri, the MEnt is helping them shape their future career goals and business plans, adding to the work experience they already had when first enrolling on the program.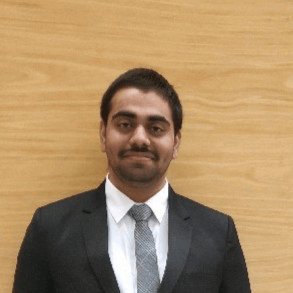 With three years of work experience in sales and marketing, Vietnamese student, Jane, decided to enroll at Cranfield in order to switch into the nonprofit and sustainability space.
Every case study and project she's taken on the program involves real-life companies and business scenarios, she says. "One of my peers actually volunteered her family business as the central focus for all the discussions and ideas we had."
The program has given Jane the opportunity to learn about the NGO and social business sector––an area she didn't have prior experience in.
"The master's has given me a completely new outlook," Jane continues. "I can directly apply what I've learned to build a modern, sustainable business someday."
Real-time application is a key benefit for fellow student Anil (pictured) too. Alongside the master's program, he's working on his AI-powered gaming services startup, SwiftSkill. Before Cranfield, he says it was an idea he wasn't sure how to put into practice.
"I realized I needed to learn more about entrepreneurship, but from a practical point of view," he explains.
Cranfield endorsed Anil's business, helping him secure a Tier 1 Entrepreneur visa. He now has a concrete five-year plan to upscale his business venture.
---
MSc in Management and Entrepreneurship |

Becoming an entrepreneur
How does the MEnt program shape your career after graduation?
Sam Bird joined Cranfield after a successful sales career, but he didn't feel fulfilled. The master's gave him the drive to push for something more in his career, and that led him down the entrepreneurial path.
"After the degree, I jumped straight into the startup ecosystem," Sam reveals. "I built two companies out of the concept stage, before ultimately joining investment and innovation advisory firm, L Marks, as a portfolio manager."
Now, Sam works for multiple accelerator programs, supporting startups and liaising with bigger corporations to solve wider industry issues. He says his role gives him a unique overview of the business ecosystem as a whole, and his time at Cranfield gave him the ability to adopt that mindset.
---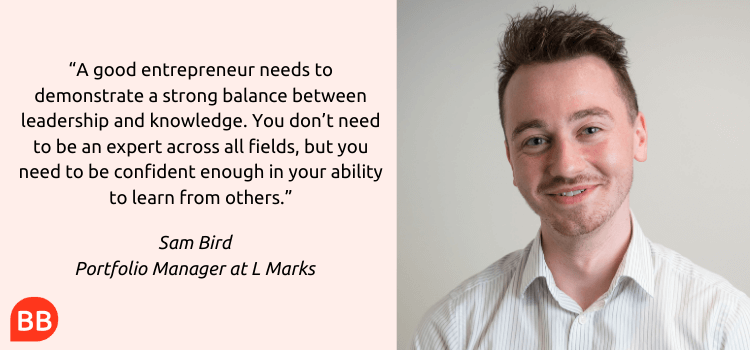 ---
Cranfield's international and diverse business network is also key to helping budding entrepreneurs build the connections to help get their business venture off the ground, fellow alum Alexandre Pineau adds.
Throughout the program, Alexandre was presented with opportunities to meet with experts in various business ventures across marking, management, and finance.
"During this course, I actually met my current business partner and was lucky enough to be awarded the director's prize for most outstanding student," he says. Now, he's the COO of German sneaker startup, BLNKS.
"I've had a pretty unusual journey in my career so far," Alexandre adds. "I'm convinced Cranfield played a huge part in helping me craft my career. My MSc acted as the catalyst I needed, by giving me the skills I was lacking and the confidence I needed."
---

---
Sam agrees: "Having a strong foundation of relevant, contemporary, and tangible knowledge is critical to any successful venture," he says.
"The real-world experience passed on by my lecturers enabled me to make better and more informed decisions, and allows me to provide more holistic feedback to the startups I work with today."
Cranfield's MEnt program is targeted at students already running a business––be it the family business or a project they're struggling to get off the ground––or with a business plan in mind, or students who want to build their entrepreneurial skills and aim to start a company of their own in the future. You don't have to come into the program as an established entrepreneur, it could be that you want to develop your entrepreneurial way of thinking to improve your management style within your existing job.
Ultimately, it's about broadening your skillset and giving you the tools to apply a more creative edge to your business and career.
Related Content: