Blockchain is one of the hottest topics in business; central to the rapid growth of cryptocurrencies and NFTs, and a key area of investment for many of the world's largest companies.

It's also the focus of a new business master's degree at Frankfurt School of Finance and Management. The school is launching a Master's in Blockchain and Digital Assets aiming to help students tap into opportunities in the emerging industry.
---
Frankfurt School of Finance & Management: blockchain degree curriculum
The Frankfurt Master's in Blockchain and Digital Assets is scheduled to launch in November 2022. It's a post-experience master's degree, aiming at professionals with at least two years of experience.
With a focus on finance, the blockchain degree primarily aims at students with financial expertise in the likes of asset management and banking. But Frankfurt will also welcome applications from a diverse range of sectors, including the likes of real estate, cyber security, logistics, and consultancy.
The master's in blockchain will be taught part-time via a hybrid model allowing students to attend sessions either in-person or online, with teaching delivered over four semesters.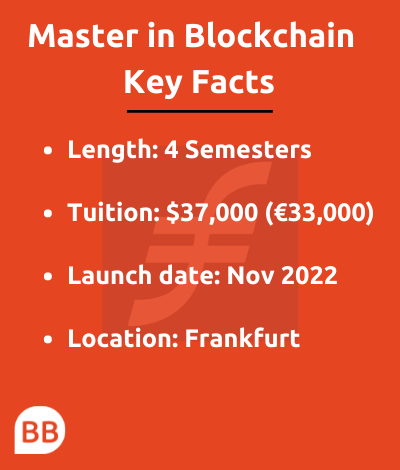 The first three semesters feature a series of one-week blocks, offering seven modules which cover cutting-edge topics including Tokenization of Assets, Bitcoin, Decentralized Finance, and Regulating Tokens. The final semester features a trip to a blockchain hub in either Zurich or Lisbon.
Frankfurt has also integrated a range of practical experiences within the curriculum. Students are able to build their own Blockchain Lightning Node—software that allows you to connect to the blockchain network—in class, and can attend a smart contract bootcamp.
"The hands-on approach is a core thread throughout all seven modules," explains professor Philipp Sandner, academic director of the program and head of the Frankfurt School Blockchain Center.
The school hopes the curriculum will help students who are currently working expand their knowledge of blockchain and digital assets. This will help them stay competitive with digital savvy professional newcomers, or give them the tools to launch their own ventures, says Philipp.
---
Why a master's in blockchain?
As the integral technology behind bitcoin, blockchain has grown in tandem with bitcoin, ethereum and other cryptocurrencies in recent years. But while blockchain has the potential to revolutionize finance, its use cases spread beyond the industry and 60% of chief information officers (CIOs) now plan to integrate blockchain into their infrastructure.
"It is still early enough to be an early adopter but too late to argue that blockchain and digital assets will ever go away again," Philipp explains.
As blockchain grows more important in finance and other industries, it's important that business leaders understand the nascent technology and don't get left behind, he adds.
"Ignoring these topics now will make those working in the financial industry prone to losing touch with the reality of this new emerging industry," he says.
For those looking to improve their blockchain and digital asset expertise, applications for the new Frankfurt master's program close in September 2022.
---
Next Read:
How To Choose The Best Master's Degree For You