Digitalization and automation is fuellling demand for tech-savvy employees who understand how to manipulate data. By 2025, the World Economic Forum estimates 97 million new roles could emerge as the job market adapts to the division of labor between humans and machines.

A STEM (Science Technology Engineering and Mathematics) master's degree offers the chance to tap into emerging opportunities. Masters degrees are awarded STEM designation if their curricula incorporate a focus on highly technical, quantitative elements. This is combined with a focus on business.

STEM masters also offer unique benefits if you're an international student wanting to tap into the US job market. Studying a STEM master's ensures you're eligible to extend your stay in the US for three years after graduation, without an H-1B visa—a key selling point for future employers.

So what are the different types of STEM masters degrees available? Here are the key business masters that could prepare you for the future of work.
---
STEM masters degrees in business analytics
In a data driven world, leaders need to know how to harness cutting-edge tools such as big data, algorithms, and automation to build strategies and take key decisions.
A business analytics master's teaches you to use digital concepts such as artificial intelligence to increase your revenue and analyze growth, many of them are awarded STEM designation.
This makes Masters in Business Analytics (MSBA) a popular choice with employers: 86% of corporate recruiters in 2022 plan to hire MSBA grads according to the Graduate Management Admission Council (GMAC).
---
STEM-designated Master in Business Analytics ranking
---
MIT Sloan offers the world's best STEM-designated Master's in Business Analytics, according to the 2022 QS business analytics masters ranking. But it comes with a significant price tag: for the year-long program, MIT charges a tuition fee of $82k.
UCLA Anderson School of Management offers the second highest-ranked degree, it's cheaper at around $66k.
But, are they worth it? MIT MBAn grads earned salaries of $114k with a sign-on bonus of $11k in 2020, meaning they were likely to see strong return on their investment within two years of graduation.
As a top-ranked STEM-designated Master's in Business Analytics located in the US, MIT also has the added benefit of opening opportunities to enter the US job market.
The admission requirements to enroll in a STEM Masters in Business Analytics may differ. However, most schools accept recent graduates and early career professionals with backgrounds in tech, engineering, science, and computer programming.
---
STEM masters degrees in accounting
Studying a Master in Accounting (MAcc) can be essential to progress in an accounting career. Many programs provide preparatory classes for the Certified Public Accountancy (CPA) exam—a globally recognized certificate allowing you to practice accounting.
A MAcc can set you up for high salaries, fast career progression, and help you prepare you for a career in several industries such as consultancy, tech, or investment banking.
As technical degrees, MAcc programs can also be STEM-designated. The top b-schools to study a STEM Master's in Accounting include the University of Southern California, Washington University in St. Louis, and the University of Michigan.
These programs can take up to two years to complete. There is also variation in format, structure, and delivery. They may run online with asynchronous or synchronous classes or in on-campus or hybrid formats.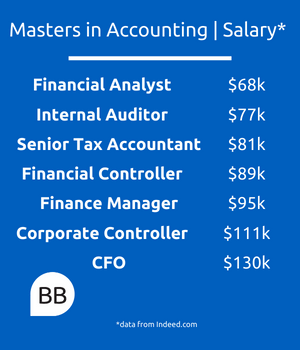 Core courses on a STEM MAcc cover topics such as Corporate Governance, Financial Reporting, Advanced Management Accounting, and Research Methods. Programs typically offer electives allowing you to tailor your experience to your specific interests and career goals.
To enroll into the best STEM MAcc degrees, most schools will require you to hold a bachelor's degree with a minimum GPA of 3.0. Some may also require the GMAT or GRE.
Upon graduating from a program, you could land a range of different roles including business consultant, financial manager, general manager, auditor, or business controller. You could eventually become a chief financial officer (CFO).
The most popular role grads enter is in auditing—working with financial records and using your tax and accountancy expertise. The Big Four accountancy firms, EY, Deloitte, PwC, and KPMG, regularly hire auditors with MAcc degrees.
---
STEM masters degrees in supply chain management
Masters in Supply Chain Management (MSCM) are becoming increasingly popular. The digitalization of supply chains calls for new skills and knowledge to integrate the latest cutting-edge tech.
Covid-19 demonstrated the fragility of global trade, showing the importance of efficient supply chain management. This has driven a wave of applications to Masters in Supply Chain Management degrees worldwide—applications rose by 46% in 2021, according to GMAC.
Many top Masters in Supply Chain Management, including the program offered by University of Michigan Ross School of Business—ranked third in 2022 by QS—have been awarded STEM-designation.
"The Master of Supply Chain Management is designed for candidates with strong quantitative aptitude and a passion for the intricate realm of supply chain management," explains Kaci Kegler, director of one-year masters programs at Michigan Ross.
---
STEM-designated Master in Supply Chain Management ranking
---
A STEM MSCM will typically last a year, offering a curriculum combining specialist subjects with general business topics like strategy, economics, financial accounting, and marketing.
Studying a specialized masters in supply chain management means you will deep-dive into modules such as global logistics management, supply chain risk management, sustainable supply chains, and project management.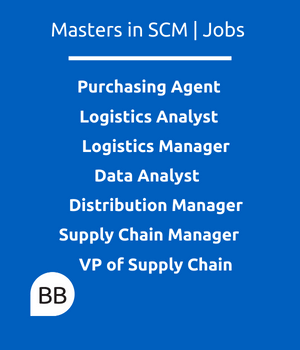 After graduation, STEM MSCM students go on to launch exciting careers landing jobs as logistics managers, logistics planners, supply chain managers, project managers, and consultants.
The top employers for supply chain management grads are Amazon, Google, Microsoft, Uber, and Tesla.
MSCM grads earn high salaries. Students from Michigan Ross, which is the top ranking STEM-designated Master's in Supply Chain Management program, earn an average of $84k with a mean signing bonus of $20k.
"The career paths of Master of Supply Chain Management graduates are as varied as the alumni themselves," says Kaci from Michigan Ross.
"From tech, to consumer-packaged goods, to the automotive industry, Michigan Ross alumni can be found at leading companies worldwide."
---
So if you're looking to launch a career combining technical expertise with a focus on business, you have plenty of options. A STEM master's degree is a strong choice if you're an international student looking to work in the US.
When choosing your business degree, it's important you consider whether adding a STEM program to your resume could give you a greater chance of success after graduation.
---
Next Read:
9 Of The Best STEM-Designated Masters In Business Analytics