Enrolling in a Master in Accounting (MAcc) can significantly impact your career. It's a popular degree among top recruiters, with Big Four accountancy firms like Deloitte, PwC, and KPMG all hiring MAcc grads.

But MAcc degrees aren't cheap, a place on the Cambridge Judge Master in Accounting costs almost $70,000. With such high fees, you want to ensure your program will unlock a competitive Master in Accounting salary and that you'll see a good return on your investment after graduation.

Here's how much you could earn after your Master in Accounting.
---
Master in Accounting salary: Europe vs US
Like all business school degrees, the salary you earn after graduation depends on where you choose to study, and where you choose to work after completing a course.
Average salaries among Master in Accounting graduates from US business schools are slightly higher than those who graduate in Europe, which is a good thing considering the steeper tuition fees in America.
Graduates from top US business schools like University of North Carolina's Kenan-Flagler Business School and University of South Carolina's Marshall Business School earn salaries of around $55,000. In Europe, graduates from Erasmus University Rotterdam's accounting masters earn around $48,000. At the UK's Warwick Business School the average accounting graduate salary is slightly lower at $44,000.
Graduates from business schools widely considered to be elite tend to earn higher salaries. At HEC Paris, whose MBA, Master in Management, and Master in Finance programs all feature in the top 10 of their respective Financial Times rankings, accounting masters graduates earn salaries of around $68,000. At the prestigious NYU Stern Business School in New York, the average master's degree in accounting salary for graduates is $75,000.
---
READ: 7 Exciting Master's Degree Job Opportunities
---
Master in Accounting: popular jobs*
The salary you earn after graduating and later on in your career also depends on your job role. This can vary significantly with some popular Master in Accounting graduate jobs offering six figure salaries on average, while others tend to be closer to $50,000.
One of the most popular accounting graduate jobs is in auditing. Auditors work with financial records and are tax experts; the Big Four accountancy firms of EY, Deloitte, PwC, and KPMG are primarily known as auditors. In the US, the average salary for auditors is around $59,000, according to Glassdoor, while those employed by the Big Four earn slightly higher salaries of around $65,000.
Another top job for MAcc graduates is senior accountant, a role is similar to an auditor though it requires a further qualification, the CPA. Glassdoor indicates senior accountants in the US earn just under $77,000, on average.
Many accounting graduates find work as a financial analyst, a highly coveted role with jobs available in many industries. Analysts make reports and forecasts based on financial data, using some of the core analytics skills included in the typical MAcc curriculum. The average financial analyst in the US earns approximately $72,000.
There are higher earning roles which are popular among MAcc graduates. Financial controller and financial manager roles both utilize the skills and expertise you develop in a Master in Accounting to create financial strategies, advise clients, and manage a company's finances. In the US, financial controllers and financial managers earn around $97,000 on average, though this can be much more depending on the company.
---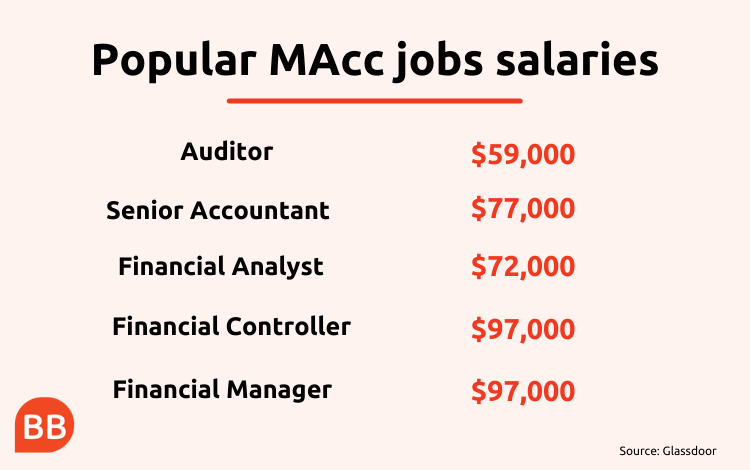 ---
Master in Accounting: ROI
When considering the return on investment of a Master in Accounting you have to weigh up the earning potential of a program with the initial cost you'll have to part with to apply.
While you may earn a salary above $50,000 after graduating from some business schools, and go on to earn almost $100,000 in certain roles, you want to make sure that's worth the initial investment in a MAcc degree.
In the US, programs tend to be more expensive. USC Marshall's MAcc tuition amounts to around $71,000, at UNC Kenan-Flagler the cost is slightly lower at $66,000. The NYU Stern MS in Accounting is comparatively cheaper, costing just $59,000.
European schools charge less. Warwick Business School charges just under $43,000, while HEC Paris' program fees are around $40,000. Erasmus University Rotterdam's accounting masters costs a fraction of that at just over $22,000.
Variations in the cost of a program tend to match the variations in the average salaries of its graduates. Notable exceptions are NYU Stern and HEC Paris, whose reputations see graduates earning substantially higher salaries without having to pay higher tuition fees.
No matter where you apply, you can expect to start seeing a return on your investment immediately after graduating as you unlock strong graduate salaries.
With some popular jobs for MAcc graduates offering earning potential as high as $100,000, you can also expect to see a strong ROI as your career progresses. But ROI is about more than how much you earn; enrolling in a MAcc degree will open up many opportunities, introduce you to a wider network, and enhance your skills and expertise.
---
Read Next:
What Can You Do With A Master In Accounting?
---
*Salaries in this section sourced from Glassdoor.