Technology is one of the most popular industries for business school grads across the globe. According to GMAC, 37% of b-school students aimed to land tech jobs in 2021.

Edwin Nguyen has done just that: working at Amazon and living in Paris, he's living many students' dream careers.

A native of France's Lille region, Edwin moved to Paris after high school to study at EDHEC Business School. There, he completed a Master in Management (MiM) and developed deeper expertise with the MSc in Data Analytics & Artificial Intelligence (AI) in his final year.

He says the specialized MSc was essential in helping him achieve his goals.
---
Studying artificial intelligence and data analytics
While studying his MiM degree, Edwin began his career with an auditing internship at a big four accounting firm. While he says he didn't enjoy the experience, it helped guide him towards the right career path.
Quickly pivoting towards a new industry, Edwin undertook a second internship with Planity, a tech startup based in Paris, where he was introduced to the world of data analytics.
"That's where I really got interested in all this analytics, data science and engineering stuff," he explains.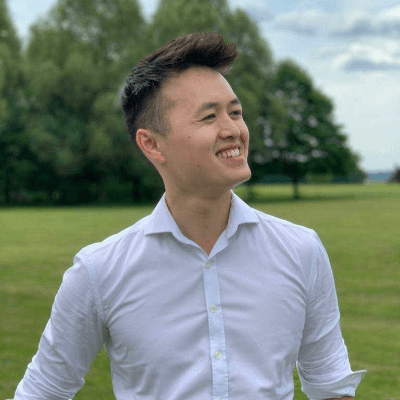 Deciding to pursue a career in the industry, Edwin chose to study the MSc in Data Analytics and Artificial Intelligence at EDHEC. The school offers a program combining technical data skills with a business edge.
Foundational modules include strategic management and corporate finance, alongside data science using R coding software. Further core modules mix topics such as business ethics with technical skills including data mining and visualization where students get the chance to use tools such as Python and Tableau.
"It felt like a brand-new experience because I hadn't learned most of the topics before," Edwin explains. "It was everything I could have hoped for—technical enough, but not too technical because then you'd lose the business side of it."
During his time with the school, Edwin also enjoyed the vibrant community atmosphere on the EDHEC campus. He says taking part in campus life was a highlight of his studies.
---
Launching a data analytics career with Amazon
Edwin launched his career barely a week after completing his Master's degree.
He found the job posting on LinkedIn and applied for a business intelligence (BI) role in Amazon's security and loss prevention division. BI roles typically combine a focus on technical data skills, such as data mining, with business knowledge. BI experts help companies effectively take data-driven decisions.
After a rigorous process, Edwin landed the role and quickly found himself putting his newfound skills to the test.
Working to translate technical data concepts and analysis into actionable information for strategists and managers means utilizing a broad range of knowledge and skills, he explains.
"You need to have both aspects, the technical knowledge and the business side of it. You need to understand what's happening if you want to give insights to the business."
You can't simply spend your days behind a screen looking at the numbers, he adds.
---
Life as an Amazon business intelligence engineer
Now two years into his career with Amazon, Edwin has swapped security and loss prevention for Amazon's EU workforce staffing division.
His current role requires a large focus on data engineering— working with Amazon's internal systems to maximize efficiency. He also works on data science projects using cutting-edge tech such as machine learning to enhance company processes.
The technical nature of the work means Edwin is implementing many of the skills he learned at EDHEC. "I'm using a lot of code skills and data visualization," he explains. "We had a really good data visualization course at EDHEC and I'm using that every day."
Reflecting on his decision to study the artificial intelligence and data analytics MSc, Edwin feels it helped prepare him for a BI role requiring both business and data knowledge. Though he emphasises that more technical roles may need a more in-depth skillset.
"It would have some limitations if you're looking for a really technical job, something like a software developer or data engineer," he says.
"If you're looking for a role as a business intelligence engineer, business intelligence analyst, or data analyst the program is perfectly made for this type of role."
Related Content: