The Covid pandemic unexpectedly threw business supply chains into chaos, leading to a worldwide shortage of goods. Ever since, risk management and creating a resilient supply chain have become a top priority for small businesses and multinational companies alike.
With continued disruptions to global trade, the demand for professionals specializing in supply chain management has surged and the role is becoming increasingly recognized for its importance in the business world.
According to LinkedIn data, US demand for supply chain managers was 54% higher in early 2023 than during the same period in 2019.
For those looking for a high-demand industry on the rise, supply chain management has opportunities in every industry so could be a solid career path.
---
What is supply chain management?
The supply chain encompasses the entire interconnected process that leads to a product reaching the customer. This includes producers who source the raw materials, manufacturers who create the goods, and transporters who move supplies around the world.
Supply chain managers are critical in ensuring cooperation between all suppliers and the effective operation of the business supply chain.
"Supply chain management is everything from raw materials getting produced and manufactured all the way to your doorstep. You're creating value for people through goods and services that they need all around the world—it's an extremely important space to be in," says Natasha Poularikas, director of the online Master in Supply Chain Management program at the University of Oklahoma Price College of Business.
OU's online Master in Supply Chain Management program aims to give students a diverse managerial skill set across all aspects of the supply chain.
Courses include Logistics Management, Production and Operations Management, Sourcing and Supply Management, and Marketing Management.
As the supply chain management field has faced extreme turbulence in the last few years, companies are looking for managers who have the skills to tackle the unexpected.
"We are gearing students up to face the next big challenge within their organization," says Natasha.
---
Skills needed for a career in supply chain management
In a supply chain management career, day-to-day tasks involve liaising with several different teams across manufacturing and distribution, as well as sourcing materials from vendors.
It also includes negotiating contracts, analyzing data to forecast customer demand, and conducting quality control.
For such diverse roles, supply chain management professionals need a wide range of skills such as critical and systematic thinking, problem-solving, and communication.
Students can develop these skills during practical case study explorations, presentations, and group work as part of the online MS in Supply Chain Management at OU's Price College of Business.
In the wake of a period of difficulty, the supply chain sector is evolving.
"Today's supply chain managers need to be innovative and adaptable to future-proof against further challenges," says Natasha.
While studying the online MS in Supply Chain Management program at Price, students also have the flexibility to continue working while attending virtual classes in the evenings.
This allows current supply chain professionals to leverage the insights they gain in class to improve operations within their own company, and potentially advance their career to the next level.
For professionals working in this sector, it's important to be ahead of the trends that are shaping how supply chains operate.
The MS in Supply Chain Management program includes a course on Current Topics in Supply Chain Management, which focuses on topics such as sustainability.
"Sustainability has become an integral part of supply chain especially when considering how to implement circular supply chains and the shift in business thinking to creating and maintaining the product as opposed to just creating and selling," says Natasha.
Companies today must also abide by regulation that demands Environmental, Social, and Governance (ESG) transparency. This means many companies are hiring supply chain sustainability specialists to help make this shift.
"The industry is everchanging now more so than ever, but with change, there is a lot of opportunity," says Natasha.
---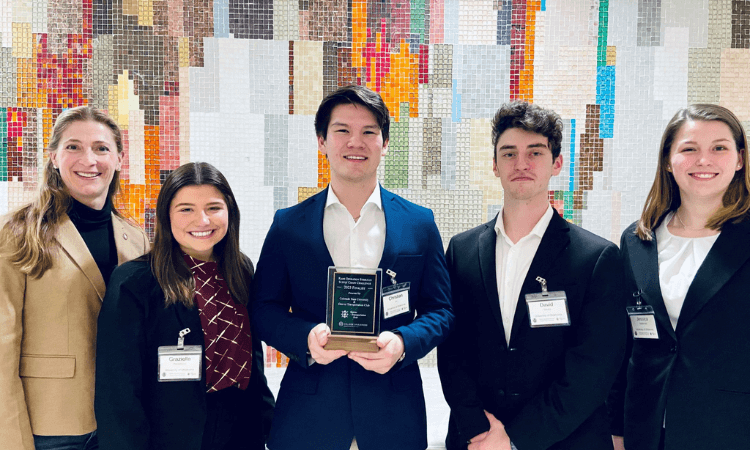 OU's Price College of Business Supply Chain Management students at the final of the CSU Operations Stimulus Supply Chain Case Competition
---
Supply chain management jobs and salary prospects
A career in supply chain management holds a wealth of opportunities. You may choose to specialize in a particular function such as operations or logistics management or strive to become the head of supply chain, where you'll oversee the entire process.
"Supply chain is a truly exciting career path as you can touch many different facets of a corporation and move between them. It allows you to understand what is going on across the business and add value throughout different functions," says Natasha.
Supply chain managers are also needed across a wide range of industries from consumer-packaged goods and retail to healthcare and energy.
Some of the top companies for supply chain management include Cisco Systems, Schneider Electric, Johnson & Johnson, and Nestle, according to Gartner.
Due to increasing demand, today's supply chain managers can also expect attractive salaries. In the US, the average supply chain manager's salary is around $121k.
If you're currently working in the supply chain field and looking to progress to a managerial role, or you want to make a career switch into a lucrative sector, upskilling in the supply chain management function through a specialized master's degree could be your next career move.
Related Content: