Canada's international student population has tripled over the last decade. With 642,000 foreign students last year, Canada ranks third globally behind the US and Australia for its number of international students.

Driving this is a generous student visa and work permit policy. According to a survey from the Graduate Management Admission Council (GMAC), one-in-three international business school students say the ease of obtaining a student visa is what attracted them to Canada.

While the coronavirus pandemic has forced a temporary lockdown on international movement, the Canadian government has actively responded by further easing employment rules for foreign students.

Canada has clearly recognized the value of global student talent to higher education, like on the Full-Time MBA at Ivey Business School, for example, where 41% of the class are international students.

Here's what you need to know about obtaining Canadian student and post-MBA work visas, and the kinds of career opportunities available for MBA grads in Canada.
---
The Canadian student visa process
Before applying for a study permit, international students need to secure an admission letter from a designated learning institution (DLI)—most accredited colleges in Canada are on the list, including Ivey.
Raghid Shreih is a Canadian immigration consultant at Ya Hala, and frequently works with prospective Ivey candidates.
"Applicants to an MBA in Canada must explain how their educational and work background prepares them for a rigorous MBA program, and how having the MBA qualification will enhance their career and help them get to the next level.
"They must also show that they have enough financial means to comfortably cover the fees and expenses, and be able to return home after completing the program," he explains.
The process for most international students is completed through an online portal, where you'll complete the relevant forms and upload supporting documentation.
---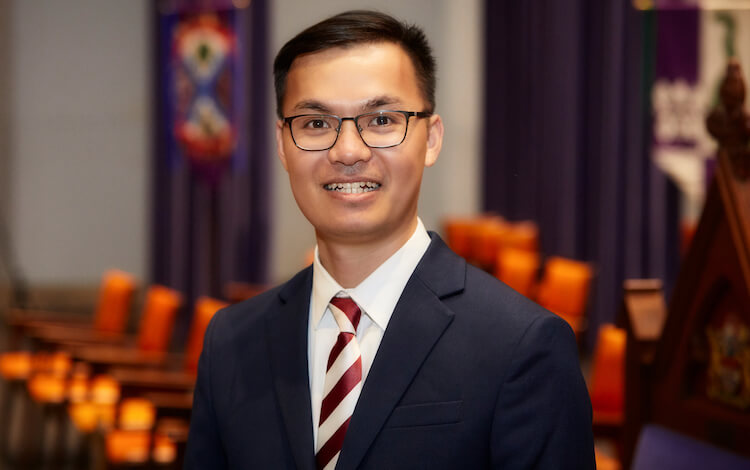 ---
William Nguyen (pictured) arrived in Canada from Vietnam in 2018 to study for an MBA at Ivey Business School and went through those application steps himself.
"The visa process was very straightforward for me, and it was a big deciding factor in coming to Canada. For any extra questions I had, Ivey put me in touch with an immigration consultant who was super helpful," he says.
---
The Post-Graduation Work Permit in Canada
Once you've got your MBA in Canada, you can apply for a Post-Graduation Work Permit (PGWP), the length of which coincides with the length of your study program.
According to GMAC, 49% of international b-school students named the ease of obtaining work permits as a deciding factor for choosing Canada—compared with 19% in the US.
"A PGWP is very flexible since it allows the student to work for any Canadian employer for the duration of its validity, allowing students to gain valuable Canadian work experience," Raghid says.
Normally, this study length must be completed in Canada. But in light of the coronavirus pandemic's disruption to both international travel and business schools, the government has removed that requirement.
Now, even if you enroll for an online program from your native country, you'll still be eligible for a work permit in Canada according to the length of study.
For international students who are working during their courses, the government has also removed the cap of 20 working hours per week, for those working in an essential service, critical infrastructure, or the supply of food and critical goods.
---

©Andrei Stanescu
---
Launching your career in Canada after an MBA
So, now that you've got your MBA and PGWP, what are your career prospects like in Canada?
For Ivey MBA grads, 91% find full-time employment three months after completing the MBA, with an average salary of $115,000 (USD).
Of the most recent MBA class, 42% entered consulting, with other students moving into diverse industries including finance, tech, construction, real estate, health sciences, and more.
The Ivey MBA is a one-year program, too, which means you can take advantage of quickly moving back into your career. William, with his MBA and subsequent work permit, landed a role with Deloitte, a major consulting firm, and a company he'd previously worked at back in Vietnam.
"My original plan wasn't actually to re-join Deloitte. But someone from the company had got in touch with me to urge me to apply. It transpired that Ivey had sent my CV out to top firms in Canada, and this led to them reaching out to me," he says.
Now running long-term projects as a senior consultant for some of Deloitte's biggest clients in Canada, he says that without the Ivey MBA, he wouldn't have been able to so quickly change both his job function and geography.
Owing to its prestigious higher education institutions, flexible via policies, and career prospects, Canada has seen its popularity for international students rise by more than anywhere else in the world over the previous five years.
The PGWP means students can quickly establish work experience, an advantage when later applying for permanent residency, which according to the Canadian Bureau for International Education, 60% of foreign students plan to do.
"I'd highly recommend anyone to choose Canada for their MBA," William concludes. "Not only is the student visa process so welcoming, but that ability to stay and work after graduation is invaluable."
Related Content: