Two-thirds of US veterans name finding a job as one of the biggest challenges in the transition back to civilian life. While there is no like-for-like replacement for the close-knit environment of the military, there is support available for veterans re-entering the workforce.

One of the best sources of this support is business school. Not only do MBA and other graduate business programs offer classroom learning on important business concepts, but they also provide dedicated careers support and a network of peers for veterans to plug into as they adjust to life after military service.

If you're a veteran contemplating your next career move, here are six reasons to consider going to business school.
---
1. An MBA uses management and leadership skills gained in military service
The study cited above found that one of the key concerns for veterans when re-entering the workforce is translating their military skills into a business environment. When the bulk of your professional experience has taken place in barracks rather than offices, it can seem like you're starting your career from square one.
Business school will show you that this is not the case. The dean of Dartmouth's Tuck School, Matthew Slaughter, says that, particularly in the area of leadership, veterans have a lot to bring to the table.
"Many of our MBA candidates that come from a military background have substantial experience [of leadership], sometimes from being in a military academy or the Reserve Officers Training Corps," he says.
"They have led and managed teams, sometimes hundreds or thousands of individuals. They bring, I think, a direct experience and gravitas [from] the way that they've thrived in the military that has a direct parallel to the kind of learning we do at the Tuck School."
It's not just Tuck, either – any good MBA program will offer leadership training as part of its core curriculum. MBAs can help veterans identify their own management styles and recognize the overlap between military and business leadership, as well as allowing you to supplement your skills in other areas, including highly technical ones like data analytics.
There are also more specialized options if an MBA program doesn't appeal. For example, the University of Southern California's Marshall School of Business offers a dedicated one-year Master of Business for Veterans, aiming to leverage the specific skills given by military experience into a successful business career.
---
2. Vets can be eligible for up to 100% bursaries at top-ranked schools
One of the biggest deterrents for any professional considering business school is the cost involved, particularly for full-time programs where working alongside the degree is not feasible.
However, veterans often have a broader range of funding options available to them than their civilian counterparts. Not only do federal and state programs like the Yellow Ribbon program exist to help fund education for ex-military personnel, but there are also private funds like the Wells Fargo Veterans Scholarship program, which provides students with grants of up to $10,000 per year.
In addition to these external financing options, many business schools offer their own scholarships and bursaries for veterans.
Harvard Business School's Black Family Fellowship provides up to $20,000 a year in tuition support – alongside a dedicated leadership development program – for a handful of US veterans or active duty military students each year. Meanwhile, the University of Virginia's Darden School of Business has a whole slate of military scholarships on offer.
So, before writing off business school as being "too expensive", have a look around at your funding options – you might be pleasantly surprised by what you find.
---
3. Online MBA study can fit around a return to civilian life
Perhaps it's not the expense that's putting you off full-time MBA study, but the inaccessibility of a rigorous academic calendar. After all, it's very common for veterans to experience ongoing mental or physical health issues after completing their service, and this makes on-campus education tricky.
Accessibility requirements like this do not need to stop you from benefiting from business school. Online MBA programs can offer you many of the same advantages as in-person programs without the need to study on-campus or even on a rigid schedule.
The Online MBA at the University of Florida's Warrington College of Business is the top-ranking online MBA for veterans by US News. It is available in an accelerated 16-month format, or a longer 24-month option, and allows students to connect with peers and professors virtually while also accessing careers support from the university.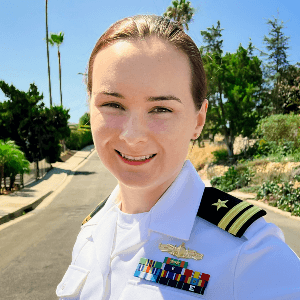 Susan Torres (pictured right) is a current student on Warrington's Online MBA, and she says the program has been very accommodating of her unique situation.
"UF's MBA program has allowed me to pursue my MBA while still serving on active duty," she says. "I am not able to maintain a steady schedule due to my service, but UF has allowed me to make it work.
"From the admissions department allowing me to delay my entry into the program due to last minute military orders, to the professors extending due dates to account for my time at sea, the UF staff has been nothing but supportive."
---
4. You'll find a like-minded community at b-school
Because of the strength and popularity of business education as a launchpad for post-military careers, it is easy to find your community once you enrol in a program.
Most schools have dedicated societies for ex-military students, for instance the Wharton Veterans Club and the Armed Forces Club at Vanderbilt University's Owen Graduate School of Management.
As well as student groups at individual schools, veterans can also access external organizations like the Veterans in Business Network, which can help students build up their network outside of business school while they're still studying.
---
5. You'll benefit from personalized career coaching
A strong understanding of business concepts and an in-built network aren't all you'll gain from business school once enrolled. Any good business master's program will provide personalized career coaching, and many schools pay particular attention to veterans' journeys back into the workforce.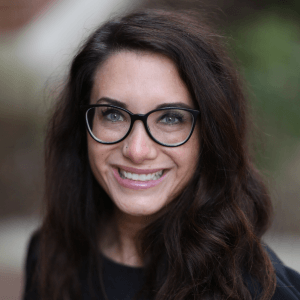 "At the University of Florida we have a Collegiate Veteran's Success Center, Vet Success Counselor on campus, our Office of Student Veteran Services, and the Collegiate Veterans Society," says Warrington's MBA director of admissions Naz Erenguc (pictured right).
"We have dedicated Academic Advisors that will assist in creating an individualized curriculum if a student is deployed, and a professional development team to support co-curricular training opportunities.
"Lastly, we offer a dedicated Career Services Team that coaches our students on what opportunities are out there and how to make them the top candidates for the positions they are applying to."
---
6. You'll command a higher starting salary after graduating
Finally – and perhaps most importantly – most business degrees offer a high return on investment thanks to the greater salary prospects available to you once you graduate.
This is perhaps particularly true for MBA programs, where graduates from top schools like Wharton receive, on average, double their pre-MBA salary upon graduation, not including any signing or performance bonuses.
In fact, in 2022, the median starting salary for MBA grads in the US is $115,000, and can even be higher depending on which school you graduate from. For example, the average salary for a Wharton MBA grad is a whopping $237,500 per year.
These salaries are particularly impressive when compared to average salaries in the US. For instance, the median household income in the US in 2019 stood at just under $69,000 - less than half the average Wharton grad's salary in 2022.
---
Now that you know the benefits of going to business school to kick-start your post-military career, read about some of the best business schools for veterans.