South Africa is rich in culture, diversity, and landscape, from towering cliff faces to awe-inspiring ocean stretches.

While a known holiday destination, South Africa also houses top ranked business schools, including Africa's number one program, –according to the Corporate Knights 2021 Better World MBA ranking–at the University of Cape Town Graduate School of Business

UCT GSB's 11-month full-time MBA provides a global approach to business, with an additional African perspective, helping students kickstart their international careers in Europe, Middle East, and Africa (EMEA).

Here are six reasons to consider studying abroad in South Africa for your MBA:
---
1. Affordable tuition fees
---
Studying an MBA comes with a significant price tag. The average cost of an MBA program in the US is around $226k. Students must also budget for rising living costs, extra-curricular activities, and healthcare.
Studying an MBA in South Africa is affordable in comparison to the UK or the US. For example, the full-time MBA program at the University of Cape Town Graduate School of Business costs around $16k (R 285 450) for African residents.
For international students, tuition fees stand at a still affordable $31k, comparing favorably with schools around Europe. Yet, the extra costs of living in South Africa are considerably lower than in Europe or the US, allowing students to enjoy student life while getting a strong ROI from their MBA.
---
2. World-class universities
---
With more than a dozen business schools across the country, South Africa is not short of MBA program options. The top-ranked and most popular b-school in the country and continent is the University of Cape Town Graduate School of Business, representing more than 138 nationalities and an alumni network of 23k from 68 countries.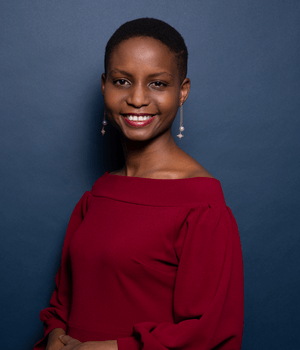 When researching world-class universities for application, it's important to double-check which institutions and foundations a school is affiliated with—European Foundation for Management Development, the Association to Advance Collegiate Schools of Business, and the Association of MBAs are a few of those already associated with UCT GSB.
UCT GSB MBA Student Salma Zacharia's (pictured) decision to study at the university was a no a brainer. "[It] is one of the best universities on the continent, it has amazing research and facilities," she says.
---
3. Innovative and expansive curriculum
---
As with most MBA programs, courses in South Africa teach the core foundations of management, business, and leadership.
But what makes this destination particularly unique is the added learning opportunities for students to develop a deep understanding of the most challenging issues faced by business leaders today, argues Caitlin Ferreira (pictured), UCT GSB MBA program director.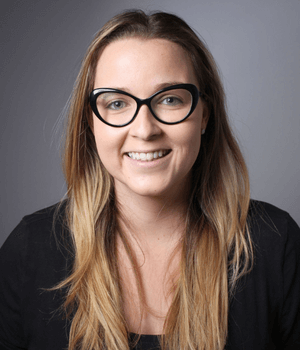 These include issues of diversity and inclusion, value-based leadership, the relationship between business, government and society, macroeconomic volatility, and climate change and sustainability.
The full-time MBA at UCT GSB was ranked the best MBA in Africa and 22nd in the world, according to Corporate Knights 2021 Better World MBA ranking, largely on the strength of the school's focus on impact and sustainability.
"Students will find that the perspective they develop and the experiences they have while studying in Cape Town will help them to navigate their careers and lead successful organisations wherever they work around the world," says Caitlin.
---
4. It offers a global perspective for an international career
---
Along with an innovative and expansive curriculum, MBA grads studying in South Africa are well prepared to kickstart their international business career. As a hub for international business, Cape Town offers a unique EMEA perspective to business students.
"MBA students studying in South Africa gain new insights into opportunities and risks that they would not see in developed markets," says Caitlin.
South Africa is also a popular destination for international MBA students, making these programs extremely diverse. You're able to learn the multicultural differences in doing global business and develop your skills for a global career.
Caitlin adds: "Students in our full-time and modular programmes have ample and intentional opportunities to network with one another, while the school receives exchange students from around the world who provide additional international perspectives and networks for UCT MBAs."
---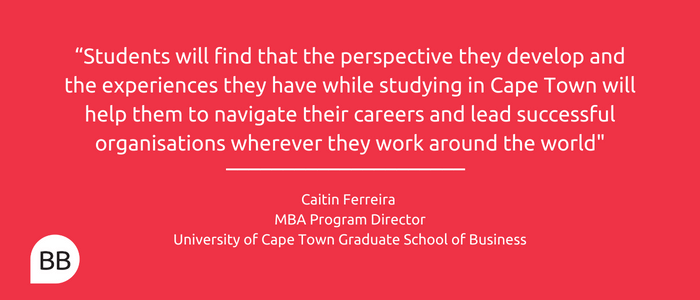 ---
5. South Africa offers a unique cultural experience for MBA students
---
Its breathtaking scenic views and incomparable nature reserves and wildlife might be enough to draw anyone to study in South Africa.
Salma, originally from Tanzania, has spent many years in Cape Town relishing the unique landscape the city and its surrounds offer while studying at UCT Graduate School of Business.
"Going on long drives and absorbing the scenery around me calms me and helps me deal with stress a lot," explains Salma.
If you're an outdoors-y person, the country you offers plenty of hiking destinations including Table Mountain and Lion's Head.
"One of the world's most beautiful cities—with mild weather, tremendous sporting opportunities, some of the world's best restaurants, bars and wineries, short flights to fascinating ecological area, rapidly-growing cities and a very affordable quality of life," says Caitlin.
---
6. MBAs in English
---
Speaking fluent English at a professional level is vital in the business world. English is widely spoken in South African—it's one of the country's 11 official languages—and the medium of education
Students applying to study an MBA at UCT GSB must demonstrate fluency in English prior to being admitted.
Related Content: