Michael Salloum landed both TikTok and Disney internships during a gap year while studying at business school.

The computer and communication engineering grad from Beirut, kickstarted his career as a senior analyst for KPMG in Saudi Arabia. But determined to break into the media entertainment industry, he decided to enroll at business school.

Michael moved to Paris to study the master's in management (MiM) program at HEC Paris, one of the top MiM programs worldwide.

The decision helped him land a strategy internship at the popular video-sharing social media app, TikTok. It also helped him secure a second internship at mass media entertainment company, Disney.
---
How I landed Disney and TikTok internships while at b-school
Through his extensive consulting career in Saudi Arabia and computer engineering and economics background Michael had a good idea of the industry he wanted to work in when he enrolled at HEC Paris.
The transition from consulting to business school in Paris would, Michael felt, enable him to connect with the school's notable alumni base and in turn network with big companies within the media entertainment sector.
"I think I'm lucky to have a clear vision of what industry I wanted to break into," Michael explains.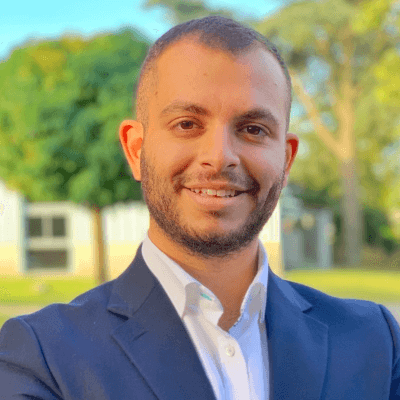 This determination helped him keep on top of any available opportunities at big entertainment companies and inspired him to network as much as possible with people working in the field.
Both were essential in helping him land his internships, he says.
Also key to his success: Michael developed a range of practical skills while studying at HEC. He worked on case studies from Disney as part of a strategic marketing course he took at HEC Paris which helped him build a tangible portfolio that he could go on to present to his prospective employers.
"The skills I gained from my coursework in digital, data marketing and strategy were broad, and I used them as discussion points during my internship at TikTok and as interesting conversation starters during interviews," Michael says.
---
What was a TikTok internship like?
After a smooth process of applying online and attending two interviews, Michael was offered a six-month strategy TikTok internship in Paris.
His role focused heavily on conducting market research and gathering industry specific market intelligence related to French audiences. He reported his findings using data analysis.
"As a strategy associate, my role was very consulting based. My work was very internal to driving business forward," says Michael. He explains how he worked closely with cross functional teams during his role in developing key market research.
"I had the chance to see how a tech giant, like TikTok, competed with other major social platforms. I could really see the growth and development of such a big company from the inside," says Michael.
Now, a month after finishing his TikTok internship, Michael has begun a different internship in franchise management and integrated planning with Disney.
"In my role at Disney, I'm going to be working in a department which handles all of the different franchises like Star Wars, Marvel etc. I'll be helping make sure that everything is executed within Disney guidelines," he explains.
---
How do internships prepare you for career success?
Landing key industry internships, while studying at HEC Paris, has equipped Michael with the skills and experiences needed to launch a career in management after graduation.
Michael notes that his internships have helped him with his career direction. He says his time at TikTok made sense for him as he was focused on branching out into the entertainment industry, while his position at Disney will open doors internationally within franchise management.
"I was tempted to apply for traditional jobs before going to business school. But I would say stick to your passion and design your master's in a way that will help you accomplish your goals," he adds.