Guided by the United Nation's Sustainable Development Goals, countries across the world are working to prevent global warming from reaching disastrous, and irreversible, levels.
China is the world's second-largest economy and one of the biggest sources of greenhouse gas emissions, so this superpower's transition to a low-carbon economy is imperative to achieve these goals.
This is why now is the time for business leaders, who are passionate about making an impact, to take the reins in China's sustainable transition.
We caught up with students from an MBA in China to find out how business schools are preparing future business leaders to lead the green movement.
---
Bringing MBA students together to learn about social impact
The push towards combating climate change requires a collaborative effort—both at a global and individual level.
Recognizing this, the MBA Social Impact and Responsibility Club at China Europe International Business School (CEIBS) in Shanghai, organized the second annual Social Impact Week to bring the student body together and raise awareness of how they could make a difference.
Angelina Ye is vice president of the MBA club. Having worked in impact investment for the United Nations Industrial Development Organization, she wanted to use her experience to help raise awareness of sustainability across the student body and gear MBAs up to launch impactful careers.
"I think that something significant our event brought was to encourage people to focus more on the daily operation of sustainability," she says.
At the start of the week, students came together for a second-hand bazaar to trade their belongings and give what they no longer need to other students.
There was also the Green Campus Quiz, which was an interactive way for students to learn more about energy-saving techniques at CEIBS and raise awareness of how they as individuals are using different facilities on campus responsibly.
"We wanted to start the event by bringing people together. Around half the student body were involved as well as CEIBS Global EMBA alumni and students at other business schools," says Angelina.
---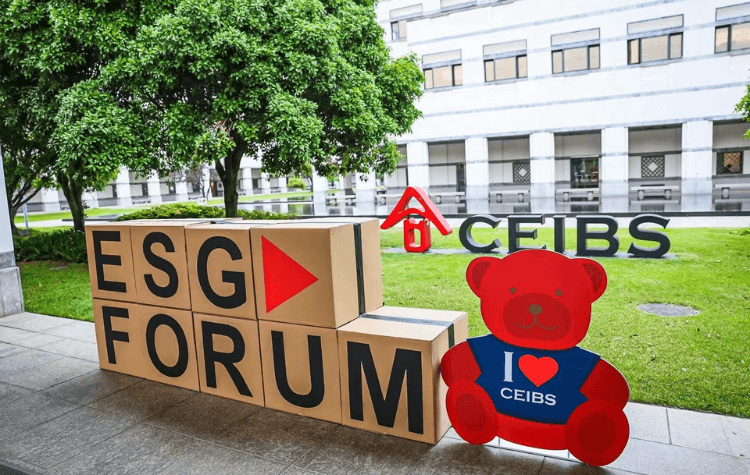 During the CEIBS Social Impact Week, the aim was to be as sustainable as possible such as making signs from cardboard boxes
---
Learning from industry professionals during an MBA in China
For businesses to make a sustainable transition, the process is not always straight forward. That's why hearing from those who are currently navigating this process is invaluable for future business leaders.
In her role at the United Nations, Angelina was focused particularly on environment, social, and governance (ESG) investment and green technologies. She worked with developing countries to identify where sustainable technologies could provide essential resources.
One of these initiatives involved a project with the Economic Community of West African States (ECOWAS) to create water recycling technology.
"I wanted to help introduce the focus on ESG and green technology to the student body at CEIBS and encourage that perspective in different roles and industries," she says.
The ESG Forum as part of the CEIBS Social Impact Week invited professionals from across multiple industries to learn about ESG practices and give an insight into the range of career paths for grads.
MBA students heard from Big Four accounting firms KPMG and PwC about how these companies are working with clients to achieve ESG compliance and develop as an organization.
Mastercard were also among the attendees to speak about the importance of green financing. Other companies also included L'Oréal and Chinese multinational tech company, Alibaba.
"It was great to hear that multinational companies are evolving from using ESG as a marketing term to make themselves look good to really embedding the methodology into their process and product design," says Angelina.
As well as hearing from and meeting with big names in business, students also travelled to a startup hub in Shanghai.
"The space is one which inspires startup entrepreneurs to create ventures that make an impact and focus on the public discourse," says Angelina.
"I think its hugely important for MBA students to have this focus and knowledge of sustainability because they are the leaders of tomorrow and will have influence whether they work in multinational companies or startups," she adds.
---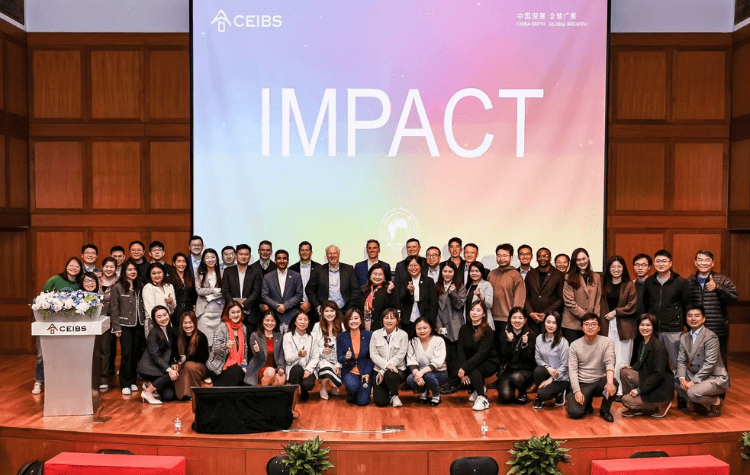 ---
How MBAs can drive sustainable transition in China
China is currently working towards a dual carbon goal, with the aim of reaching peak carbon emissions before 2030 and achieving carbon neutrality before 2060.
As part of this push, in June 2022 China also introduced its first ESG disclosure standard for businesses.
"Companies in China are currently catching up with the pace of sustainable transition around the world," says Angelina.
MBA graduates who are equipped with a passion for social impact and the knowledge of how businesses can make effective change are a crucial part of this, believes Angelina.
"MBAs will help to shape the management style in the future from a responsible perspective," she says.
Angelina is going from strength to strength in her career, which has even earned her a spot in the Forbes 30 under 30 list, but she isn't finished quite yet.
After gaining a broadened perspective of business leadership during the CEIBS MBA, Angelina hopes to leverage this and her previous experience to continue making a positive impact.
"I want to make an impact in connecting China more with the global perspective on ESG and sustainability and bridge corporations among different countries to work towards this focus," she says.
Angelina also plans to connect with the next cohort of MBA students at CEIBS to uphold the legacy of the Social Impact and Responsibility Club and inspire future graduates from an MBA in China.
Related Content: