---
End of week roundup:
---
Coronavirus could turn women off business school
Female representation in business schools has improved over the last decade. Between 2009 and 2019, the share of global GMAT exams taken by women climbed steadily from 40% to 47%. However, latest research from GMAC shows the coronavirus pandemic may impact how many female candidates pursue a business school degree.
Female candidates are more likely to report that they are very concerned or extremely concerned about the impact of COVID-19 on their pursuit of graduate management education (GME) compared to male candidates.
By April 30, more than half of women respondents to GMAC's latest candidate survey (55%) were very concerned or extremely concerned due to the impact of COVID-19, while the degree of concern for male candidates ranged from 33% to 37% between March and the end of April. In response, women are more likely than men to delay their pursuit of GME.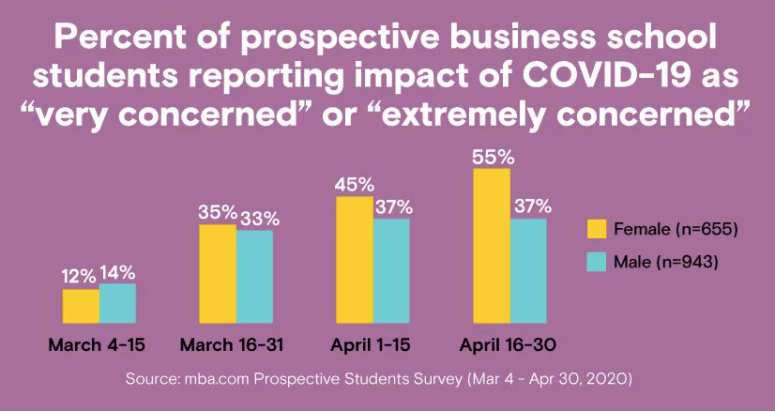 ---
INSEAD receives $66 million gift from alum
INSEAD has nabbed a €60 million ($66.6 million) gift from an anonymous alum, the largest gift INSEAD has received from an individual donor in its 60-year history.
The funds have been designated to grow the school's endowment, finance research and fund other long-term strategic investments. The donor has pledged €40 million to the INSEAD endowment to drive innovation and excellence in research, and €20 million to enable strategic investments that solidify the school's independence.
---
READ: The benefits of online learning that can't be recreated on-campus
---
IESE Business School Campus To Open in June
IESE Business School plans to gradually resume in-person classes at its Madrid and Barcelona campuses from June 15. In a statement, the school said:
'We are preparing a number of extensive health and safety measures (beyond what is required by the health authorities) to make this possible. For example: obligatory testing of employees and participants before coming to campus, temperature controls, reduced occupancy of campus, mandatory use of masks and social distancing, among others.'
See how IESE alumni are responding to COVID-19:
---
Degree Apprenticeships for UK MBA students in September
While there are reports that the UK government is set to pull the plug on the popular degree apprenticeships scheme, Teesside University Business School is planning to welcome the next intake of part-time MBA students on its MBA Senior Leader Master's Degree Apprenticeship (SLMDA) in September.
Business professionals on the program are encouraged to ramp up their critical thinking and managerial decision-making skill in response to COVID-19, says course leader Noel Dennis.
"Each year we have 25-to-30 part-time learners per cohort, with three intakes per annum, on the SLMDA. These range from business executives to educationalists, engineers and NHS senior clinicians and nurses developing their leadership and management skills. Current and aspiring leaders combine their work with studying for a business qualification. The value of the SLMDA is that what we cover reflects what is happening in the world at the time of delivery," he says.
The SLMDA will continue to be structured around up to eight days per year of face-to-face group learning alongside online delivery, as part of the two-year program.
---
MBA's therapy app offers free online appointments during lockdown
Find out more about the MBA entrepreneur behind ifeel
---
Dealing with COVID-19 | Jim Berry, MBA director at UCL School of Management
"Before the virus shutdown most in-person teaching at UCL was supported by an online learning system (we use Moodle, primarily). The speed of the shutdown forced many lecturers to quickly adapt their materials for online delivery. The next challenge is addressing the possibility of a whole term moving online in the Fall.
"We are facing this challenge by leveraging our internal expertise in teaching (UCL Arena) but also some pilot programs the University has launched in the past years such as the UCL MBA program (a classroom-based MBA delivered online)
---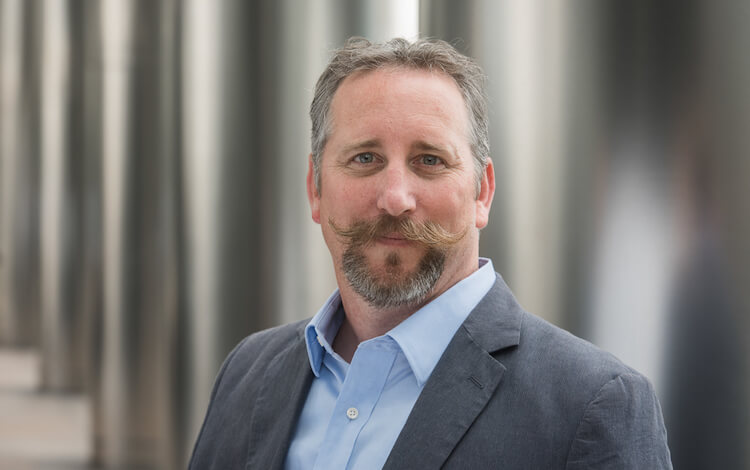 ---
"The UCL MBA was an opportunity for the School of Management to build an MBA program from the ground up for classroom based online delivery. This allowed our faculty to reimagine the learning journey and make use of technology natively in the design of the program.
"We took two years designing the integrated learning approach and our faculty take up to a year to create engaging modules that blend video, simulations, dialog and live classroom (1.5 hours a week per module) interaction into a holistic program. This program is high touch and is focused on the interactive learning of digital classrooms where students interact together and with faculty with and amazing 18-to-one ratio. "