Latin America is currently having its moment in the spotlight. While GDP growth has traditionally been slower, the region has recently benefited from increased investment in tech, making it the ideal place for executives to face new opportunities and bring about significant social change.
Mexico, for example, saw one-quarter of all tech investment in Latin America in 2017, and startups are increasingly flocking to the city of Guadalajara, where companies like Wizeline have established a base.
Latin America is also the fourth-largest mobile market in the world, although there is still a gap in access to financial services—less than 40% of adults in Colombia, Mexico, and Peru have formal bank accounts.
For anyone wanting to take their executive career into the c-suite in Latin America, the EMBA at EGADE Business School at Tecnológico de Monterrey gives students a dynamic view of management as well as offering key insights into the region. The EMBA is also taught alongside W.P. Carey School of Business at Arizona State University, so students gain a well-rounded view of global business.
"There are lots of shifts in consumption patterns [in Latin America]," explains Igor Rivera, director of the Executive MBA at EGADE. "Firms should be thinking of some ways to fulfil these new requirements, and technology should be one of the ways to address this new feature—this is what we are terming transformational leadership."
---
Old and new challenges in Latin America
The coronavirus pandemic has introduced a number of new difficulties in the region—as of August 2020, Brazil had recorded over 3.7 million cases, the second-highest in the world.
"It's well known that worldwide economic growth is going to be suffering, and this is going to have a stronger effect in Latin American economies," Igor points out.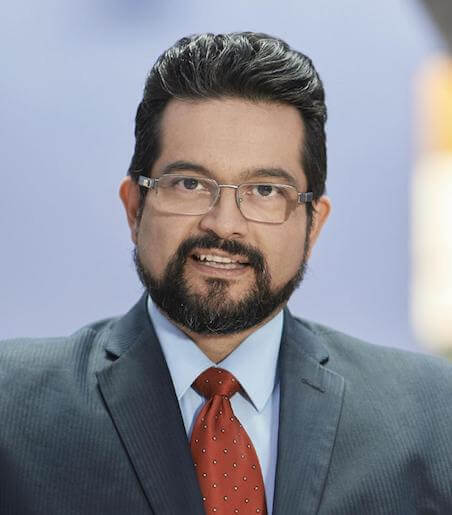 Alongside an economic downturn, Igor (pictured right) says that challenges are arising in firms that are seeing "a contracted demand for certain services," and outside of coronavirus, Latin America is also facing a decided shift in the way consumers are considering their products.
"Consumers are becoming more aware of things such as the provenance of the products they are consuming, whether these are from a food supply chain or an electronics supply chain," Igor explains. Most of these consumers are young people, who are seeing a greater increase in their disposable income, and therefore hold purchasing power in the region.
It's these challenges, Igor says, that demonstrate a "large opportunity for transformational leadership."
EGADE has long championed this type of leadership—the school is home to the Center for Conscious Business for a Sustainable Future, and all of the programs and modules at the school focus on a management strategy that puts conscious decision making first. On the EMBA, for example, students even follow a dedicated transformational leadership module.
"The curriculum we've put in place at EGADE Business School is really putting innovation at the forefront," Igor says. "This makes it very attractive in the situation that we are facing, where there are even new business models emerging."
---
The skills necessary for modern leaders
The EMBA at EGADE is based around an innovative curriculum, featuring modules taught by professors from WP Carey, which explores diverse topics such as analytics, financial reporting, and business law.
However, to tackle the unique challenges in Latin America, there is one thing that Igor says leaders should value above all else: data.
"From our perspective, EMBAs should be ready to understand new sorts of data, as this sort of information might be influential in the future decisions of leaders," Igor says.
"The presence of electronic devices is going to bring a huge tsunami of data about our behaviour on a daily basis," he adds. "Students have to be ready to understand tech, and be ready to implement all these new ventures within their own firm."
This focus on the key tenets of data and technology is evidenced by the growing number of fintech businesses in the region—in just six years, Latin America fintech funding grew from $50M to $2.1B.
Igor is confident that with the combination of EGADE's innovative vision and W.P. Carey's global influence, the EMBA can transform students into powerful executives within Latin America.
"I think that this is a very powerful proposal, putting together well-seasoned students with well-seasoned faculty," Igor explains. "We are offering this program in a very active way, where students are coming to our classrooms to really explore these possibilities with their peers, rather than just listening to faculty or to a lecture."
---
READ MORE: EGADE Dean On How Business Schools Must Act To Combat COVID-19
Related Content: