The best business school in Latin America according to QS, EGADE Business School offers a range of programs for people looking to build a global network and broaden their professional horizons.

EGADE is known for its focus on entrepreneurship, and aims to support innovative and disruptive leaders as they take on important business challenges.

EGADE Business School also offers various international partnerships as well as flexible learning opportunities that allow students, faculty and alumni to connect and work together on a global scale.

So what are the EGADE MBA requirements? And how can you be a successful candidate? Ana Maria Zermeño Padilla, associate dean of admissions at EGADE Business School, explains how to stand out in your application.
---
What does EGADE look for in its MBA applicants?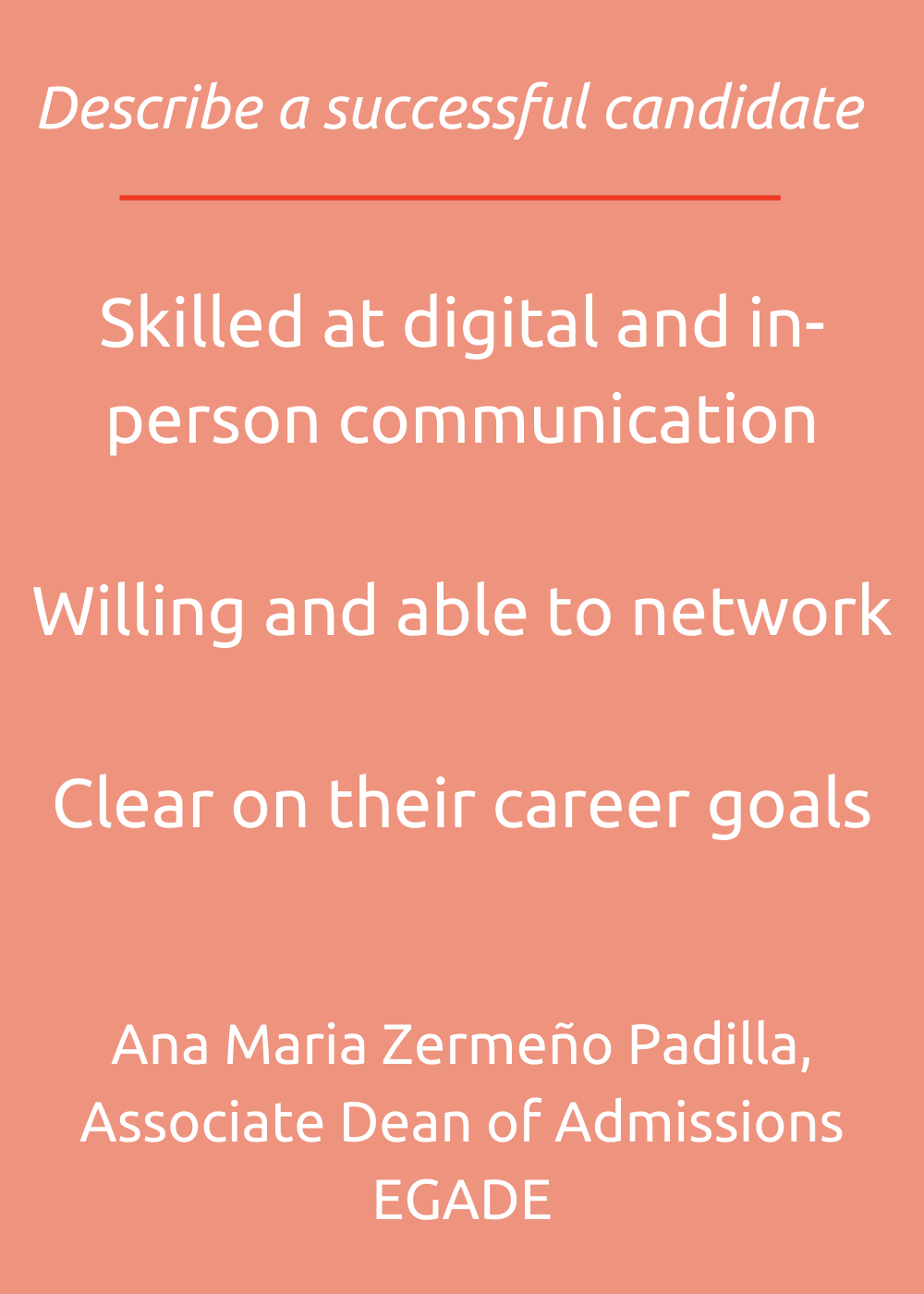 Besides academic excellence, we look for candidates who are able to tell us how they are planning to contribute to the companies they will work at, the entrepreneurial ventures they will create, and society more generally.
We have a wide range of programs, including the full-time Master in Business Management (MBM), the Online MBA, the MBA in Innovation and Entrepreneurship, the Executive MBA in partnership with W.P. Carey School of Business in the US, and the MBA in Global Business and Strategy in partnership with UNC Charlotte in the US.
So applicants should research which program is best suited to them, and tailor their application to their chosen program's specific requirements.
---
What mistakes should candidates avoid in their EGADE MBA application?
The first mistake is to not prepare enough for your application tests, like the GMAT or GRE.
Sometimes candidates have the competences, but they are too nervous on the day of the test to demonstrate them properly. We recommend that they practice regularly and research how the test is structured so that they feel more confident when the time comes.
The second mistake is to not be able to talk about yourself beyond what your CV tells us during the interview. Program directors and professors have studied your resume and recommendation letters, so they are already familiar with your professional and academic background.
The candidate should avoid being repetitive, and tell us about something we don't know yet, whether that is an important professional challenge you've overcome, a career aspiration you're considering, or a particularly interesting extra-curricular activity.
---
What questions should candidates expect during the EGADE MBA interview process?
They should expect questions about their professional experience, but not exclusively their achievements. We also want to know about your failures, and the lessons you learned from them.
We also ask them about their career goals, and we expect candidates to have a clear idea of what they want to do after graduation and how they plan on using the skills and network they will have learned during the program.
An important part of the interview is also dedicated to finances. We ask applicants about how they are planning on paying for the program, and the types of loans and scholarships they are applying for.
---

---
What makes the EGADE MBA application process unique?
During the pandemic, we automated our application process. We use KIRA, which is a platform on which admissions teams can holistically review a candidate's application through video interviews and essays, timed written assessments, and English skills exams.
We also made it easier for candidates to get all the information they need on the program online, and we embraced virtual learning.
As a result, we are far more international now. We have more global connections with different business schools and there are more opportunities for students to learn from experts across the world, which is definitely one of our biggest strengths.
---
What are your top tips for applicants?
The first one is to research which program would be best for them. A full-time MBA and an online MBA are delivered very differently and suit people with different professional and personal commitments, so candidates must know exactly what they're looking for.
The second thing is to make sure that your application is tailored to the school you're applying for. For example, we had one applicant who was sending applications to three or four different business schools, and the application he sent us said "Northwestern University".
So we recommend that you double check before sending your application, and really do your homework on what the school offers, what makes it unique, and how you think your values and goals will fit with EGADE.
Related Content: