Developing vaccines isn't a simple process, especially in a race against a global pandemic. Pharmaceutical companies continuously look for new ways to accelerate research, development, and manufacturing to ensure that vaccines can have as wide an impact as possible.

Dr Lisa Banks recognized how technology can enhance scientific and medical innovation, especially around vaccines, and was keen to pursue a technology-led role within the pharmaceutical industry. For Lisa, the Executive MBA (EMBA) at Warwick Business School (WBS) was an opportunity to strengthen her business acumen and prepare her for this career transition.

She now leads digital innovation for global pharmaceutical company GlaxoSmithKline (GSK) Vaccines in Belgium, where she identifies and evaluates emerging technologies to support the vaccine lifecycle. She credits her Warwick Executive MBA with arming her with the leadership skills and confidence she needed to succeed in a rapidly developing sector, enabling her to thrive as a female scientist and technologist in a traditionally male-dominated industry.
---
Embracing leadership through an Executive MBA
Lisa researched various business schools that offered executive MBA programs, but WBS' high teaching standards, the array of modules on offer, and the school's stellar reputation immediately drew her to the program.
Knowing that strategic leadership would form a significant part of her role in the pharmaceutical industry, Lisa was also attracted to the Warwick Executive MBA's emphasis on this component.
"The strategic leadership development module taught us how to understand what characteristics we needed for effective leadership in various situations and how to build your adaptive strengths to your leadership style," notes Lisa.
This adaptive leadership style has helped Lisa work in digital innovation, which requires navigating changing and often ambiguous situations. "Understanding how to apply these leadership skills has been crucial for my role," she says.
Part of the strategic leadership module, Lisa says, is about learning how to bring team members with you to drive the change forward. "I found it interesting to learn about the potential barriers to change and how leaders can respond by building teams that will help them to deliver that change," she says.
Working on enhancing the lifecycle of a vaccine is no small feat. Lisa must respond to changes affecting vaccine technologies as efficiently as possible, which may sometimes require utilizing team members' insight to bring about an effective solution.
---
Applying business knowledge to real-world issues
Knowing that she wanted to remain within the pharmaceutical industry after her Warwick EMBA but wishing to improve her skill set, Lisa turned to WBS' CareersPlus' Executive Career Coaching. This is where experienced executives work one-on-one with students to help fine tune their career plans.
"Coaching helps me to prepare and plan for my next career steps. I would set aside time before each session to think through what I wanted to get out of it, which aided in furthering my understanding of my career direction," notes Lisa.
The EMBA Consultancy Project was a great chance to leverage her new-found confidence and practically apply the business knowledge she'd acquired. Students can apply theories, concepts, and frameworks learned throughout the program to a business issue.
Lisa completed the project with GSK, who she'd recently joined partway through her Warwick Executive MBA, looking into barriers to artificial intelligence adoption within her organization. "Not only was I able to apply the frameworks to a real business challenge, but the experience created great networking opportunities, interviewing GSK employees to inform my research," says Lisa.
Through applying her learnings from the Warwick Executive MBA to tackle a complex business issue, Lisa has been able to advance her understanding of the organization she works for and further her career.
---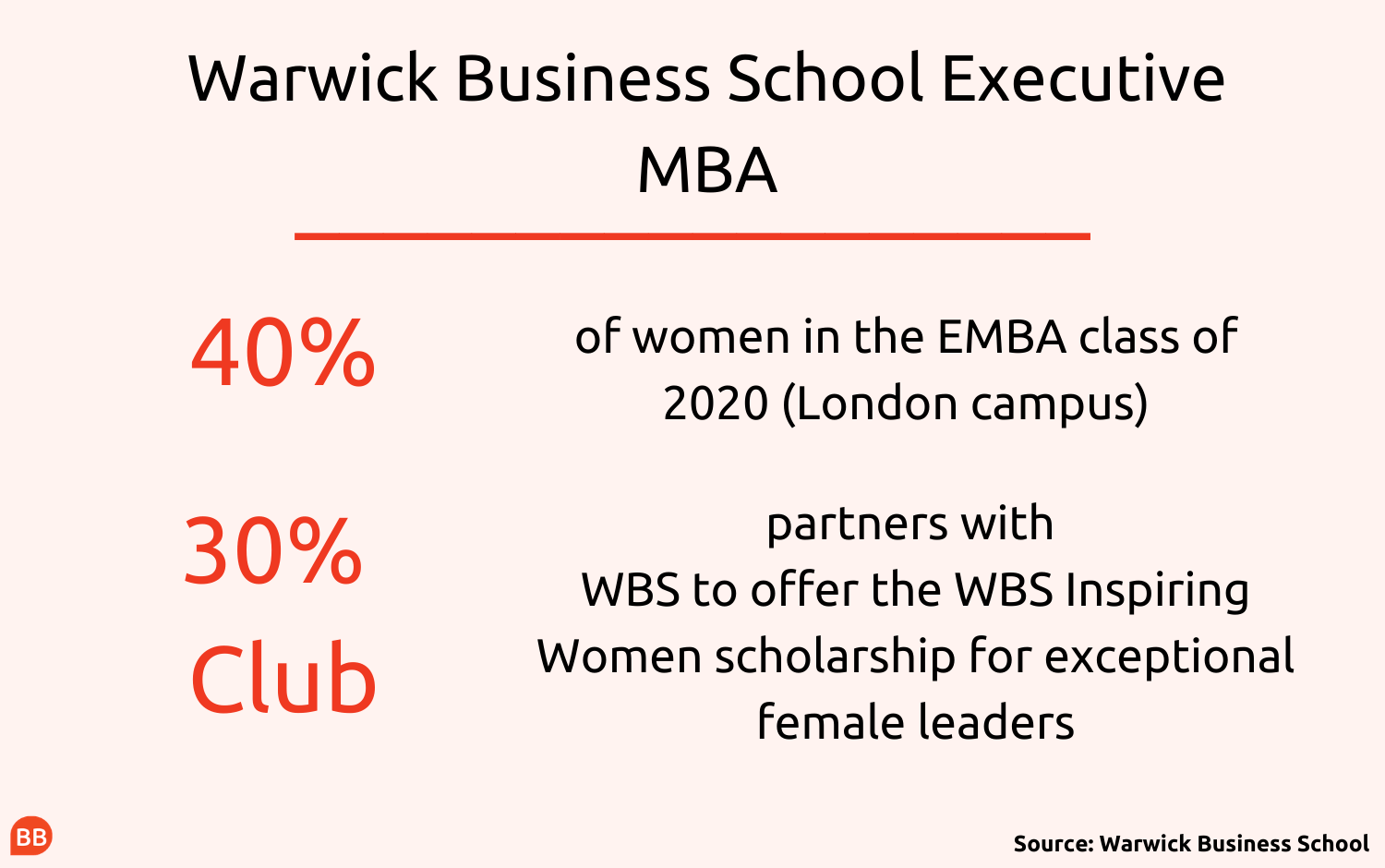 ---
Thriving as a female technologist
Working in a traditionally male-dominated industry, Lisa felt it was important to study an EMBA at a business school that values female leadership.
WBS partners with the 30% Club, a campaign aiming to achieve 30% female board representation, offering scholarships for female leaders. As a high caliber female EMBA candidate, WBS awarded Lisa one of these scholarships. As a result, she recognized the advantage the Warwick EMBA would provide her to succeed in her future career.
Supplementing her experience with theoretical knowledge from the Warwick EMBA has further developed Lisa's confidence. "It's important to have several different tools you can call upon in certain situations, and a diversity of thinking, preventing you from defaulting to the same method each time," she comments.
Aspiring to be a positive force of change within a male-dominated environment, Lisa understands the value a gender diverse workforce brings to scientific innovation. Leveraging diverse leaders' unique perspectives enables rich discussions and better decisions, she notes.
"When you're designing either an organization, a process, or a product, it's important to understand the end-user at the outset, and thinking of this end-user from a diversity angle is essential for it to be successful," Lisa concludes.
Related Content: