Ever since he was a child, Mohanraj (Mohan) Ramasamy had a strong sense that he wanted to lift up others. He decided launching a business would be the best way to do it.

Although he started his career in computer architecture—working with tech giants like Hewlett Packard and Tesla— the itch to strike out on his own never left.

"I wanted to become an entrepreneur to do good for society," he reflects. "Entrepreneurs can create change and empower people."

In 2014, he was finally inspired to found a company of his own. Today his business, Srivaru Motors (SVM), is bringing sustainable, electric motorcycles to millions of commuters throughout Mohan's home country of India.

For Mohan, the Executive MBA (EMBA) program at the University of San Francisco School of Management (USF) has been instrumental in helping him build the leadership skills and business mind needed to make SVM a success.
---
Using entrepreneurship to solve societal issues
Mohan believes the best companies solve a tangible problem in the world. The problem he chose to tackle was air pollution, a particularly deadly problem in India.
In 2018, more than 40% of people in India were exposed to five times the safe limit for fine particulate matter that comes from burning fossil fuels. A lot of this exposure happens when people travel on motorcycles.
"When you're on a motorcycle, you inhale exhaust fumes from the vehicle in front of you," Mohan (right) explains.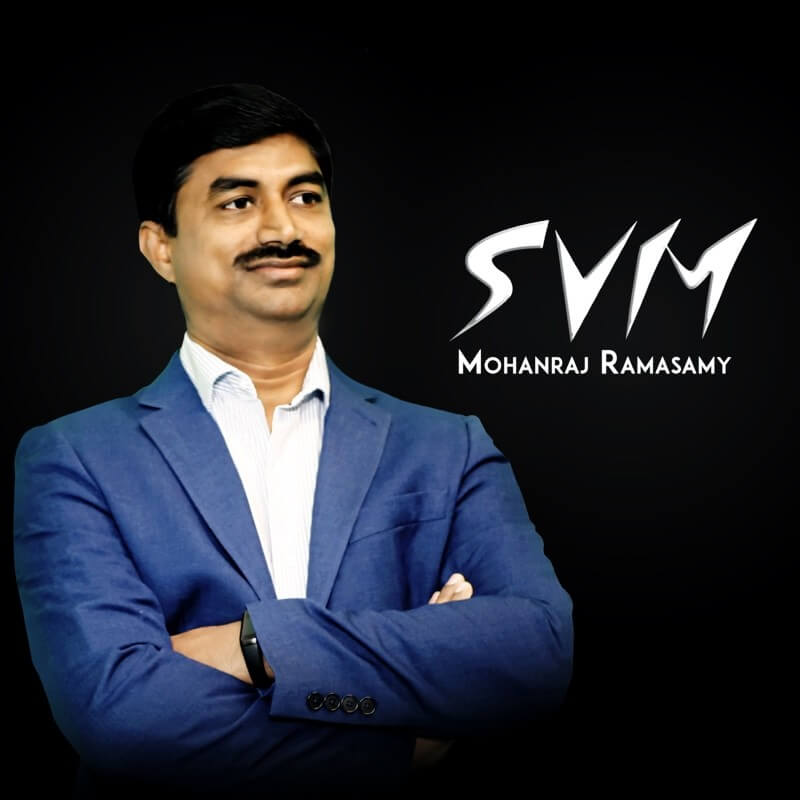 Hoping to tackle this issue, while appealing to an increasingly health-conscious market, Mohan came up with the idea for an affordable electric motorcycle that SVM could launch called PRANA—a word derived from the ancient language, Tamil.
In Tamil, PRAaNAN means 'life' or 'source of energy.'
But to bring PRANA to market and develop a sustainable business model, he needed to fill some gaps in his knowledge.
Although Mohan had a strong background in electric vehicles thanks to his time as senior manager at Tesla, he wanted to learn more about areas like finance and consumer behavior.
"An MBA made sense for me," he explains. "It would give me the leadership skills I needed to really thrive."
That's when he came across the EMBA program at USF. He enrolled in 2015, and the program gave him access to a cohort of experienced professionals. Its part-time structure also meant he could continue to work on his business while studying.
Mohan was equally drawn to the business expertise of professors who taught the program. The EMBA is taught by subject experts from throughout the US, who come to campus to share their knowledge.
---
How an EMBA supports entrepreneurs
The EMBA offered Mohan some crucial takeaways, and he explains that the program was completely supportive of his business mission.
A highlight for Mohan was a class trip to Europe, where he spent one week with his cohort in Spain and another in Hungary. Company visits acted as great case studies for learning about different working cultures, he recalls.
"It was really valuable to see how these companies had built a brand, and how I could take these lessons forward with PRANA," he explains.
What came up again and again was the importance of settling on a coherent mission statement. For SVM, the mission was to build the most trusted brand of electric motorcycles, by prioritizing product quality and excellent customer service.
"If you build trust, you can easily market other products further down the line," he says. "The goal is to develop more of these sustainable products."
Brand loyalty came up again back in the classroom. During one module focusing on consumer behavior, Mohan and his classmates learned how to model for different consumer behaviors across cultures—crucial insights should SVM choose to launch PRANA in a new market.
Studying all of this while working on PRANA meant that Mohan could implement what he learned into his business in real time. "In some cases, I was able to essentially use my professors as consultants," he notes with a laugh.
---
Taking SVM to the next level
Since Mohan graduated from the EMBA in 2017, he has been able to leverage the business instincts he honed to launch PRANA in late 2020.
He has built a brand that consumers trust, and a business model with sustainability baked into it.
Customers who commit to planting 10 trees receive a $500 discount from the bike's retail price, which is a win-win for drivers and the environment. Mohan's ultimate goal is to spearhead the electric vehicle revolution in India, ensuring that air pollution levels in the country continue to fall.
Despite the relevance of technical skills and business savvy to his mission, grit and motivation are an entrepreneur's most important resource, Mohan thinks. To cultivate this resilience, you need to believe in your company's mission.
For SVM, one of the biggest challenges was continuing to secure investment when the coronavirus pandemic cast a shadow of uncertainty over the economic landscape. Fortunately, he wasn't deterred—and in the long term, the health concerns spurred by the pandemic have brought air pollution issues to the front of many consumers' minds, he thinks.
"Have enough of a reason to to get up when you fall down," Mohan advises. "There are many reasons a startup might fail. It's up to you to figure out what will make you succeed."
Related Content: