Frauke Steiner is living many people's dream career. A veteran of the big four accounting firm, EY, Frauke has worked for the company since 2006. She landed a partner role in 2021.

Raised in the German state of Bavaria, Frauke spent nine years working for EY as a certified public accountant in Germany, before moving to Beijing on a two-year secondment in 2016. Six years later, she's still there.

Despite success with one of the world's top companies, this year Frauke decided to go back to school. She enrolled in the Tsinghua-INSEAD Executive MBA program, a top-ranked degree for experienced professionals looking to move into senior executive roles, hoping to take her career to a new level.
---
From Bavaria to Beijing: A secondment with EY
Frauke gained a wealth of experience while working for EY at the company's German office in Nuremberg, Bavaria's second-largest city. But after spending nine years there, she wanted to expand into new international opportunities within EY.
Frauke had spent some time travelling while studying at university and felt another global opportunity would help move her career forward.
Like many top global corporations, EY offers the opportunity to undertake a secondment with other offices across the globe. Frauke leapt at the opportunity to move to the Chinese capital, Beijing.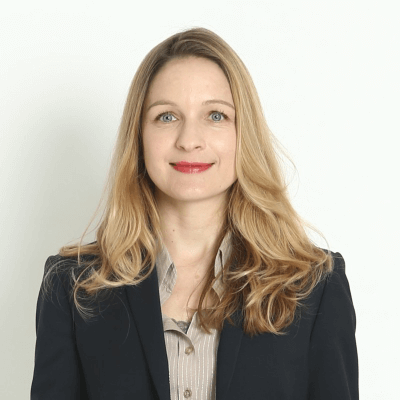 "I came for two years in January 2016, and today I've obviously never returned," she says.
Taking on a senior management role at EY Hua Ming, the company arm headquartered in China, Frauke continued working as an auditor helping top multinational companies based in Germany who were active in the China market.
The role utilized her substantial accounting and financial expertise. But after rising through the ranks to become a partner, Frauke felt a new perspective would improve the service she could offer to clients.
"I'm always coming from an audit point of view," she explains. Looking for a more in-depth understanding of broader business topics, she decided an EMBA would help continue her progress at EY and help her better serve her clients.
---
The Tsinghua-INSEAD Executive MBA
Frauke enrolled in an Executive MBA program in 2022, 10 years after her last experience at school. She chose the Tsinghua-INSEAD EMBA, as the world's top-ranked program, taught by two of the leading schools in both the East and West.
"What made the TIEMBA attractive was that I wanted to do something connected with Asia to deepen my knowledge, but it also had to be in English," she says.
Now in the early stages of the part-time program, Frauke feels she's benefitting from the in-depth curriculum, which includes core courses covering business fundamentals ranging from talent management to the Chinese economy.
Lectures involve a mixture of business theories alongside practical business cases and class discussions. "It's been amazing to have a professor in front of you again, you value how brilliant it is being part of a classroom," she explains.
"All of the professors have been excellent, they're very passionate and insightful about what they teach. Materials provided are also very interesting," she adds.
Learning among a cohort of experienced professionals—the TIEMBA class of 2024 includes 35 participants coming from diverse backgrounds, and with an average of 14 years' work experience each—has also helped Frauke learn, she says.
"It's a very different networking platform, with a diverse group of people with different backgrounds, different interests and ways of communicating. It's very interactive," she says.
"Since I met my classmates, we have basically been exchanging messages every day. What I'm benefitting from is that people have access to different resources, sources, and ideas."
---
Looking to the future with EY
With her program well underway, Frauke feels the TIEMBA has allowed her a period of reflection, helping her analyze her strengths and weaknesses while rising to the challenge of balancing a rigorous program while continuing in her role at EY.
Having time to reflect has been important: already she feels she's incorporating her learning while dealing with clients, while her broader understanding of business is improving her leadership skills.
"It's a very important goal of mine to be a better leader. [In the TIEMBA] you have a chance to reflect on how you can be better in many dimensions," she says.
"My goal is to not only take away knowledge, but also to reflect more on certain of my behaviours and train certain habits. I also want to get feedback from the group and my professors to help me challenge myself and to get a broader view of business."
Related Content: