A business school education comes at a cost. According to our BusinessBecause Cost of MBA Report 2021, the total cost of a full-time MBA at a top US business school can exceed $200,000.

To fund your MBA or business master's degree, you can use your own savings and apply for scholarships, but you'll also most likely need to explore how to get a student loan.

The average US MBA student takes out $62,000 in student loans per year, according to loans company Juno.

Chris Abkarians and Nikhil Agarwal faced the same funding issue encountered by many MBA students after they were admitted to Harvard Business School, which charges around $147,000 in tuition.

Instead of taking out expensive student loans, they got 700 students from 10 business schools together and negotiated lower rates for the entire group. The Harvard alums say they saved the group around $15,000 each.

Juno (formerly LeverEdge), founded by Chris and Nikhil during their MBA, uses group buying power to negotiate the best student loan rates possible for MBA and master's students, as well for other undergraduate and graduate programs.
---
Getting the best student loan rates
Various banks and loans providers offer student loans and you'll want to get the best rates possible so you can pay back your education loan quickly and at minimum expense.
If you're a US-based international student, getting a student loan for MBA or master's programs in the US is tricky.
You should reach out to your business school's financial aid office for guidance. Some schools will have relationships with lenders, like international loans company Prodigy Finance, that can offer you affordable student loans.
Juno is currently aimed at supporting US students who need funding for US schools. To make sure you get the best student loan rates, Nikhil advises MBA students shop around.
"MBA loans aren't a one size fits all [and] we see the same student can get vastly different quotes from different lenders," he says.
"Choosing between federal loans and private loans also requires careful consideration as federal loans can be much more expensive but do offer more flexible repayment plans and loan forgiveness opportunities based on your income and career after b-school," he continues.
---
How to get the best student loan rates | Tips from Harvard MBAs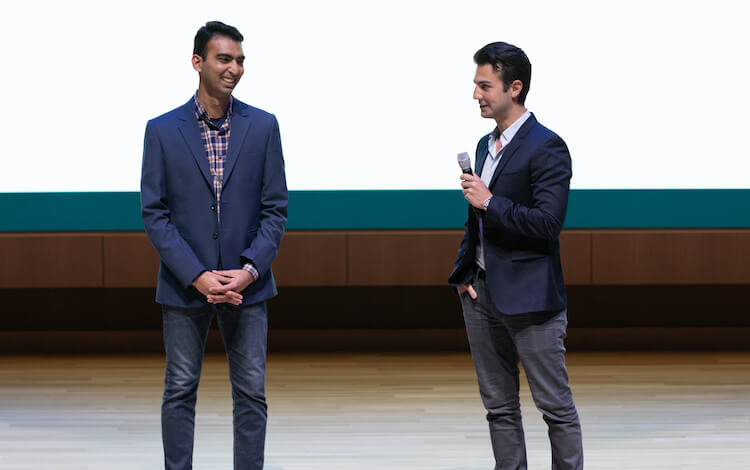 Focus on the detail. There's a lot of choice. Understand the terms of the loans offered; the repayment plans; and what may impact interest rates.
Plan ahead. Think about future planning for refinancing. You may have a conservative career choice, like consulting, where you can almost guarantee you'll be able to pay off your loan. But all students should plan carefully.
Comparison shop. Don't assume all rates are similar. Look at your options and compare.
---
Another option, naturally, is to sign up to Juno's mailing list.
You have the option to answer a series of questions—what school you're going to; your graduation year; how much you might need to borrow; and an estimated credit score—to provide Juno with the information it needs to negotiate better terms with lenders. You'll then get access to exclusive deals.
---
Building a student loans company
The idea for Juno spawned out of a WhatsApp group chat, Chris recalls. No one had tried to get a bulk deal on student loans before, so Chris got a group together and started cold calling bank executives in search of a discount.
After the group's initial success, Chris and Nikhil decided to turn their idea into a business.
Chris, who previously worked for Netflix in Los Angeles, joined the Harvard MBA with that intention. "At Netflix, I got the bug for that crazy growth environment; I knew I wanted to start something," he says.
Nikhil, who worked for Boeing before his MBA, was considering a career move into consulting, but remembers how one day they both committed to going full-time with Juno. "We said we're not even going to make a resume!" he smiles.
11% of the Harvard MBA class of 2020 started their own businesses after graduation. Many Harvard MBA alumni work for a few years in a corporate setting before becoming entrepreneurs and some even buy businesses to manage and grow.
Harvard notable alumni include entrepreneurs like Bloomberg's founder Michael Bloomberg, Stephen Schwarzman, co-founder of Blackstone Group, and internet entrepreneur Mark Pincus.
"I think, having started a business, it's really hard for me to imagine taking a job somewhere," says Nikhil.
---
Read: How I Got Into The MBA At Harvard Business School—And 4 Ways You Can Too
---
Launching a startup is never easy and Nikhil puts Juno's lack of competitors down to the sheer difficulty of operating in the student finance sphere and the complexity of the lender side of the business.
While COVID-19 has led to reduced interest rates and brought about better refinancing rates for borrowers, banks and providers have grown increasingly reluctant to lend to new students.
Despite the challenges, Chris and Nikhil have scaled up to 50,000 Juno members since graduating from the Harvard MBA in 2020. Juno has helped students get $260 million in education loans.
Chris hopes to do multiples of that in 2021. "There are other places where we can apply this concept of group buying for financial products," he says.
While MBA programs can be expensive, Chris urges prospective students not to let the sticker price put them off applying. "Very few people pay that price," he says. In fact, most students at Harvard receive some form of scholarship or financial aid to finance their studies, before using MBA loans to make up the rest.
At various top US business schools, Chris says, more than 30% of MBAs are tapping into some of the best student loan rates from Juno.
---
Considering an MBA program but concerned about the cost? Check out our BusinessBecause Cost of MBA Report.