The outbreak of COVID-19 has been an enormous test of leadership. Around the world, heads of state have been forced to spring to action in a bid to tackle the pandemic.
Throughout this turbulent period one thing is clear: some countries have fared markedly better than others in suppressing the coronavirus—and these countries tend to have female leaders.
One recent analysis from the University of Pretoria and Trinity College Dublin found that countries with female heads of state suffered six times fewer confirmed coronavirus deaths than countries led by men.
In Iceland, Katrín Jakobsdóttir has offered free tests to all citizens. In Germany, Angela Merkel has been praised for a response that saw Germany contract far fewer cases than its European neighbors. And in New Zealand, Jacinda Ardern has been praised for consistent advice, open communication, and early action.
This trend brings to light some important questions about female leadership. Do women lead differently to men, are they more effective, and how does this translate to handling a crisis like coronavirus?
---
Leadership styles: are men and women different?
There is no clear consensus on whether men and women have inherently different leadership styles, and generalizations can be tricky.
"Women in general lean toward collaboration and people skills (but not always), but then, so do effective men," explains Rosabeth Moss Kanter, professor of business at Harvard Business School, and author of Men and Women of the Corporation.
Studying women's leadership is a complex task, partly because there are still relatively few women in positions of power. Women continue to be underrepresented in leadership—accounting for just 16 head of state positions, and 20% of board director seats in 2020.
---
Number of Female Heads of State Since 2010
Women have made little progress in the past decade when it comes to breaking into head of state positions
---
This small sample size makes it difficult to draw any concrete conclusions about whether women in general have a specific leadership 'style', explains Renée Adams, professor of finance at Oxford SaÏd Business School, University of Oxford.
Despite these limitations, Renée's research suggests that when women do take on leadership roles, they tend to display more empathy, and be more self-directed than their male counterparts.
Contrary to much research about women in general, Renée has also found that female leaders tend to be less risk-averse than men, which is important for fostering innovation.
---
Gender and crisis leadership
Understanding such tendencies could shed some light on how today's female leaders are handling the coronavirus crisis. The traits that Renée and Rosabeth associate with leading women—qualities like empathy and an innovative mindset—serve leaders well in an emergency.
---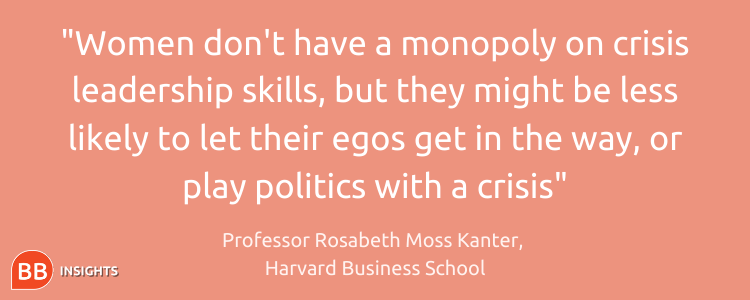 ---
"In a crisis, displaying empathy can build trust, loyalty, and lead employees to invest more in their workplaces," Renée explains. The tendency of female leaders towards an innovative mindset is equally useful in testing times, allowing them to create novel solutions to unfamiliar situations.
For Rosabeth, empathy and decisiveness are the two key traits that have allowed female leaders to succeed through the coronavirus crisis. Empathy allows these leaders to quickly grasp the severity of the situation, while timely decision-making means action is taken quickly.
"Women don't have a monopoly on these skills, but they might be less likely to let their egos get in the way, or play politics with the crisis," she says.
Combining empathy with quick action is precisely what New Zealand's Prime Minister, Jacinda Ardern, has done in response to the current pandemic.
Under her leadership, New Zealand's borders were closed in mid-March, when the country had just a handful of cases, and social distancing measures were implemented later that month. This early action, combined with her informative yet informal Facebook Live chats, has helped New Zealand on its way to eradicating coronavirus altogether.
After the emergence of two new cases in mid-June, New Zealand is racing to contain the virus again. These people came into contact with 320 individuals on a trip across New Zealand to visit family following the death of a parent. Jacinda Ardern has responded promptly once again, removing the policy of compassionate exemption that allowed the infected travellers to leave isolation.
Across the world in Germany, chancellor Angela Merkel led a similarly decisive response. Coronavirus testing became top priority in early March, and 10,000 new ventilators were ordered. With this consistent strategy, Germany has reported markedly fewer cases than similar European countries.
In Iceland, too, Katrín Jakobsdóttir's approach of early universal testing has restricted the number of coronavirus deaths to 30 per million people (adjusted for Iceland's small population of 364,000), compared to the global average 62.
"Leaders [like these] thought about people first—something I think is critical in a crisis—but they also didn't hesitate to do something to stop the spread," comments Rosabeth.
---
Explaining gendered differences in leadership
Explaining these differences in leadership is fraught with difficulty.
Some studies suggest that biological factors play a role in women's generally greater capacity for empathy, while others point to the influence of social conditioning and gender stereotypes.
When discussing female leadership, it's also important to address the elephant in the room: how difficult it is for women to reach these positions.
Barriers like disproportionate family obligations, the gender wealth gap, and ongoing bias are challenging to overcome, meaning that most of the women who make it to the top are exceptional individuals.
---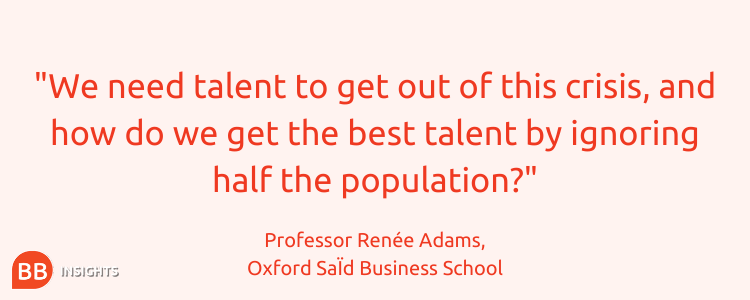 ---
A 2018 survey by Pew research backs this up. It found that 61% of respondents believe women are held to higher standards than men in political roles, saying this is a major reason there are few women in high political offices.
"These women are used to dealing with negative situations—with animosity and potential discrimination," says Renée.
By the time they reach leadership positions, women have already navigated a complex system that favors men. With only the most exceptional women reaching leadership positions, it should come as no surprise that today's female heads of state have performed so well overall in the face of coronavirus.
---
Encouraging future female leaders
For Rosabeth, acknowledging these leaders' success is a step in the right direction toward gender equality.
"This certainly helps increase respect for women leaders," she says. "The next wave of women leaders might not have to fight as hard to be recognized for their talents."
However, Renée cautions that the media's coverage of these leaders is not without implicit bias. Often, it focuses on the political systems that allowed these women to rise to the top, as much as their personal competencies.
"Them making it to the top is seen as a credit to the country, not to the women who are actually doing good things," she reflects.
This offers little in the way of inspiration for future female leaders.
Using these examples as case studies of exceptional leadership, however, could help to deconstruct the stereotype that men are better suited to leading roles.
These stereotypes are often insidious in the institutions tasked with training leaders. In the business school classroom, for instance, women are rarely studied as competent leaders. In Harvard Business School's MBA program, just 16% of case studies featured a female protagonist in 2019.
If more female leaders were incorporated into the curriculum, and invited to speak, it could aid the ongoing project of removing gender bias from the professional and political world.
Allowing more women to try their hand at leadership positions could help us all now more than ever.
"We need talent to get out of this crisis," Renée concludes, "and how do we get the best talent by ignoring half the population?"
---
Read next:
Why Black Women In The US Are Being Hit Hardest By Coronavirus
Has Coronavirus Brought Brick-And-Mortar Retail To An End?
---
BB Insights explores the latest research and trends from the business school classroom, drawing on the expertise of world-leading professors to inspire and inform current and future leaders
---
The lead images for this article are credited to Hazhk & Raimond Spekking under this license, and Magnus Fröderberg under this license