For many companies, the pandemic has been a great exercise in resilience: something Aoife hopes has acted as a trial run for the coming challenges that climate change will pose.
"The pandemic has been helpful for the climate because there's this kind of this microcosm of experimentation that's going on. We can see the types of things we need to be doing, at scale and speed, in the coming years," she explains.
For Charlie from Imperial College Business School, this is the perfect opportunity for companies to restructure their businesses around environmental issues—embracing the so-called 'triple bottom line' that considers environmental, social, and corporate governance (ESG) factors to be as important as financial targets.
ESG is using environmental, social, and governance factors to evaluate companies on how advanced they are with sustainability. This includes how companies buy energy and how their supply chain impacts the environment.
---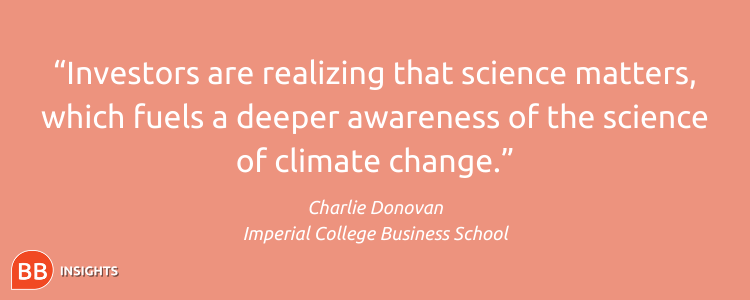 ---
He points to Microsoft, who recently pledged not only to reach carbon zero, but also to neutralize all historic emissions. Cynics might accuse the company of 'greenwashing'—conveying a false impression or misleading information about how a company or product is environmentally sound.
Charlie believes it's far more impactful than that. "Microsoft knows that it's about more than just good accounting—it's about fundamentally changing the way that they buy energy."
As companies pay heed, so too will investors, Charlie hopes. "Investors are realizing that science, like public health, matters, which fuels a deeper awareness of the science of climate change."
---
The long term impact of COVID-19
Renewable energy demand and EV sales have been steadily rising in recent years: in this sense, COVID-19 has accelerated trends and interest in environmental issues which were already picking up speed.
But not everything will remain in its pandemic state. Airports are up-and-running again as tourism gets back on its feet, while already air pollution in major cities like London is back at a high level. Businesses and governments pray the pandemic will end, and it will. When it does, industries will need to return to normal as those that have struggled fight to recover and thrive in the years to come.
If there's a silver lining to the pandemic it's that we've seen the positive impact on the environment when industry slows down, when we fly less, and focus our consumer habits on local business. Time will tell whether this has a lasting impact on our mentality towards the environment. It should.
---
Please Enter the Code Below