Becoming an LGBTQ+ ally is about much more than adding a rainbow to your logo once a year, and as more companies are becoming clued into what they can do to help support the LGBTQ+ community in the workplace, it's becoming clearer how supporting the community can actually benefit firms.

In a study conducted by Jukka Sihvonen from Aalto University School of Business, and Sami Vahamaa, Veda Fatmy, and John Kihn from the University of Vaasa, it was revealed that firms with LGBTQ+ friendly policies perform better financially and have higher rates of productivity.

But a lot of companies are falling short. A 2018 survey by the Human Rights Campaign revealed 46% of LGBTQ+ workers say they are closeted, meaning they do not disclose their sexuality or gender identity at work. 75% of these workers reported experiencing at least one negative interaction related to their LGBTQ identity at work in the year prior to the study.

It's an issue that needs to be fixed, and one that doesn't just help companies on a diversity and inclusion level, but can also deliver multiple benefits.
---
1. Attracting and retaining diverse talent
Jukka Sihvonen, assistant professor of accounting at Aalto University School of Business, says that "LGBTQ+ friendliness may foster the firm's ability to attract, recruit, and retain talented employees."
---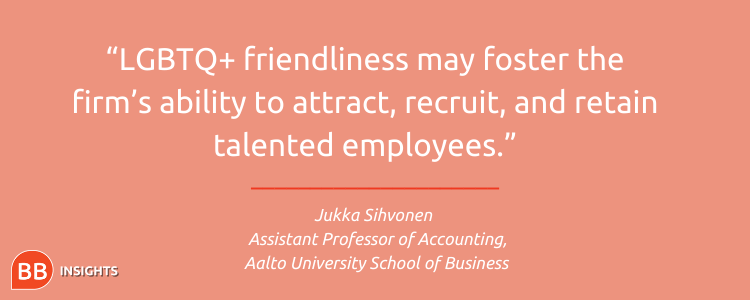 ---
Diverse talent is more likely to be loyal to the company they work for if they are comfortably out and supported by inclusive policies and a friendly culture.
A recent McKinsey study shared that LGBTQ+ women who are open about their sexuality at work are 50% less likely to plan to leave their current employer within the year in comparison to their closeted peers. They are also a third more likely to want to stay with their employer for five years or more.
---
2. Positive policies create a positive and productive culture
By introducing inclusive policies that directly and openly support LGBTQ+ individuals, and making that clear in the hiring process, there is likely more chance LGBTQ+ talent will go after roles and remain in them. But the idea of just supporting doesn't go far enough, thinks Aharon Cohen-Mohliver, professor of strategy at London Business School (LBS).
"There are HR policies often in place to support individuals, providing adequate training and support networks, and medical insurance that is inclusive of gender expression and domestic partner benefits. These should not be seen as support, these should be the norm," he explains.
There are also other benefits for firms. From including sexual orientation and gender identity in policymaking to donating to LGBTQ+ charities and supporting equitable healthcare for trans and non-binary employees and for same-sex partners, companies can prove their support for the LGBTQ+ community.
"The early adopters of inclusive employee policies long ago realized that companies do not operate in a vacuum, disconnected from changing social values and norms. Nowadays social media and online portals for company reviews, like Glassdoor.com, make sure of that," elaborates Jukka.
It's now easier than ever to find out what a company is really like to work for. LGBTQ+ employees will be looking at what a company can offer them as a member of the community when looking for a role. Companies with positive policies will be more likely to foster a positive work culture and attract the best talent, which in turn has been shown to boost productivity.
---
3. More diverse leadership
Aharon is the co-director of an executive leadership program for LGBTQ+ people at LBS.
The program is pushing for an improvement in diversity in the leadership pipeline. By creating more LGBTQ+ leaders through this program, more LGBTQ+ people are likely to follow.
There is a distinctive lack of LGBTQ+ people in leadership roles. According to McKinsey's ongoing Women in the Workplace research, LGBTQ+ women in the workplace are even more underrepresented than all women in America's largest companies. There are only four LGBTQ+ CEOS at the top of these companies, of which only one is a woman. None of them are trans.
---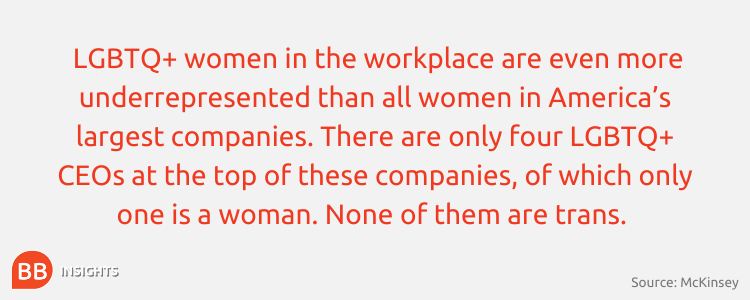 ---
Having role models like you within your industry, working in the same office even, helps individuals see that there is nothing stopping them from succeeding if they want to.
"Seeing people in leadership who are out and a part of the LGBTQ+ community changes the culture and creates a precedent within that organization," Aharon explains.
If inclusivity and equality come from the top-down, the culture that flows through the rest of the workplace should in theory follow.
"Making sure that all employees are treated in an equal and inclusive manner goes a long way. There are instruments at the management's disposal to achieve this, but it's important to realize that achieving an inclusive culture is not only the CEO's responsibility," Jukka explains.
Despite the need for representation at the top, inclusivity is a team responsibility. If everyone is able to see the value of diversity and equality across the whole company, employee welfare and productivity can be improved.
With programs like the LGBTQ+ executive leadership program at London Business School, leaders can gain knowledge and confidence to lead on important organization-wide diversity issues and equip their high-potential employees with the skills to take on bigger challenges.
---
4. Better employee welfare
Ensuring employees are happy and confident in the workplace is likely to lead to higher rates of employee satisfaction and create greater profit and productivity.
An LSE study explained that employee satisfaction has a substantial positive correlation with customer loyalty and a negative correlation with staff turnover.
Making sure employees can manage stress, retain good work-life balance, and enjoy being in the workplace is essential. But LGBTQ+ professionals face barriers in achieving that balance.
McKinsey research suggests that 'stress increases when a person experiences 'onlyness,' or being the only one on a team or in a meeting with their given gender identity, sexual orientation, or race.'
When representation and LGBTQ+ friendly policies come together in the business world, the welfare of under-represented employees is taken into consideration. With a greater focus on employee satisfaction through culture and policy, productivity and profitability can soar.
Being an ally is about more than showing support solely around Pride month. It's a continuous process of improvement, and one all businesses should adopt. There are so many ways firms can benefit from LGBTQ+ support as much as LGBTQ+ people can by being supported by them. Companies should realize that.
---
Next Read:
Apple, Pfizer & The Best Companies For LGBTQ+ Equality

---
BB Insights explores the latest research and trends from the business school classroom, drawing on the expertise of world-leading professors to inspire and inform current and future leaders