Crisis leadership was thrown into sharp relief when the Covid pandemic began. Leaders were tasked with making remote work effective, managing employee mental health, and mitigating the risk of lost revenue and broad furlough schemes.
Now, as we enter 2022, there's pressure on business leaders to steady the ship and overcome the lingering effects of the pandemic. Though things are better than they were during the peak, many challenges remain.
But the nature of crises means that future challenges will arise, Covid or not, and it's the duty of senior leadership to prepare their companies and employees in the best way they can to overcome them. But what are the secrets to strong crisis leadership?
---
1. Leadership in a crisis requires pre-emptive planning
Every organization, at some point, will experience a crisis. That could be on a minor internal scale like the loss of several key team members, or on a major scale like a leaked information scandal or, in the case of the top energy companies, an oil spill.
"Organizations need to realize that, when it comes to crises, they're not exempt," explains Stephanie Mahin, clinical assistant professor of management and corporate communication at UNC Kenan-Flagler Business School (below). "It's not a question of if, but when a crisis is going to happen."
---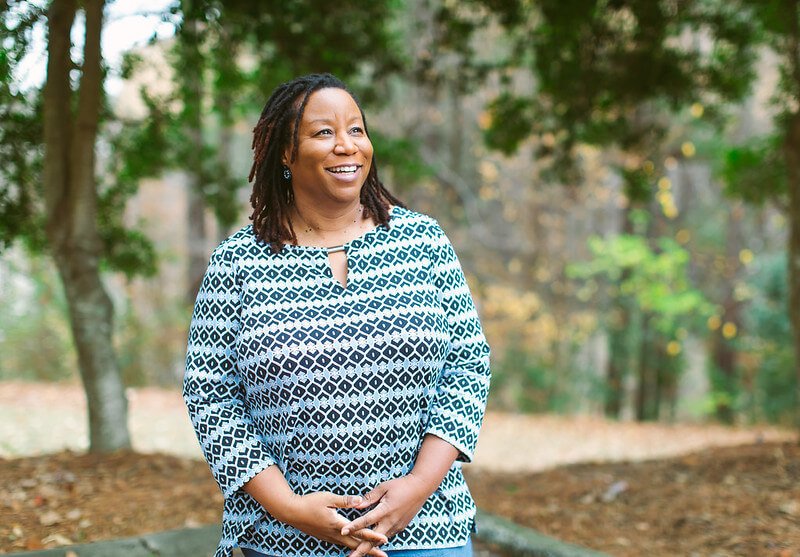 ---
Preparation is a key component of any crisis leadership strategy. According to Steve Soltis (below), a lecturer at University of Virginia Darden School of Business, it's best practice for an organization to have annual crisis preparation meetings.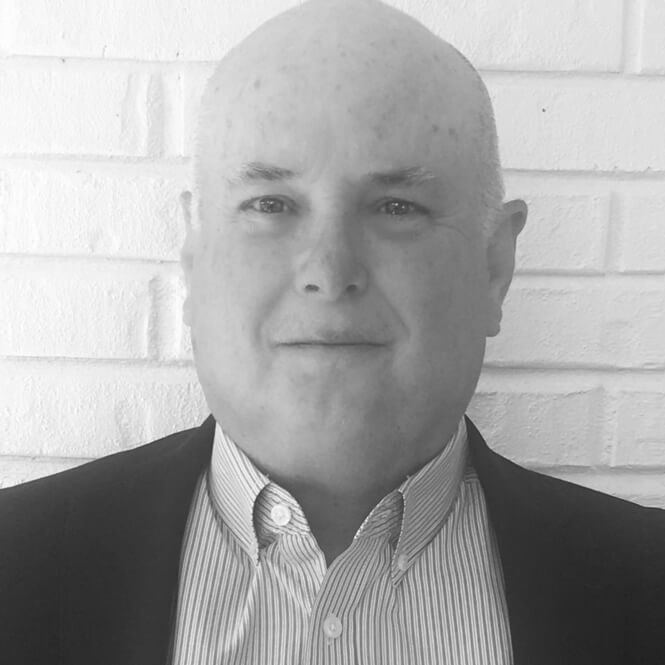 Here, leaders can outline possible scenarios, designate a crisis team, and create effective communication paths—including the selection of a company spokesperson.
This is what he observed organizations doing during his time leading CEO and executive communication at The Coca-Cola Company, prior to joining Darden. Although it's impossible to plan for all eventualities, these regular sessions can help organizations act faster when a crisis does occur.
---
2. Crisis leadership requires transparency
Building credibility is essential to effective crisis leadership. To do this, leaders must be transparent and openly share any information they have.
When your team trusts you, they typically perform better. According to a study by Gallup, employees that trust their leaders are more likely to be engaged, productive, and resilient.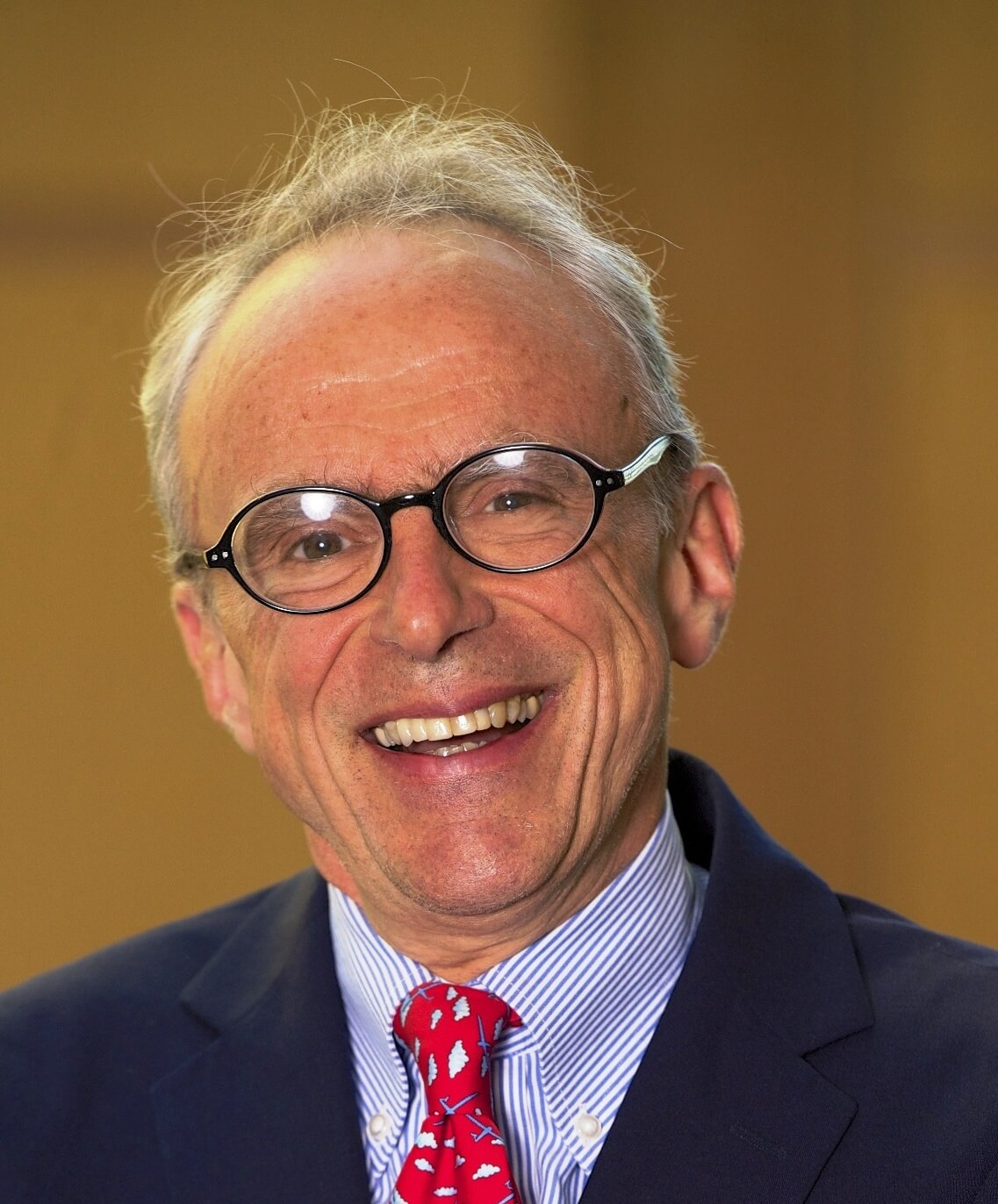 All these traits can help an organization remain positive while weathering a crisis. Being honest early on can also save leaders from the internal fallout should information that was kept secret be leaked later.
"In the case of sensitive information, leaders and managers should always understand that in the modern world of email and social media, someone is going to 'find out,'" notes Rob Britton, adjunct professor in marketing and crisis management at Georgetown McDonough School of Business (above).
"The most effective management strategy during a crisis is to embrace transparency, honesty, openness, and resolve," he adds.
Speedy communication is equally important when it comes to preventing the spread of misinformation that could exacerbate a crisis.
"In an era where news and disinformation collide almost immediately, delaying communication can significantly affect subsequent perception of the company's message," says Irv Schenkler, clinical professor of management communication at NYU Stern School of Business.
---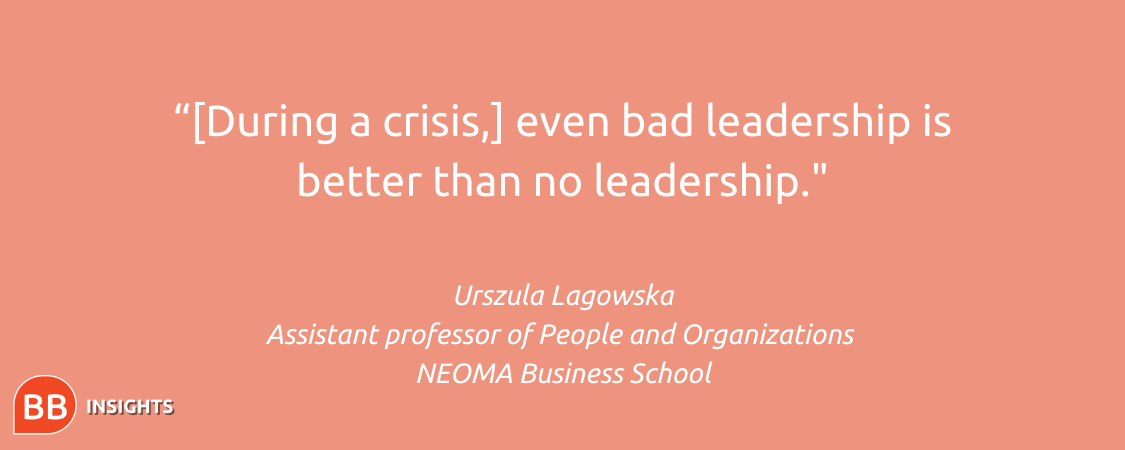 ---
3. Crisis leadership is authentic leadership
Authentic leadership is a leadership style that centers around ethical behavior, transparency, and making decisions that align with your core values. During a crisis, that's vital.
"You've got to be yourself—you've got to be authentic," advises June West (below), associate professor of business administration at Darden School of Business.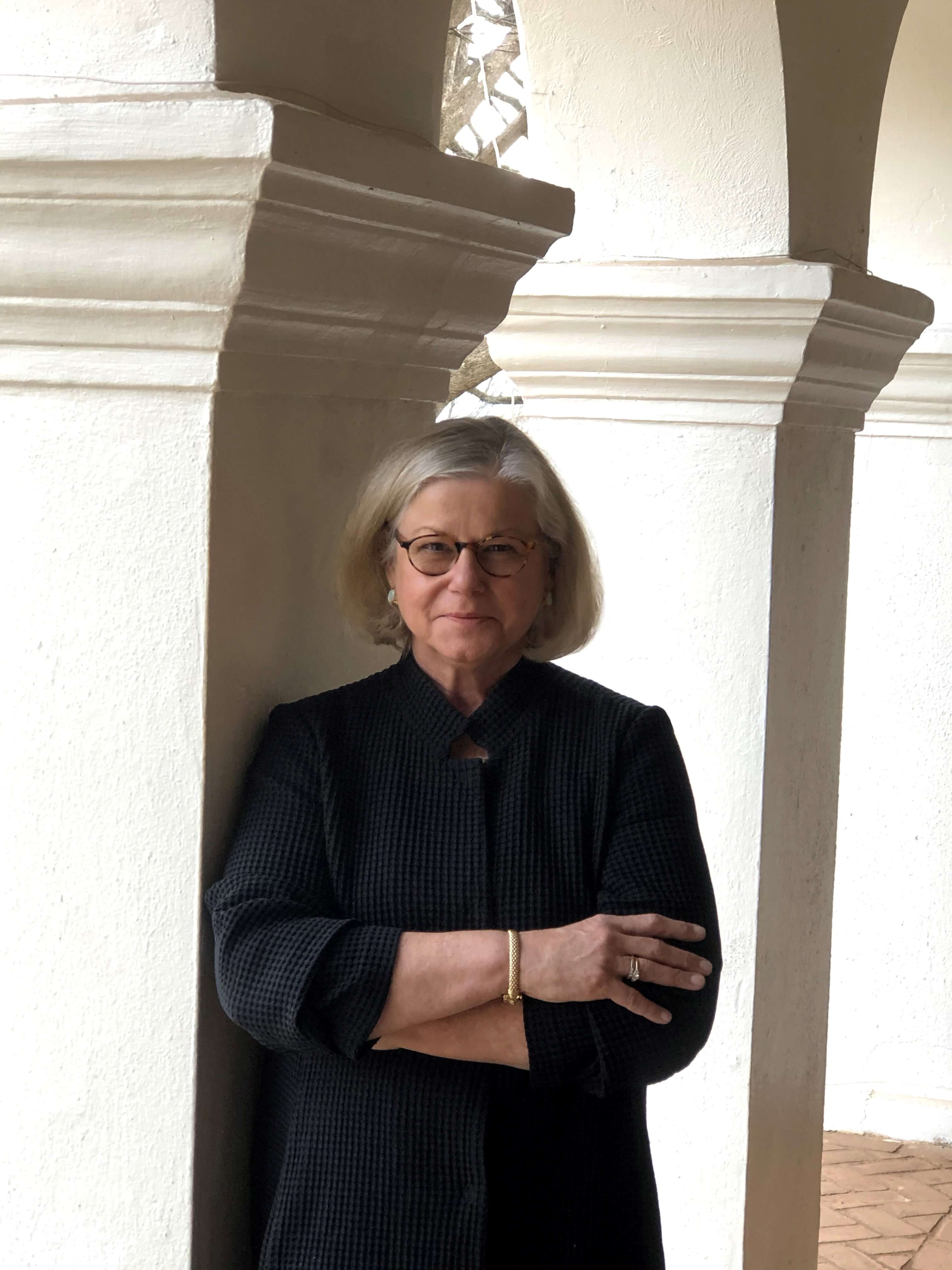 "Whoever's handling a crisis is going to be in front of employees, investors, or the press. They'd better be themselves and know what they're talking about."
One recent example of authentic leadership comes from Arne Sorenson, CEO of Marriott International.
In March 2020, he recorded a six-minute video that was released on Twitter, speaking openly about how the pandemic was impacting the organization and its customers.
He shared the extent of the pandemic's impact without sugar-coating the news, demonstrated vulnerability by addressing employees directly and allowing himself to show emotion openly, and was equally transparent about his recent cancer treatment.
Finally, he announced he would not be drawing a salary in 2020, while his executive team would be taking a 50% pay cut.
Used this way, social media can be a boon to authentic leadership—helping leaders connect with and show their support to the wider community in an unfiltered way. However, in other instances social media communication can come across as hollow.
Kenan Flagler's Stephanie—whose research often focuses on how businesses use social media—points to the Black Lives Matter (BLM) protests of 2020 as a prominent example.
"After the death of George Floyd, organizations started putting out BLM social media posts, which seemed like a nice sentiment until the public started pushing back, and asking organizations what they were actually going to do about racial injustice," Stephanie explains.
She advises that leaders carefully think through how social media channels should be used prior to a crisis, and ensure that these platforms are used for two-way communication.
"Social media isn't a tool to just push out information. Organizations have to be willing to have real dialogue exchanges with their followers," she explains.
Being open to feedback ensures stakeholders feel heard and helps an organization's messages to feel more authentic.
---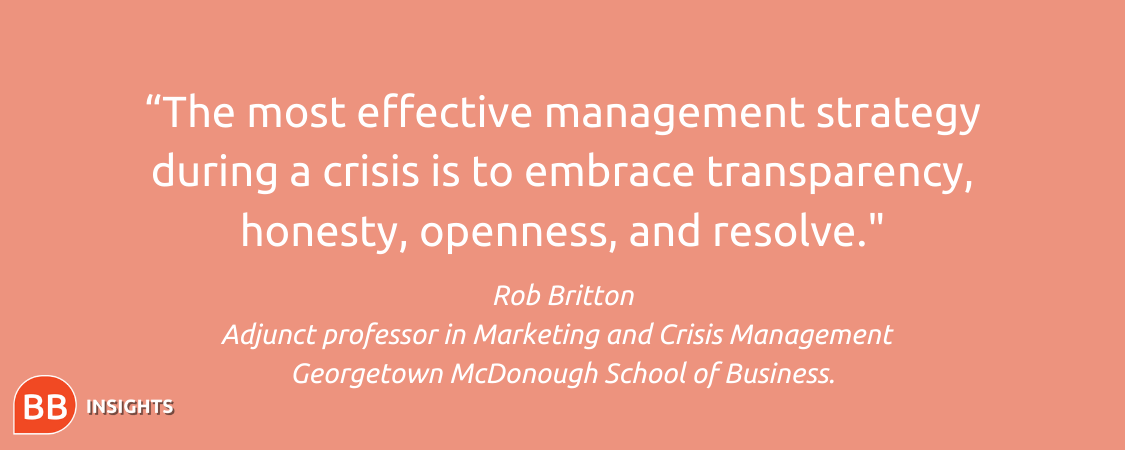 ---
4. Leadership in a crisis requires staying connected with stakeholders
Clear communication is an effective strategy for leading through a crisis. But, however helpful your message, if you address your followers sporadically it can leave them feeling uncertain.
"Even bad leadership is better than no leadership," notes Urszula Lagowska, assistant professor of people and organizations at NEOMA Business School who specializes in leadership.
Throughout the coronavirus pandemic, she explains, employees who were forced to suddenly work from home regularly reported feeling disconnected from their colleagues and leaders.
To address these feelings of disconnection, leaders at every level should schedule regular updates, and give employees space to ask any questions they might have.
"Organizations should commit to a schedule of regular communication with a range of stakeholders," Rob advises.
---
5. Emotional intelligence is key to crisis leadership
Leaders with high levels of emotional intelligence are more likely to fare well during a crisis. The ability to empathize helps them grasp the diverse challenges and priorities that different groups have, so they can better understand what support they may need.
Being able to absorb advice from beyond your field of expertise is an especially important aspect of emotional intelligence.
During the Covid pandemic, for instance, many organizations have had to grapple with the complexities of containing a contagious virus—something which few leaders outside the healthcare space have experience with.
"Being humble enough to listen to others who are experts is valuable in crisis leadership," says Urszula (below). "It's an important part of making decisions together in diverse, skilled teams."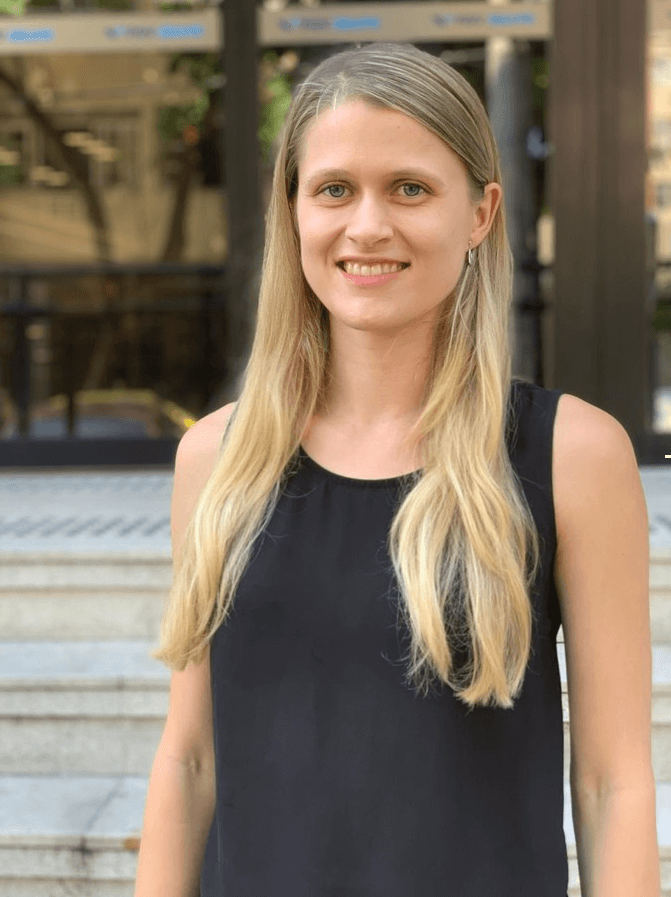 Practicing active listening with your own team is also vital. Hearing and addressing their concerns in the long term will establish your credibility and trustworthiness when an emergency occurs.
According to Urszula's recent research, developing strong relationships with your employees can help them build resilience, which is particularly important during extended crises like Covid.
"Those employees who had better relationships with their supervisors could create resilience and avoid burnout at the peak of the coronavirus crisis in Brazil," Urszula explains.
But internal relationships aren't the only ones that matter. To effectively prepare for unforeseen circumstances, leaders must build and maintain a broad range of connections.
"A crisis is no time to begin building relationships," June comments. "If you've had a good relationship with analysts, media, and employees, then when a crisis comes up you already have street cred with these people."
Crises may be inevitable, but poor leadership isn't. By building relationships and trust within your team early on, ensuring you have a crisis strategy in place, and communicating openly and authentically, leaders can mitigate the impact of crises.
How leaders perform in the most difficult situations has a significant impact on how they're viewed going forward, too.
"In these moments of crisis, leadership can either shine bright or appear dark and gloomy," Stephanie concludes.
---
Discover 10 other leadership challenges facing business leaders in 2022, and find out how you can overcome them with an Executive MBA by downloading BusinessBecause Executive MBA Insights: 10 Leadership Challenges For 2022.