The sustainability transformation is well underway. The COP26 conference and subsequent Glasgow Climate Pact mean nations have committed to sustainable transition over the next decade; that means change for business.

With renewed focus on the climate, 50% of consumers say they're now willing to pay more for sustainable brands. As many as 62% of executives also feel a sustainability strategy is essential for their business to remain competitive.

The overwhelming tide means sustainability is now driving change across a range of industries and functions; from the creation of circular supply chains, to a focus on renewable materials.

Here are three of the core ways that sustainability is shaping the future of business in 2022.
---
1. A new area for competition
Rising consumer demand for sustainable products and services is changing the dynamic among businesses.
Implementing more sustainable processes doesn't usually result in greater profit margins. But it does protect businesses from falling behind more sustainable competitors who have greater appeal with a more conscious consumer.
"I think this is the new competitive field," says Bastiaan van der Linden (pictured), associate professor of corporate social responsibility (CSR) and program director for the MSc in Global & Sustainable Business at EDHEC Business School.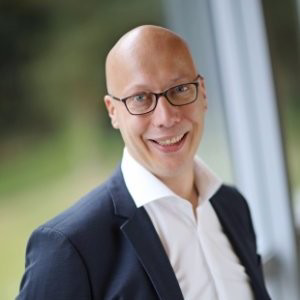 This reaction to consumer demand contributes to the push for sustainability strategies among executives. But there are other factors influencing this drive, with special prizes for those who move fastest.
Being first means you can play a part in defining any industry-wide sustainability changes that can give you an advantage, says Bastiaan. "If you're the first company to make steel more carbon friendly: then you're the first to start lobbying for stricter emission regulations and higher prices of Co2 emissions," he adds.
Within a business landscape which sees companies constantly battling for a larger share of the market, sustainability therefore creates an entirely new area to gain an advantage and ensure the long term future of a business.
---
2. Industries change, new sectors emerge
Digital transformation—the implementation of a variety of technologies within business—has dramatically shifted the way entire industries operate.
The use of automation and artificial intelligence, for example, has revolutionized manufacturing, with the likes of Amazon, Siemens, and Adidas all now using autonomous smart factories.
Bastiaan feels that sustainability can have a similar impact, creating new practices that will impact certain industries, and define others.
"There are different drivers depending on the industry you're looking at," he says. For some sectors, sustainable transformation simply means using less plastic, but for others the change is more dramatic.
"I think we will see industries that are completely overhauled by sustainability," Bastiaan adds.
Energy, which accounts for 35% of global emissions, is one sector already undergoing such a change. Sustainable transformation of the sector involves things like increasing efficiency, using more renewable sources, and transitioning to electric transport.
This requires established players to adapt their practices. Global powerhouse, Exxonmobil, adjusted production methods to reduce Methane emissions by 15% between 2016 and 2020. A recent survey also found that 47% of oil and gas executives were committed to adapting to achieve net-zero carbon emissions.
Sustainable transformation also requires new, emerging companies who can provide innovative solutions. The meteoric rise of car manufacturer Tesla—whose stock rose from $70 in 2018 to $1200 in 2021 off the back of its highly advanced electric vehicles—shows the opportunities available to sustainable innovators.
Sustainability transformation even contributes to the creation of entirely new industries; such as slow fashion, or plant-based meat alternatives. "Eventually some industries will be a sort of 2.0 version of themselves and others will be completely different," says Bastiaan.
"Nothing will be the same as before."
---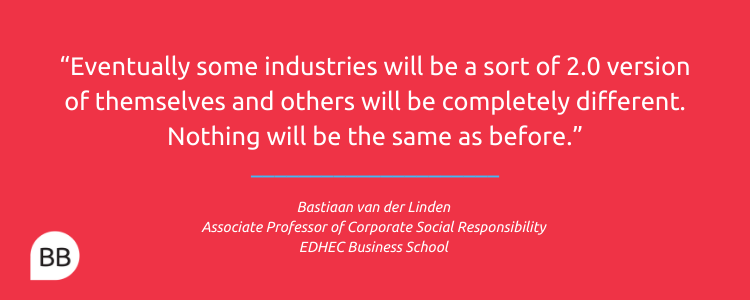 ---
3. Change in how we value assets
Arguably the most prominent change: sustainability transformation means a new method for how we value assets.
While there is still some debate over exact definitions, terms such as 'sustainable finance' and the 'environmental' portion of 'environmental, social, and governance' (ESG) refer to new sustainability-focused criteria used to make assessments.
When assessing the value of a company, for example, this means accounting for its sustainability credentials, along with more typical factors such as cash flow and market capitalization.
"This goes beyond just looking at the declared Co2 or greenhouse gas emissions of a company, but also looking at the technology that characterises it," says Irene Monasterolo (pictured), professor of Climate Finance at EDHEC and EDHEC Risk-Climate Impact Institute.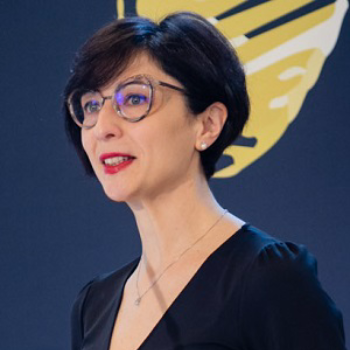 "Companies now are so large and characterised by different business lines, and those different business lines might be more or less aligned towards the climate," she adds.
Shifting how assets are valued creates an entirely new dynamic across the financial sector; encouraging investors to choose companies who perform sustainably, and encouraging companies to act accordingly.
This impact is likely to grow as sustainable finance develops and a more cohesive framework for measuring sustainability credentials is established.
---
While business trends come and go, with sustainability driving change across a variety of industries, it's clear that sustainability transformation is likely to have a lasting impact on the business landscape.
"It's normal for business to grow with society and also be involved in how we shape society," says Bastiaan. "I think we really see the start of a fundamental change in how we think about business."
Related Content: