Masters in Business Analytics (MSBA) have attracted increasing interest in recent years as more employers look to hire people who can interpret and manage data.

The MBA is still the world's most popular graduate management degree. But employers say, when it comes to recruiting MBA graduates, data analysis is a skill that's often missing. In today's tech-centric society, understanding big data can prove invaluable to businesses both big and small.

If you're looking to excel in this field, there are a wealth of top-ranked master's in business and data analytics across the globe—and many of them are delivered virtually.

Here's some of the best Online Masters in Business Analytics and how much they cost:
---
Top Online MSBA Programs
---
9. University of Bath's Master in Business Analytics
Cost: $20k
The University of Bath ranks in the top-30 globally in the QS Business Analytics Masters Rankings and comes fifth in the UK. Bath is accredited by EQUIS and also has a partnership with IBM, meaning students on the Online Master in Business Analytics have access to IBM's top-quality software and analytical tools.
The program takes just over two years to complete, and covers a broad curriculum including databases, data mining, machine learning, and project management. The course is billed at $1080 per 10 credit unit, with a total of 180 credits needed to finish the course—making the total tuition fee for the Masters just under $20,000.
---
8. Arizona State University's W. P. Carey School of Business' Master in Business Analytics

© WP Carey via Facebook
---
Cost: $40k
WP Carey's online Master in Business Analytics places a focus on new technology and big data, and was also granted STEM eligibility from the Department of Homeland Security, which could help you in your job hunt later.
The program takes 16 months to complete, and includes courses in data mining, applied analytics, marketing analytics, and an applied project. WP Carey's residential Master in Business Analytics program ranks 8th in the US in the QS rankings, and online students will get the same quality of teaching and class work as on the full-time program—but for around $15,000 less.
---
7. Purdue University Krannert School of Management's Master in Business Analytics
Cost: $32k
Krannert's full-time Master in Business Analytics ranks 13th in the world in the QS rankings, and the online program is largely based off of the residential program. The program is 100% online and flexible, taking anywhere between one and two years to complete, and offers immersive modules in disruptive technology like AI.
Each student on Krannert's program has access to a success coach to provide soft skills development, and the course includes experiential projects throughout the curriculum. International tuition fees are $32,064, compared to $48,600 for their full-time, residential master's program.
---
6. AGSM @ UNSW's Master of Analytics

© AGSM via Facebook
---
Cost: $38k
The Australian Graduate School of Management frequently makes lists of the most innovative online degrees—the school's online MBA ranked fourth in the world in this year's QS Online MBA Rankings—and the same innovative blended-learning is on display on their online Master of Analytics. The program offers two specializations, as well as a capstone project to round off the program.
The Marketing Analytics specialization offers additional courses in social media and digital analytics, marketing analytics, and customer analytics, while the General Analytics specialization includes in-depth courses in financial modelling. The program takes two years to complete, with intakes throughout the academic year, and costs approximately $38,070 depending on the courses chosen.
---
5. Columbia Business School's Master in Applied Analytics
Cost: $82k
Columbia's Master in Applied Analytics offers both a full-time and part-time program, which is delivered online on Columbia's own learning platform. The Masters is STEM-eligible, and takes up to two years to complete, following the same curriculum as the in-person Master.
The program is split into two parts: a Management Core and a Technical Core. At the end of the course, students complete a capstone analytics project. Electives are also offered in a wide variety of specializations, allowing students to add Python, machine learning, and marketing management to their repertoire. You need 36 'points' for degree completion, with tuition at $2,266 per point, making Columbia's MSBA one of the most expensive at over $81,500.
---
4. Aston University's Master in Business Analytics
Cost: $24k
Aston has made a name for itself in the UK with its online degree offering—Aston's online MBA has received triple-accreditation from EQUIS, AMBA, and AACSB, and ranks among the top-20 in the world. Aston's 100% online Master in Business Analytics uses the same innovative learning platform to deliver lessons, and the core curriculum covers big data, data mining, decision modelling, and performance analytics. The course also comes in at one of the lowest-cost options for online Business Analytics programs, with tuition fees set at $23,900 for international students.
---
3. IE Master in Business Analytics & Big Data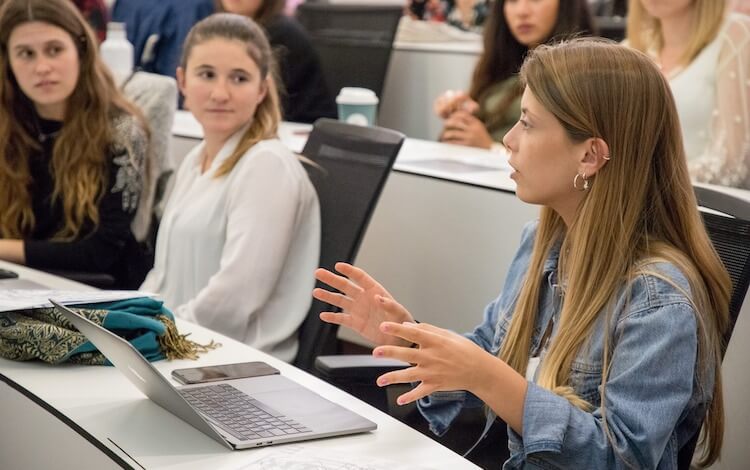 © IE via Facebook
---
Cost: $41k
IE's full-time Master in Business Analytics and Big Data is also offered as a flexible part-time option, with all learning done on IE's innovative platform alongside a total of six weeks of face-to-face learning over 17 months.
The part-time program includes three interactive challenges on the curriculum: an analytical challenge with IBM; a datathon; and a data science competition. In addition to this, in the final term students may personalize their degree with a range of electives, including the Internet of things and robotics.
---
2. Indiana University's Kelley School of Business' Master in Business Analytics
Cost: $41k
The Master in Business Analytics at Kelley School of Business is highly flexible, taking anywhere between 15 months and three years to complete, and sees students gain in-depth knowledge in all facets of business analytics.
Courses include data warehousing, business econometrics, and game theory, with lessons delivered using Zoom as well as Kelley's own online platform. The online master's program comes in at $41,400, consisting of 30 credit hours.
---
1. Imperial College Business School's Master in Business Analytics

© Imperial via Facebook
---
Cost: $42K
Imperial's part-time, online Master in Business Analytics is a virtual equivalent of their top-ranked residential degree. Classes are delivered through Imperial's own virtual learning environment, The Hub, which also includes support for careers services, interactive exercises, and programming tasks. In the first year, two on-campus visits are required, when students will have the chance to participate in coding bootcamps, revise, and complete exams.
Courses on the program offer students the chance to dive into high-tech areas of analytics including advanced machine learning, optimization, and network analytics. The curriculum also includes a work-based project undertaken with your employer, intended to cement your business analytics knowledge in a real-world scenario. Tuition fees come in at $42,175, the same as the full-time program—so you know you're getting an intensive, in-depth master's course.
---
Next Read:
What salary can you expect after a Master's in Business Analytics?