It's a good time to be a business analyst: the global big data and business analytics market is expected to rise from $198 billion to $684 billion by 2030.

If you're looking to launch a career in the rapidly growing sector and considering a Master in Business Analytics (MSBA), the MSc in Business Analytics at Imperial College Business School should be on your radar.

The program can be studied full-time at the Imperial College London campus over 12 months, or in a part-time, online format over 21-22 months.

But what is studying in one of the world's top five MSBAs really like? Here's everything you need to know about the Imperial MSc in Business Analytics.
---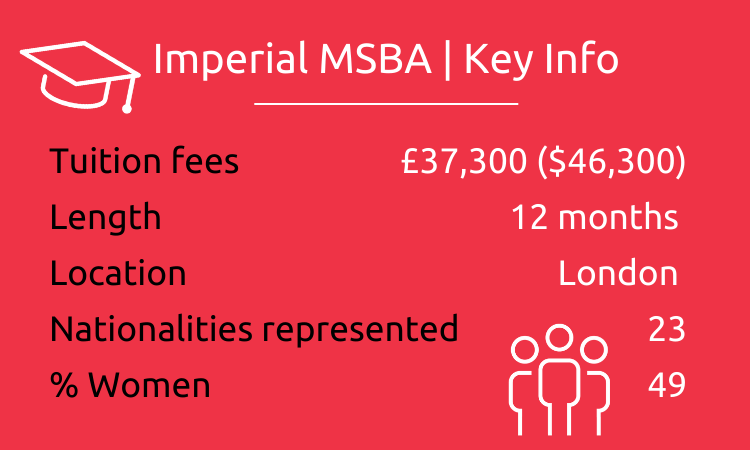 ---
Imperial MSc in Business Analytics | Class profile
The Imperial MSc in Business Analytics focuses on equipping students with data-driven and evidence-based decision-making skills.
The school looks for students who can understand complex theory in subjects like statistics, machine learning, networks, and programming—but can also apply this theory to real-life situations.
"We are not so much after the ingenious programmer that sits in a corner and produces mind-blowing code over sleepless nights," says Dr Wolfram Wiesemann, academic director of the Imperial MSBA. "We seek well-rounded individuals that can play in and lead teams."
There are 96 students in the current class, made up of 23 different nationalities with most hailing from the Americas and Asia/Pacific region. The class has almost achieved gender parity with 49% female students. The average age is 23 years.
Most students use the program to bridge the gap between their business and technical skills. Engineering grad Coraline Duval enrolled in the Imperial MSBA in 2020 to add business acumen to her technical expertise, while 2020 grad Felix Heinemann had a business background but enrolled aiming to become a data scientist.
Felix chose the Imperial MSc in Business Analytics because of the university's wide range of resources, which stretched beyond the business school. He was also attracted to the program's diverse cohort.
"It was really great because it was so diverse—people came from all different backgrounds: from fresh graduates like myself to people who'd worked for 10 or 15 years beforehand," he says.
---
READ: 5 Of The Best Masters In Business Analytics: UK
---
Imperial MSc in Business Analytics | Curriculum
Students begin the Imperial MSc in Business Analytics with virtual, pre-study, summer modules. These cover core topics like accounting, maths, and finance, as well as careers and academic procedures training.
During the first semester, core modules further develop these foundational elements that business analysts use in their daily work.
Each student must also take five electives, allowing them to gain expertise in specific business areas. Electives include topics like Advanced Machine Learning, Energy Analytics, and Financial Analytics.
"Our program has been designed in close collaboration with our industrial partners," says Wolfram. "We annually review the curriculum to fine-tune it to the needs of the industry while making sure it remains cutting-edge from an academic perspective."
Alongside their classroom studies, students are encouraged to explore the wider resources available at the university. Felix took part in the Imperial Enterprise Lab, a scheme that helps students develop their entrepreneurial and innovation skills. During the lab's launch weekend, he participated in an entrepreneurial business simulator.
"They mixed us together in groups of five or six people and we had to come up with an idea and pitch it in two days," he recalls. "That was tough, but it was really good learning."
During the summer term, students must deep dive into a certain topic through an Individual Research Report, or produce a 5,000 word Business Analytics Report. They must also choose between a Capstone Business Analytics Consulting Project or a work placement with a company.
Both Felix and Coraline chose to do the Capstone project, where they consulted on analytics-related business problems with real companies. Coraline worked with Windup, a mental health startup offering personalized experiences aiming to help employees access mental health advice.
"They wanted to test out a more personalized way to recommend practitioners to clients, and we suggested a few ways they could implement a recommendation system," she explains.
She enjoyed the project, despite it being an intense experience. "It was quite a lot to put together in a month, as the Capstone is quite a short project," she says.
Other companies that have collaborated with students for the Capstone Project are from a range of industries from luxury to healthcare including big names such as Burberry, Expedia, and Johnson & Johnson.
---
Imperial MSBA Graduate Job Destinations
---
Imperial MSc in Business Analytics | Career opportunities
MSBA grads can land jobs in a wide variety of industries, and as many as 95% of Imperial MSc in Business Analytics grads find employment within three months of graduating.
Technology is the most popular industry with around 31% of students finding roles in the sector. 28% of students land roles in consulting, while a further 16% enter the finance industry.
Despite the diversity of the cohort, most students stay in the UK after graduation. Of the most recent graduating class, 48% found employment in the UK, followed by 31% in the Asia/Pacific region and 21% in Europe.
Many famous multinationals recruit from the Imperial MSBA cohort, including Amazon, Deloitte, KPMG and McKinsey. Coraline landed a job as an analytics analyst at Accenture in London, while Felix works in data science and applied intelligence in Accenture's Düsseldorf office.
"I started straight after the program as a data scientist at Accenture in Germany," says Felix. "Since working here I've been applying all the data science and machine learning [knowledge] I learned at Imperial and putting it into practice."
A business analytics master's degree opens doors into a range of roles, too. Previous Imperial MSc in Business Analytics grads have launched careers as a business analyst, data scientist, consultant, and quantitative analyst.
---
Imperial MSc in Business Analytics | Application & Fees
The Imperial MSc in Business Analytics costs £37,300 ($46,300) for tuition, with a 10% deposit required when you accept your offer.
However, to help cover the costs of your degree, Imperial offers a range of scholarships for master's students, including those especially for minorities, students moving to study abroad, students who want to make an impact.
To apply, you must have an undergraduate qualification in a quantitative subject like economics, mathematics, or engineering. As an early-career degree, there's no work experience requirement, but having some relevant work experience will show your commitment to the industry and boost your application.
The application involves typical processes like providing academic transcripts and references. There's also a quantitative test which measures your ability across topics like Linear Algebra and Statistics.
If successful, you'll be invited to an interview. This is a great opportunity to expand on your application, show the admissions team what you can bring to the cohort, and ask any questions of your own.
You'll encounter some career planning questions, which ask you to demonstrate a focused career plan, showing where you want your career to go and how the Imperial MSBA will take you there.
"We are looking for candidates that we believe will lead and drive positive change in future," explains Dr Wolfram.
"Apart from quantitative questions, our interview process asks students about their opinion on recent developments in the analytics world, their ambitions and their opinions.
"We are looking for people that love analytics, but that equally see analytics as a catalyst to improve businesses and society as a whole," he adds.
Having been through the application process themselves, Coraline and Felix advise to think carefully about what you want from the degree, and to be yourself.
"Really ask yourself why this specific master's is going to help you," says Coraline. "Make it clear that you're not looking for just any master's program."
---

The Imperial MSc in Business Analytics is a great option for recent graduates and early career professionals looking to balance their skill-sets and take on specialist roles that require business knowledge.
Whether you have a technical grounding in data but lack business skills, or you have business training but little technical expertise, the Imperial MSBA curriculum will make you a well rounded analytics specialist who is attractive to recruiters after graduation.
As a diverse program comprising many international students, it's also a great option if you're looking to live and work in a new environment, particularly if you're looking to land an analytics job in the UK.