You have over 20 years' experience in business. You've worked for Google, eBay, Getty Images, and now you're CEO of an e-commerce company. So why study a Master's in Finance?

CEOs need to constantly adapt to market changes. One way of ensuring this is by being on top of the latest industry trends and developing specialist knowledge.

For Michelle Leung, CEO of Fung Omni Services, the HKUST-NYU Stern Master of Science in Global Finance (MSGF) was the natural step to add formal financial knowledge to her repertoire, on top of her EMBA and bachelor's in accounting.

The one-year, post-experience MSGF program is offered in collaboration between Hong Kong University of Science and Technology and New York University Stern School of Business and saw Michelle study across international locations in Hong Kong, Shanghai, and New York.
---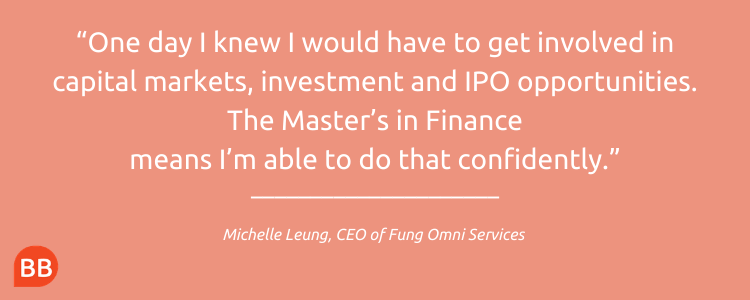 ---
Why a Master's in Finance?
Michelle had many motivations behind her decision to return to the classroom.
She was impressed by the linking of HKUST and NYU; two schools she was drawn to for their reputation and networks. The option to study a joint masters with both was ideal— "the best of both worlds," she says.
The HKUST-NYU Stern MSGF begins with theory, with participants learning about cutting-edge finance topics butterfly stock options to cryptocurrency, and the history behind them, before having the opportunity to branch off into practical cases.
"From an academic perspective, it gave me the research side and then the useful, practical side too," Michelle notes.
"The speciality of the program is also that you have a very international group of students on the course," she continues.
With classmates from all over the world—the 2020 class had 14 nationalities represented, with 11 years of experience on average—students gain access to global financial networks.
The program consists of four modules in Hong Kong, two in New York, and one based in Shanghai.
Michelle notes how the summer in New York was a particular highlight. Working in Asia, she wouldn't have the time to do a full-time degree in New York, but the HKUST-NYU Stern MSGF gave her the chance to experience the city and all it had to offer her.
Networking events in New York connected Michelle with NYU alumni. Merging perspectives between East Asian markets and the US now enables Michelle to see finance through a global lens— "it really broadened my perspective," she adds.
---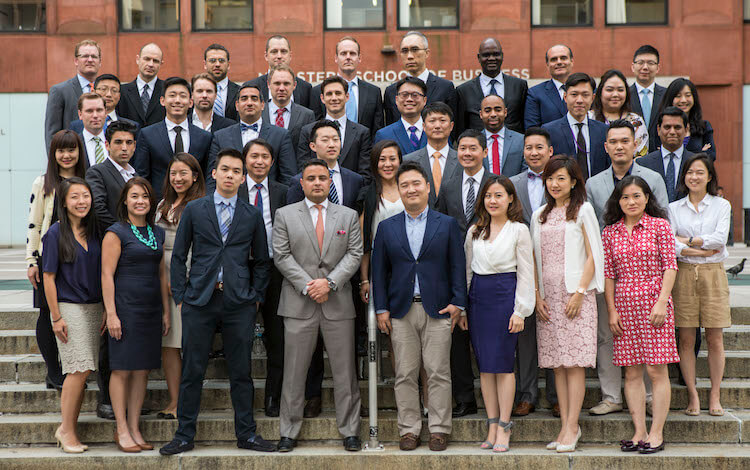 ---
MiF to CEO
CEOs are expected to know their companies inside-out; this means knowing the finances too.
"In the online and eCommerce industry companies are always being listed, or merges and acquisitions. These all have financial capital market activities attached," Michelle explains.
"One day I knew I would have to get involved in capital markets, investment and IPO opportunities. The Master's in Finance means I'm able to do that confidently."
The HKUST-NYU Stern MSGF equipped Michelle with the technical financial skills to accompany her executive business education, she says.
"Being CEO of a company and always thinking about the future means I had to know how to create value for shareholders, and the course gave me the information to do this."
And no one wants a CEO who is not moving with the times either. Michelle says: "as a CEO you have to stay current."
Learning alongside peers from financial backgrounds gave Michelle the chance to gain personal insight into the financial world, in turn giving her more confidence to lead in financial contexts.
The integrative project over the year-long duration of the program, and group presentation at the end, helped Michelle develop close relationships with other finance professionals and professors which, she says, will continue to benefit her career in the future.
"It was important to have a lot of interaction and discussion during class and see different peoples' perspectives and theories," she continues.
Related Content: