The Master in International Finance (MIF) is a consistently top-ranked program. In 2023, it earned second place in the Financial Times Master in Finance ranking. In previous years, it has placed first for 10 out of 12 years.

That's enough to attract any aspiring financier to apply, but HEC Paris MIF students can also expect a diverse experience, mixing theoretical and practical learning with real-world, professional expertise.

The HEC Paris MIF is highly competitive, so it's important to be prepared before you apply. Read on to find out what you'll need to do to stand out in your application, and how the program can help advance your career in finance.
---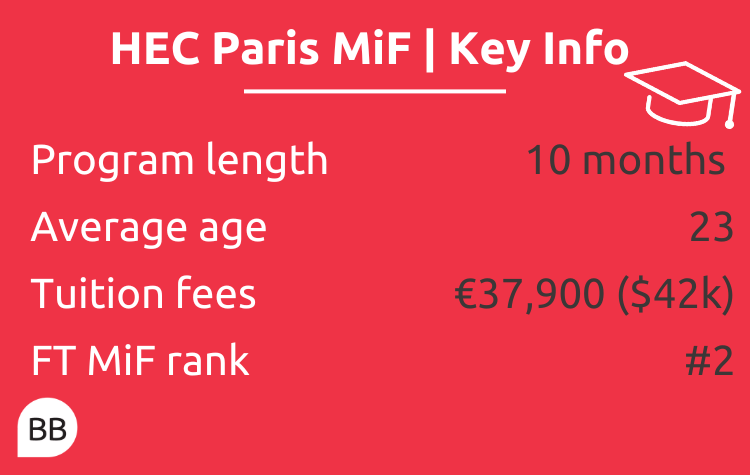 ---
HEC Paris Master in International Finance | Who is it for?
Aiming to provide a solid foundation for a finance career, along with specialized training tailored to each student's career path, the HEC Paris Master in Finance appeals to ambitious students from across the globe.
In the current MIF class, 87% of students hail from international backgrounds. As a pre-experience master's, most students are recent graduates around 23 years of age.
Boaz Brunsting is a prime example. A Netherlands-born MIF student, Boaz studied an econometrics bachelor's and became interested in finance during a student investing club, and various finance-related internships and study trips.
---
HEC Paris Master in Finance | Curriculum
The HEC Paris MIF is a 10-month, full-time program taught primarily at the school's campus in Jouy-en-Josas, France. The curriculum begins by separating students into two tracks: Business and Accelerated, according to their prior training.
Business track students have taken introductory courses in topics like financial accounting and corporate finance, and usually have internship experience. Accelerated track students have highly quantitative training in subjects like physics or economics, and are looking to pivot their skills to finance.
During the first term, students take part in a London study trip, visiting the UK offices of top financial institutions including Bank of America, Morgan Stanley, and Blackstone.
They then return to campus for track-appropriate training: Business track students get their first chance to specialize, while Accelerated track students receive a thorough grounding in finance concepts.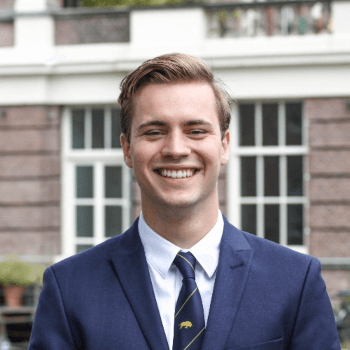 Electives begin during the spring term, when students also choose a concentration in either Capital Markets or Corporate Finance. Boaz (pictured) chose the MIF over other top finance degrees largely because of the strength of its electives.
"You have more opportunities to choose electives and to get the ones you want [at HEC]," he says. "I didn't want to pay €40,000 at another school to get electives I didn't want."
Key to the entire program is its grounding in real-world knowledge. "50% of our courses are offered by top-notch market practitioners, and this practical teaching is really important," says Olivier Bossard, executive director of the MIF.
"These professors are actually bankers, traders or asset managers who take every year a few days off from their job in banking or trading to teach their current field of expertise as they live it 'on the ground'."
HEC Paris keeps the curriculum under constant review, integrating any regulatory changes into the program to keep students up to date. They also encourage students to pick up practical skills in areas like coding, and students are also required to attain proficiency in a non-English language by graduation.
Beyond the curriculum, the school also invites external speakers to deliver lectures on various interdisciplinary topics.
"One of the biggest surprises that I've liked is the exposure that I'm getting," says current student Nikita Khanna. "Last month we had the European Central Bank chief coming to talk to us about the Eurozone, and we've also had a lecture from [Nobel Prize winner] Daniel Kahneman."
---
HEC Paris Master in Finance | Career opportunities
During the penultimate stage of the MIF curriculum, students undertake a four-month work placement. The school encourages students to choose roles which could become permanent, and to be proactive in their search.
"I'm currently fully focused on Mergers and Acquisitions [M&A] in London," Boaz says. "I have one offer already, and I'm in the process for a couple of different other ones."
With such a strong emphasis on careers, it's no wonder that 100% of HEC Paris students landed jobs within three months of graduation in the latest cohort, and 68% outside of their home country.
HEC Paris MIF students also have strong salary prospects, experiencing the fourth-highest salary percentage increase of all schools in the Financial Times' MiF ranking. The average starting salary for HEC Paris MIF students is around $85,500, rising to $175,703 after three years.
Olivier attributes much of students' success in the workplace to the program's close relationship with its alumni, to whom they encourage students to connect from the moment they arrive.
"Every single day, I keep at least a minimum one hour free in my agenda in order to reach out to HEC alumni on the phone or via Zoom, in addition to regular meetings in the evenings," says Olivier. "This is for me a unique opportunity to collect feedback and stay on top of the demand from the employers in the financial world."
---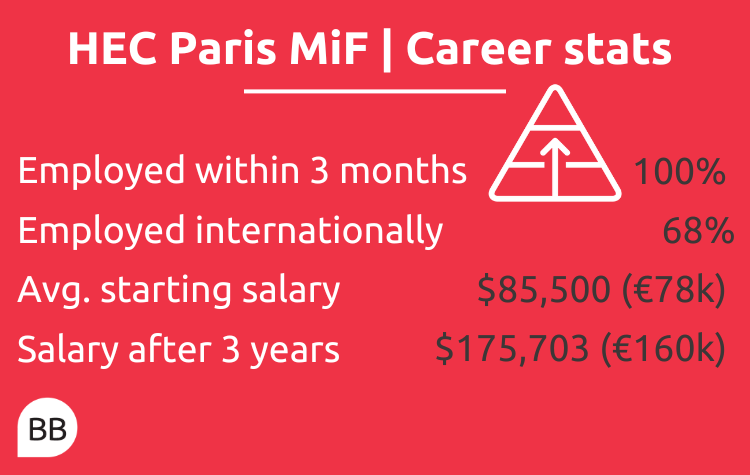 ---
HEC Paris MIF | Application & fees
The HEC Paris MIF admissions process consists of an online application followed by a face-to-face or Skype interview.
The application includes typical steps like providing an academic transcript and references, and requires students to submit a GMAT, GRE or TAGE score report.
"I expect our students to have very high quantitative and analytical skills," says Olivier. "We are extremely selective on the ranking of the undergraduate school, the students' GPAs, as well as their GMAT score—typically above 710."
When it comes to the interview, Olivier's advice is to showcase a passion for finance.
"I love to hear candidates who are excited about a specific market, or who enjoy studying the economy of their home country, or a specific sector, or even a specific stock," he says.
"I want students who are excited about finance, because they are going to spend more than 12 hours every day working in this field for over 40 years, and they will probably spend more time at work than with their family, so they really need to enjoy finance!"
HEC Paris MIF tuition costs €37,900 ($41,557), while this may seem expensive, the program ranks 13th on the Financial Times' list for value for money. All admitted candidates are also automatically considered for Excellence Scholarships.
---
Next Read:
Top Masters In Finance Jobs | JP Morgan, McKinsey & More