If you're looking for a career in finance, one of the most lucrative options available to you is financial engineering.

Financial engineering is the practice of applying mathematical techniques—including tools from computer science, statistics, and economics—to solve financial problems and create new finance products.

It's used in all manner of analytical roles across banking, insurance, and investments, and those who secure a financial engineering job can enjoy a median salary of $114,000 in the US.

So, where do you start?

An MSc in Financial Engineering is a good launchpad. The 18-month full-time program at France's EDHEC Business School gives students with prior financial training the tools to accelerate their careers in financial engineering.

Here's everything you need to know about the top-ranked EDHEC MSc in finance, including insights from students and faculty.
---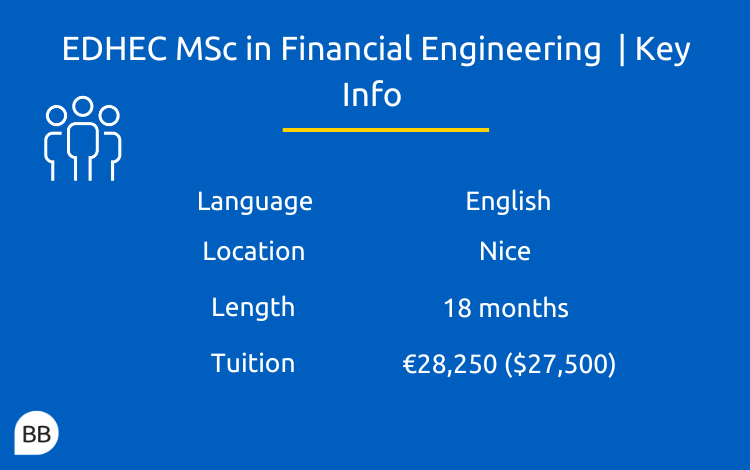 ---
EDHEC MSc in Financial Engineering | Who is it for?
The MSc in Financial Engineering at EDHEC is mainly geared towards early-career professionals who have quantitative backgrounds or prior training in finance. This could mean you studied mathematics or economics at university, or that you've worked in an entry-level finance role.
The program mostly attracts recent graduates from three-or four-year bachelor's degrees, over half of whom (53%) studied finance previously. The next most-popular undergraduate subject was economics at 35%, followed by engineering at 12%.
Aimed primarily at recent grads, the average age on the program is 24, though ages on the current class range from 22 to 31.
Although the curriculum is taught fully in English and English fluency is a requirement for entry, there are 4 continents represented in the current class.
Finally, the program skews male, with only 38% of the current class made up of women, though this reflects a wider trend across top finance MScs in France. The likes of HEC Paris and ESSEC Business School also offer programs with a more than 65% male cohort, according to the Financial Times.
---
EDHEC MSc in Financial Engineering | Curriculum
Depending on your prior learning, you may be required to take some remote and self-paced courses in the summer before the program starts to get you up to speed with foundational concepts like fixed income and derivatives, the principles of data science, and portfolio management.
These preparatory modules level the playing field in preparation for the program's core courses, which, according to Emmanuel Jurczenko, director of graduate finance programs at the school, are one of the key areas in which EDHEC's finance MSc stands out from the competition.
"Most of the top competitors deliver a generalist (international) finance program with two broad specializations: Market Finance or Corporate Finance," he explains. "We are one of the few to offer a full market finance focused programme with investment track specializations (quantitative trading and asset management)."
Students dive into core modules that cover the essentials of financial engineering, including a bootcamp in the Python programming language, a course on the finance of climate change, and modules on machine learning.
The two concentrations available on the program are data science for finance and investment solutions. While each explores different sides of financial engineering, both cover decentralized finance, the emerging financial technology that promotes peer-to-peer transactions to avoid processing fees.
In addition to classroom study in Nice, students can apply to go on a study tour to London or Singapore to experience a new professional environment. They can also opt to complete a research thesis in order to receive an academic research certificate.
Regardless of their enrolment in the research thesis, all students get the opportunity to receive a project management certificate at the end of the program, based on best practices collected from the Project Management Institute. Most students also complete at least one work experience placement while on the program.
---
EDHEC MSc in Financial Engineering | What's different about this program?
In addition to the unique specialization opportunities available at EDHEC and the opportunity for students to gain work experience while studying, Emmanuel believes the school's positioning sets the program apart from others of its type.
"[We have] credibility and proximity with the industry thanks to our various EDHEC research initiatives such as EDHEC Risk Institute (ERI), EDHEC Risk Climate Impact Institute (ERCII), EDHEC Infra Research Institute, Scientific Beta, Scientific Infra and Scientific Analytics," he says.
Having a finger on the pulse of financial engineering also means that the school is ready to make innovative changes to its curriculum, he adds.
"Next year, we will propose a new academic curriculum with three tracks that will be proposed in the second semester: investment solutions, quantitative trading and alternative assets.
"Each track will consist of specialized courses that will be complemented by electives to be chosen from a large portfolio. Each track will spend one week in London for a learning expedition that will consist of a mix of lectures and company visits."
---
EDHEC MSc in Financial Engineering | Application & fees
In addition to an undergraduate degree in a relevant discipline and fluency in English, you will also need to provide a strong GMAT, GRE, TAGE MAGE, CAT, or CFA Level II qualification. This is to be submitted alongside a letter stating your motivations for pursuing the program, academic transcripts, two letters of recommendation, and an online interview.
Successful applicants can expect to pay tuition fees of €28,250 (US$28,300), not including a €100 ($100) application fee. This is less than competitor top-ranked Master in Finance degrees such as the HEC Paris Master in International Finance (€40,650). However, there are more affordable options available such as the SKEMA Business School MSc in Finance Markets & Investments (€25,000) and ESCP Business School MSc in Finance (€27,950).
Compared with other top-ranked finance degrees, EDHEC's program is uniquely focused on financial engineering.
To be successful in the interview process, Emmanuel advises to demonstrate your commitment to the program by showing interviewers you have enthusiasm for the subject matter and a clear career plan.
"Be interested in the financial markets news and evolutions—read daily newspapers, business magazines, etcetera," he says. "Be curious and show ambition."
---
READ: Is A Master In Finance Worth It?
---
Hear from EDHEC MSc finance students
Felix Werner and Fabiola Iuliano are current students on the EDHEC MSc in Financial Engineering.
Fabiola studied a bachelor's in economics and management at University of Ferrara (UNIFE), but prior to enrolling at EDHEC she had no experience in machine learning or Python coding – two key skills for financial engineers. In the EDHEC finance MSc, she saw an opportunity to learn these kinds of technical skills in an academic setting, as well as applying them professionally during an internship.
In her work experience placements on the EDHEC program she has worked for Credit Suisse in London, Société Generale Corporate and Investment Banking in Milan, and Natixis in Paris.
"I wanted to work in the biggest cities, and it was great because it shows [employers] that I can work internationally," she says.
Felix studied a bachelor's in mathematics, economics and business, and wanted a chance to translate this theoretical knowledge into real business skill.
"80% or maybe even 90% of the time, I was doing math classes," he says. "And unfortunately, since my bachelor's degree was quite challenging, I didn't really have the time to do internships over the summer or the winter break, so for me, it was really a good thing to decide to join a program that includes both academic and professional experience."
Both students also highlight the experience of studying in Nice's temperate climate while taking advantage of the scenery around campus, which overlooks the ocean.
The program hasn't been without its challenges. Felix says that it can be difficult to manage impostor syndrome in such an academically rigorous program. This was particularly difficult while remote learning during the COVID 19 pandemic.
Choosing from the wealth of internship options available was also daunting, though he sought support from the school's career center and alumni network.
"[Alumni] were always really open to speak to you and to give you some tips for what you should do, because they were in the same situation just 15 or 18 months ago," he says. "That was great, because they were also able to introduce you to their former colleagues and help you to get a Head Start during the application process."
This guidance proved fruitful: Felix has completed internships at Deutsche Bank, BNP Paribas, and Moody's Investors Service in Frankfurt.
---

If you're looking to gain entry into the world of finance there are plenty of top Masters in Finance on offer at business schools in France and wider Europe.
However, if you're looking for a highly technical, quantitative program that will teach complex financial modelling and programming, EDHEC's MSc in Financial Engineering offers a unique opportunity to develop your skills and knowledge.
You'll also get the chance to immerse yourself in the school's highly finance-focused ecosystem.
If you prefer beaches to bustling streets, EDHEC's situation on the outskirts of Nice may be more appealing than Paris.

---
Next Read:
What Can You Do With A Master In Finance?