Business masters degree programs are in as high demand in 2020 as they have been for years.
67% of business master's programs reported a growth in applications, according to the 2020 Applicant Trends Survey by the Graduate Management Admission Council (GMAC). From generalist programs like masters in management to specialist programs like masters in business analytics, master's remain hugely popular among business school applicants.
So is a master's degree worth the investment and time commitment? We look at what you can expect from a master's in terms of skills, curriculum, career opportunities, and overall return on investment.
---
Is a Master's degree right for me?
Given the wide range of programs available, it's worth investing some time in thinking about your suitability for a master's, and what it is you are looking for exactly.
Master's programs tend to be suited to candidates with limited (usually less than three years) professional experience, or even those coming straight from a bachelor's degree.
Jerome Troiano, director of the master's career center at EDHEC Business School in France, identifies two main candidate types for whom a master's is appropriate.
First, candidates who are looking to expand and grow their knowledge in preparation for the world of work. "A master's student can get access to both insightful research from professors, and to be taught transversal skills—which are increasingly in demand from companies and can be a key differentiator," Jerome says.
Secondly, candidates who are looking to build career connections and network in their desired industry. "Students are able to interact with companies, get exclusive access to some job offers, and also be made aware of the latest trends affecting the industries they are interested in."
When it comes to deciding on the right master's specialization, candidates should think about both their passions and their strengths. Some will have a clear idea of their career paths: for instance, those with their heart set on investment banking would be well suited to a Master of Finance.
Some candidates aren't quite as clear on their career path—and that's also okay. "We have a lot of students who haven't been able to narrow down what type of careers they want, so it's good that there are loads of options available to masters students."
---
Master's degree | Skills and curriculum
Curricula vary significantly depending on what master's specialization you opt for. All master's programs at EDHEC tend to have a set of core courses, which take students through the fundamental aspects of each subject.
MSc in Finance students can expect courses on corporate finance, financial accounting, and valuation. Students on the MSc in Data Analytics & Artificial Intelligence will learn about customer analytics, data mining, and machine learning.
There are some key soft—or transversal—skills that run through all of the programs at EDHEC, which are vital for all master's graduates when they reach the world of work.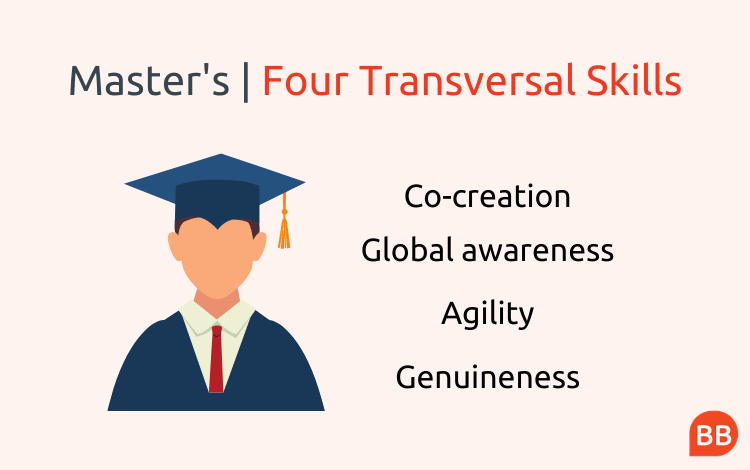 First, "co-creation", the ability to work and thrive in a team. "You need to be comfortable interacting with people of different backgrounds and locations, potentially working remotely," Jerome says.
Secondly, global awareness. This encompasses a diverse viewpoint, as well as an ability to see and predict future business trends from around the world.
Thirdly, agility. "You must be quickly comfortable to adapt to new situations and types of jobs," he says. "No one knows what the jobs of tomorrow will be." At EDHEC, courses identify important themes, like technology and sustainability, which play a part in changing how business is done.
Finally, "genuineness". For Jerome, this comes down to passion and genuine interest in the subjects you are learning about and the work you are doing.
---
Master's degree | Career opportunities
---
A master's is the first step, for many, into the world of work, and so creating career opportunities is a high priority for master's programs.
Career centers are an important part of helping students identify their strengths and find the right jobs and industries to match that. EDHEC offers students an in-person and online career mentoring program, which involves one-to-one meetings and advice from industry experts and career coaches, as well as an online learning training program.
This incorporates assessments which recruiters use, as well as helping strengthen specific skills like interviewing and standing out in assessment centers.
"You have a tailor made program put in place in order to help you better know yourself, identify what are your core strengths, and how you can leverage these strengths, in order to select an industry where you know you'll be able to add value, and one you'll feel passionate about," Jerome says.
The other side of creating career opportunities is introducing and creating meaningful relationships between students and employers. Career events invite recruiters onto campus to meet students, deliver presentations, and build points of contact, in the hope that this results in employment for a number of students.
---
Related Content: