One of three top business schools located within the bustling streets of Paris, ESSEC Business School is among France's prestigious Grandes Ecoles.

The school offers a Master in Management (MiM) degree ranked among the top 10 in the world by the Financial Times. The unique, two-year program is taught across ESSEC's campuses in Singapore, France, and Morrocco and offers a range of international and professional opportunities.

It's a broad, customizable MiM degree, giving students the flexibility to chart their own course and tailor their program towards their chosen profession.

Upon leaving the program, ESSEC Master in Management graduates land roles with some of the world's largest companies and spread across a range of industries, from finance to luxury.

Here's everything you need to know about the ESSEC MiM, including subjects the curriculum teaches, your potential career prospects, and details of the application process.
---
ESSEC MiM | Who is it for?
The ESSEC Master in Management has an intense focus on personalization. This gives the program wide appeal and the school targets students with a broad range of backgrounds, skill sets, and career ambitions.
Some students may come in without a career plan, others may have an idea of an area they'd like to specialize in, and some students may prefer to figure it out through practical learning, explains Felix Papier, dean of pre-experience programs at ESSEC including the MiM.
"It caters to different types of learners," he adds.
This wide appeal makes for a diverse cohort, the ESSEC MiM comprises 48% female students and 41% hail from international backgrounds.
---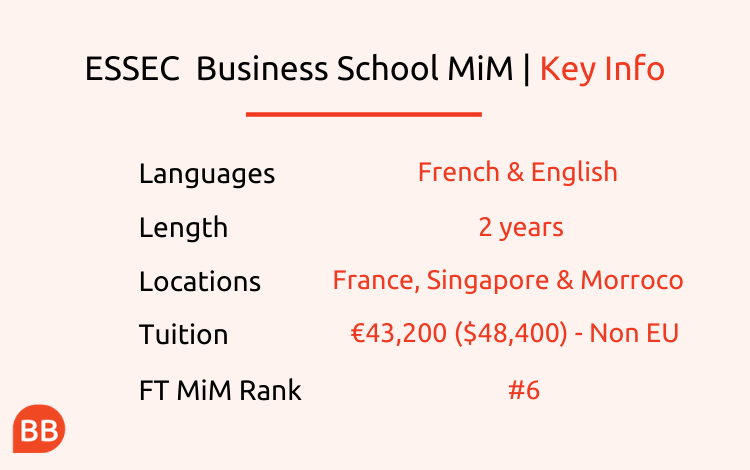 ---
ESSEC MiM | Curriculum
The ESSEC MiM combines a core generalist curriculum with ample opportunity for students to customize their experience.
The curriculum features 10 core management modules, giving students a fundamental understanding of business. These cover subjects like Financial Accounting and Reporting, Marketing Management, Business Economics, and Strategy and Management.
Beyond the core element, more than 60% of the program is customizable. The personalized approach begins immediately, when students choose either the Paris or Singapore campus to start their studies.
Across both campuses, students can choose from 200 elective modules and 47 specializations, with availability depending on the campus. Each student must complete at least 25 modules during the program.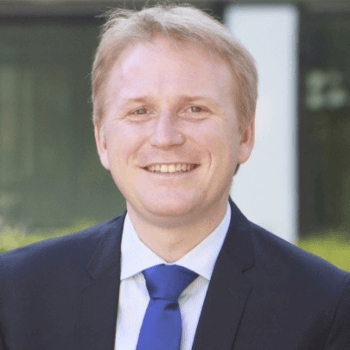 The personalized approach means students can specialize in typical business areas like management, consulting, finance, and entrepreneurship; alongside more specialized subjects like health, sport, and data operations.
"The idea is that students think about what they want to achieve, and then design their program as a consequence," explains Felix (pictured).
Teaching is delivered through a combination of theoretical and practical classes, with a large emphasis on giving students hands-on experience.
For students who start at the Singapore campus, this begins during the first week, when they take on a practical consulting experience, involving working alongside leading companies and nonprofits in Asia, as well as launching an entrepreneurial venture.
"You work in teams with other colleagues and it's really useful to do this," says ESSEC MiM student Giorgio Crisci. "From a learning perspective it's very challenging because you have only just joined, but it's really stimulating," he adds.
---
ESSEC MiM | Career opportunities
Career opportunities are a hugely important part of ESSEC's Master in Management—to graduate you must complete 12-months of professional experience and spend six-months abroad.
Extended periods of the program are set aside to allow students to embark on professional experiences. These range from internships to apprenticeships and even volunteering.
There's also the opportunity to undertake an exchange with one of the school's 105 partner universities. This includes partnerships with SDA Bocconi School of Management in Italy, Hong Kong's HKUST Business School, and London Business School in the UK.
Giorgio (pictured) has used the various opportunities on offer to pack his degree full of diverse experiences. By the time he graduates in 2022, he will have studied and worked in five countries, including Luxembourg, and the US; and secured internships with the likes of Amazon and L'Oreal.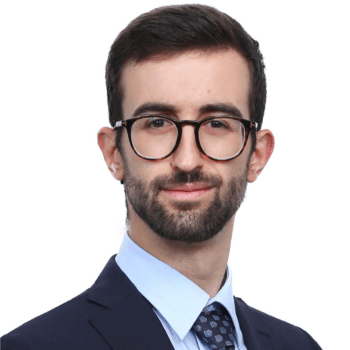 "You can have a lot of different experiences that are useful for you to know a bit more about where you want to go and what you want to do after you start work," he says.
Giorgio is currently on a consulting internship at Roland Berger in Dubai. He says the flexibility of the program and the various experiences available helped him choose strategic consulting as a career path.
"I think it's really a plus because you will attend to what you want to push later on in your career," he says.
Giorgio is one of many students who embark on exciting career paths both during and after ESSEC's Master in Management.
As many as 95% of students secure employment within three months of graduation, increasing their salaries from their pre MiM earnings by 69% on average. After three years, the average salary of ESSEC MiM graduates is over $100k.
---
Download our Master in Management Guide 2022
---
ESSEC MiM | How can you apply?
Accessing the countless benefits the ESSEC MiM offers does come at a price: the program's tuition stands at €43,200 ($48,400) for applicants outside of the EU, while EU and UK citizens pay €37,200 ($41,700). There are only a handful of more expensive MiM degrees worldwide.
Applying for the ESSEC MiM follows the typical application process, requiring you to provide academic transcripts, personal essays, GMAT or GRE scores, and language test results.
But successful applicants need to show that they're more than their test results and GPA. "We try to find students who take the initiative and who want to create new things," says Felix.
"The capacity to work in a team, the capacity to motivate others to carry a project forward; soft skills like that are also really important," he adds.
He stresses that students should take every opportunity during the interview, essay, and recommendation letter stages of the process to show they have what ESSEC is looking for.
---

The range of opportunities on offer at ESSEC speak for themselves, you'll be hard pushed to find a MiM degree offering a more diverse array of experiences.
This does make for an above-average program length. The ESSEC MiM stretches to two years or even longer in some cases, depending on how you customize your program. If you're looking to develop your skills and knowledge quickly before entering the workplace, this may not be the program for you.
It's also less affordable than other top MiM programs, but the top professional experiences on offer mean you're likely to earn a competitive salary and see an immediate return on your investment after graduation.

---
Next Read:
Master In Management Salary | What Could You Earn?