Technology is changing every element of our lives. The business school environment is no different.
Education technology, or edtech, calls into question traditional methods of learning and studying, providing technology-centered solutions for engaging with learners. In short, edtech is paving the way for a mode of education that's in keeping with a digitally transforming world.
While some educational institutions might shun the idea of a tech takeover, there are many business schools that welcome innovation in the learning space. Here are four edtech trends you can expect to see during your master's degree in 2023:
---
1. Virtual reality at business school
Virtual reality (VR) is one of the key tech trends that's set to change the way we study, learn, communicate, and more.
Business schools around the globe are designing ways of integrating VR—a simulated experience of a virtual reality world—into the classroom.
Alain Goudey (pictured), associate dean for digital and professor of marketing at NEOMA Business School in Paris, is introducing VR into master's degree programs at the school.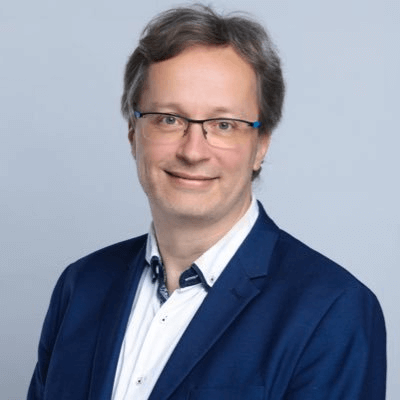 NEOMA was one of the first business schools to use VR-based case studies that enable students to engage with relevant managerial contexts or situations.
"Through VR, students get a vision of what's happening in the company, or for example a drive-in store or shop, and are then able to critically diagnose the given situation," Alain says.
VR allows schools such as NEOMA to blend theory and practice over a short period of time, rather than extensive practical projects that can take weeks or months to complete.
NEOMA has even opened a 100% virtual campus—its very own metaverse—that allows students to share a common educational experience across the three campus locations, Paris, Reims, and Rouen.
---
2. Gamification during a master's degree
Everyone loves a good game—so why shouldn't this extend to the business school environment? Through educational gamification, students are motivated to complete tasks or compete against one another to win the 'game'.
In NEOMA's virtual campus, students can join role games, which could involve a game between entrepreneurs and venture capitalists, with each respective player displaying an avatar that reflects their specific role.
"This VR game is augmenting the power of the simulation. The student who is acting as an entrepreneur through its avatar is thinking like an entrepreneur and vice versa, which is really powerful in terms of learning," Alain says.
---
[Video] Edtech Trends At Business School
---
3. Artificial intelligence in the classroom
You'd have to have been living under a rock to ignore the influence that disruptive artificial intelligence (AI) tools, such as OpenAI's ChatGPT, are having on the world and business education, more specifically.
The sophisticated language model ChatGPT even outperformed some students in an MBA exam at the Wharton School, causing concern among business schools about the risk of cheating and plagiarism.
AI tools aren't all bad, however, as systems such as ChatGPT can be used to speed up monotonous tasks in an educational setting, such as gaining a summary of a complex business issue, but should be approached with caution.
"The world is changing very fast, and the impact of technologies is absolutely huge," Alain says, adding that he predicts business schools will start to integrate a range of technologies into the curriculum, rather than just focusing on one.
---
4. Revamping online learning content
Online master's programs are attractive to those who wish to fit their studies around a busy life or career. Yet some students may worry that online programs offer a less engaging learning experience.
With the help of technology, business schools are revamping their virtual learning platforms to navigate this concern.
"We believe that learning content should be emotional and inspiring," Alain says.
NEOMA is mimicking online demand services such as Netflix to create more entertaining content and online courses.
Through expert interviews filmed in a documentary style with a visually appealing set-up, Alain hopes to enhance the storytelling potential of the learning materials.
"In the future of work, students are going to work in the similar way that we are providing such virtual learning content, so familiarization with this type of content is going to be valuable beyond business school," Alain says.