With a double degree, you'll study two master's programs consecutively at two partner business schools. When you graduate, you'll earn two master's degrees.
Whether you want to study a management degree from a different cultural perspective or gain generalist business knowledge alongside a specialization—there are a range of double degree options to choose from.
Depending on the program you choose, you'll usually study in two countries, gaining valuable international exposure and broadening your career options.
We heard from double degree master's students to find out more about the benefits of a joint program.
---
You'll gain international exposure
The idea of moving to a new country can be daunting, but immersing yourself in a new culture and navigating the start of your career in a new country can also be hugely rewarding.
The international exposure this gives is especially valuable in today's interconnected business world.
Recognizing this, Daniil Terletskyy (pictured right) decided to pursue a double Master in Management degree at the University of Mannheim Business School (UMBS) in Germany and ESSEC Business School in France.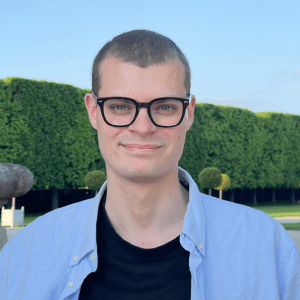 He's also taking part in the Global Manager in Asia Track to study at ESSEC's Singapore campus for the summer.
"Travelling to Asia as an international student is a unique opportunity to become familiar with Asian culture and the specific business context of the Asia-Pacific region," says Daniil.
Studying abroad also means gaining first-hand insights into international business practices, economies, and markets.
Paul Coulet is another student who has pursued a joint degree program. He studied the International Master in Luxury Management offered by NEOMA Business School in France and POLIMI Graduate School of Management in Milan, Italy.
"Studying in two countries renowned for their legacy in the luxury industry meant I could explore several different sectors and understand the two different visions of management," he says.
---
Download our free Which Business Master's Guide
---
---
Studying a double degree will expand your network even further
With a double degree program, you can tap into the network of not one but two business schools. Not only will this enhance your master's experience, but it can also be valuable throughout your career.
"I have made many new friends from different countries, and I know that many of them will be long-lasting connections," says Daniil.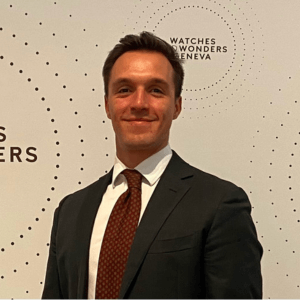 Business schools also form strong partnerships with top companies that students can leverage through projects and internships.
Paul (pictured right) has made valuable connections with professionals and brands in the luxury fashion industries in France and Italy by working with them in company projects. He met with brands such as Fred and Krug, which are owned by LVMH—the world's largest luxury goods conglomerate.
"We spoke about important topics such as the future of retail for Generation Z and finding the balance between tradition and innovation in the fashion industry," he says.
---
You'll increase your employability with a double degree
Adapting to new environments, working with a diverse cohort, and experiencing business in multiple cities forges skills that will increase your employability in today's business world.
According to the GMAC Corporate Recruiter's Survey 2023, 81% of employers say cross-cultural competence will be among the most important skills in business in five years. 77% say the same of multilingualism.
"Studying a double master's degree has allowed me to challenge myself, become more adaptable, culturally aware, and open-minded," says Daniil.
Plus, employers are likely to be impressed by your ability to complete a double degree. It challenges you to manage your time effectively and push your limits, which shows a strong work ethic.
---
You'll have an unforgettable master's experience
Besides impacting your career, a double degree offers a diverse and enriching experience. Outside of the classroom, you'll have the opportunity to explore new cities and cultures and connect with your classmates on a personal level.
"Having so many international people in the same cohort, united around one passion, creates true friendships for life," says Paul.
During his double degree, Daniil is truly taking advantage of the chance to tick more cities and countries off his bucket list.
While studying at ESSEC in France, he's explored Paris, Normandy, and Champagne. When he travels to the Singapore campus, he plans to travel to Malaysia and Indonesia.
"Studying at two international business schools is incredible because ambitious and brilliant people constantly surround you, which creates an environment of continuous reciprocal learning that changes your mindset for the better," says Daniil.