The Hong Kong University of Science and Technology (HKUST) has been rocketing up the rankings since it was established in 1991. HKUST took the number one spot in the Times Higher Education's Young Universities Rankings in 2020, while securing a spot in the top 100 universities overall.
As a research intensive institution, HKUST is dedicated to advancing knowledge in science, technology, and engineering, as well as business and management—great news for MBA applicants considering a program in Asia.
The super-flexible MBA program at HKUST Business School has also been ranked in the top 20 globally by the Financial Times for 13 consecutive years.
HKUST MBA students can choose from five specializations and over 60 elective courses. Many courses draw on HKUST's strength in tech and its incorporation into business, covering topics like cryptocurrency, Python coding, and big data. To help students see these issues play out in the business world, the curriculum incorporates experiential learning modules and guest speakers from industry.
---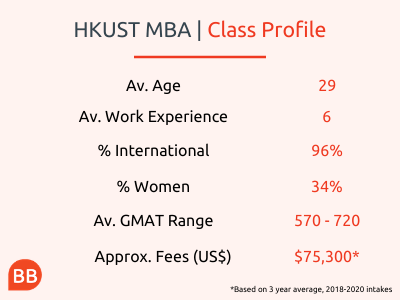 ---
HKUST MBA students study in an intimate cohort of 80, and can also choose to complete the program in 12 or 16 months, depending on their preference.
During the MBA, students can expect to meet peers from diverse regions, with professional backgrounds including finance, human resources, operations, and marketing.
Having explored a broad range of subjects in the MBA, an impressive 78% of students switch industries when they graduate, with 61% switching functions.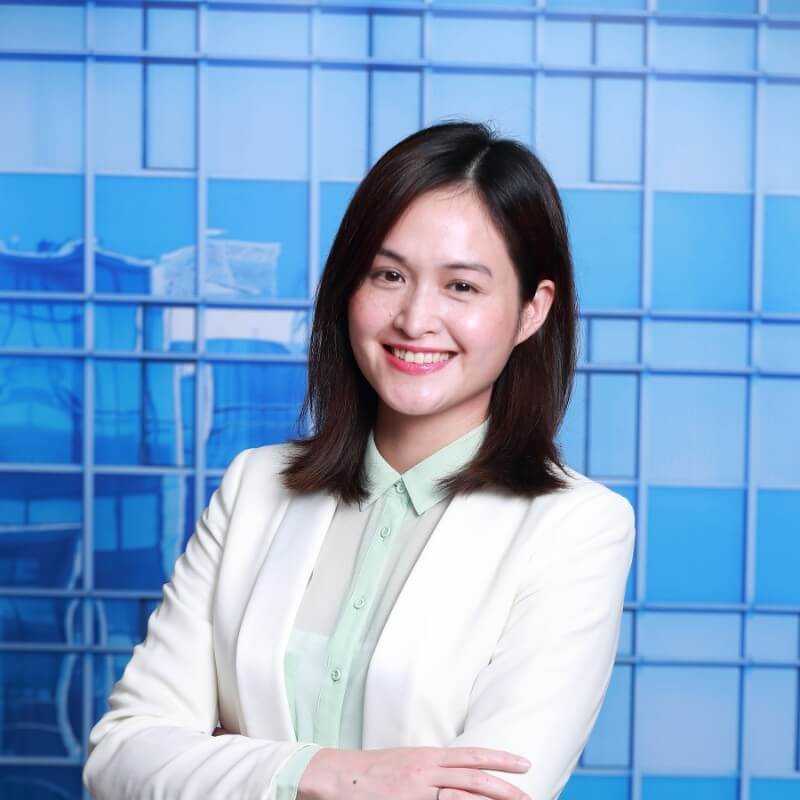 HKUST's strong connections in Asia means students can network with top employers in the region, leading 94% of graduates to land a job in Asia when they leave the program.
The industries that graduates enter require all the tech-savvy and flexible problem solving skills developed in the program. The top three are technology, financial services, and manufacturing, closely followed by consulting and FMCG.
So what does it take to earn a spot on the HKUST MBA? To find out, BusinessBecause spoke with April Leung (pictured), assistant director of marketing and admissions for MBA programs at HKUST.
---
What do you look for in HKUST MBA applicants?
Apart from standard admission requirements, candidates who demonstrate good professional record, clear career vision, dedication to succeed and excel, and a mindset to contribute to the HKUST MBA should apply to the program.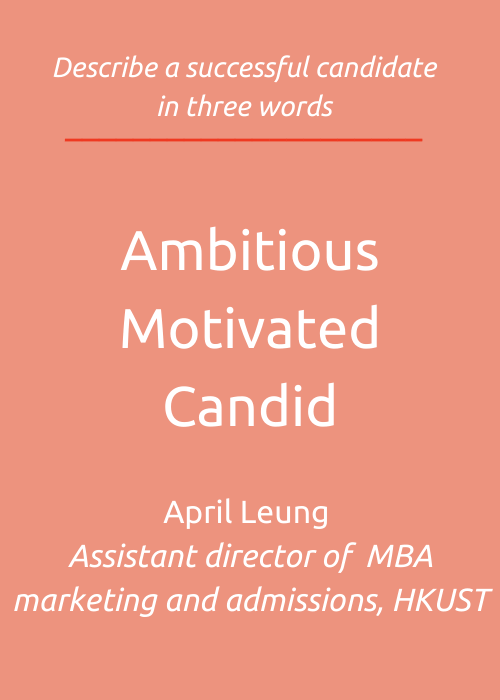 Since today's business landscape is fast-changing, flexibility is another key trait we see in successful applicants. A flexible and adaptive character allows our candidates to grasp different opportunities during and after the MBA.
Another key attribute for successful applicants is community spirit. In the HKUST MBA, we have a close-knit community of current students and alumni. Every year, there are lots of interactions among them and this has now extended into a virtual environment during the pandemic.
A strong sense of community and desire to contribute to the MBA is crucial for applicants—in terms of knowledge exchange, connection establishment, or referrals. The ability to demonstrate this supportive mindset is key.
Candidates who know graduates from the HKUST MBA or EMBA programs can also join the HKUST MBA Community Succession Scheme, and invite an alumnus to be their referee. The scheme entitles applicants to an application fee waiver, guaranteed admissions interview, and tuition fee reduction for successful applicants.
---

---
What is the biggest mistake you can make in an MBA application?
The biggest mistake a candidate can make is failing to conduct sufficient research about the school and program. In a similar vein, reusing the same admissions essays to apply to different schools is a big mistake.
---
What is the strangest thing you have ever seen in an MBA application?
Candidates occasionally invite referees who do not know them well at all!
We recommend communicating with your referees well in advance, to let them know you are applying to the program. This way, they can take time to properly evaluate and submit their recommendation.
---
What questions should candidates expect in their admission interview?
Why MBA?
Why the HKUST MBA in particular?
What do you know about the HKUST MBA?
What are your goals five and 10 years after graduating from the MBA?
If your supervisor was to describe you in three words, what would they be?
---
Tell us one thing about the application process at HKUST that most people wouldn't know.
For GMAT, GRE, and English test scores, we allow a flexible arrangement of score submission, meaning you can submit your score up to one month after the official admissions deadline.
This allows applicants to better prepare for their tests, which has been especially important during the pandemic as test centers have often been closed.
Related Content: